HP ENVY Rove 20 Review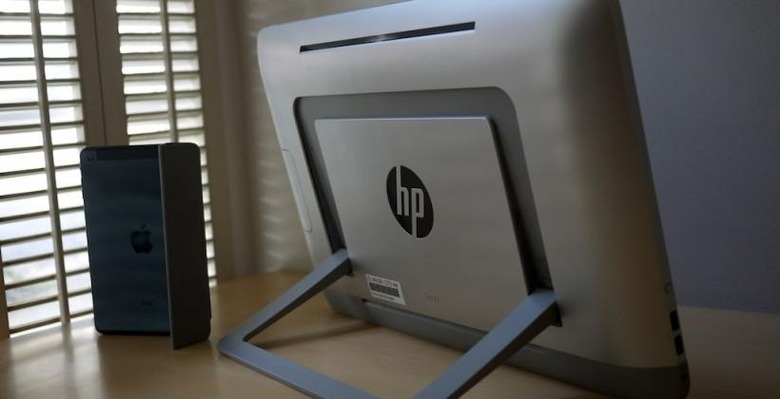 Is it a tablet, or an All-in-One PC, or some hybrid of the two? The HP ENVY Rove 20 walks the line in-between, a 20-inch desktop that, thanks to an onboard battery, can make the trip from home office, to kitchen, to bedroom, and back without interrupting what you're working on or watching. Windows 8 is all about touch and convergence, and the ENVY Rove 20 delivers on both, but is it best of both worlds or just a compromise? Read on for the full SlashGear review.
Design
HP calls the ENVY Rove 20 a "Mobile All-in-One" rather than a tablet, and it's a distinction worth bearing in mind if you value the feeling in your legs. At 20 x 12.5 x 1.4 inches and a full 12.27 pounds, with a casing predominantly made from quality-feeling brushed aluminum, the Rove 20 is on the heavy side. Yes, you can rest it on your knees or folded leg and work from your lap, but it's not something you'd want to do for anything more than a few minutes.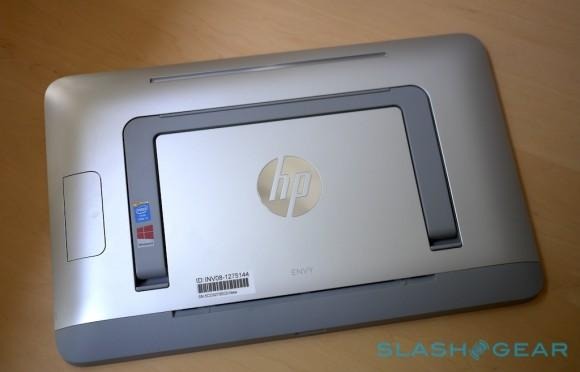 Instead, HP envisages the Rove 20 "roving" from room to room, and here the design is more successful. On the back there's a – somewhat stiff – squeezable panel which, when fully depressed, pops out the large metal kickstand which hinges down to prop the HP up. At its full extension, it's akin to a regular desk-bound All-in-One, but push the Rove 20 back, and you can adjust it to any angle down to flat on the desk.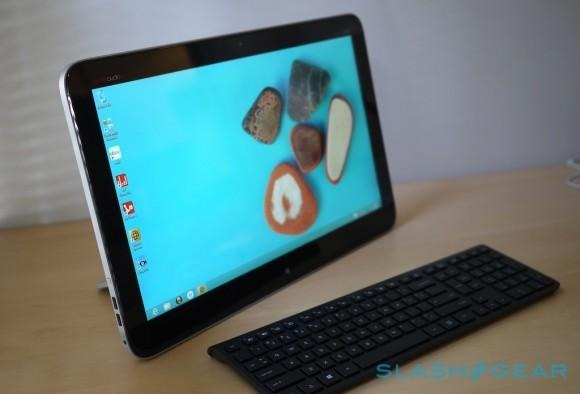 The sturdy mechanism takes a little getting used to, but once you're familiar with the pressure it requires it's one that inspires confidence. At no point, even playing games on the touchscreen, did we fear that the PC was going to topple over, while the rubber feet kept it steady and still on the desktop.
Unfortunately, HP doesn't provide a carry handle of any sort, though given the Rove 20's weight we found a two-handed grip was advisable when moving it anyway.
Hardware
The Rove 20 may be relatively desk-bound, but inside the specifications are more like a notebook than a traditional PC. Our review unit has a 4th-gen Intel Core i3-4010U dualcore running at 1.7GHz, paired with 4GB of DDR3 memory and Intel HD 4400 graphics. Two RAM slots accept up to 16GB of memory in total, though otherwise expansion is limited to external add-ons.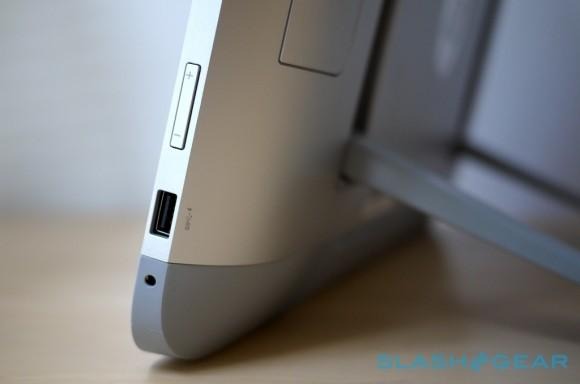 Inside, there's a 1TB hybrid hard-drive – HP refers to it as SSHD – which pairs a traditional spinning-platter HDD with 8GB of flash memory for caching frequently-accessed files. If you want an optical drive, HP will sell you a DVD burner, though you can plug in any standard external DVD or Blu-ray drive using one of the Rove 20's three USB 3.0 ports.
Other connectivity includes an audio in/out port and a full-sized SD card slot that's hidden on the bottom edge of the unit. That makes it tricky to swap in and out quickly. Absent is an ethernet port, though HP includes a USB 10/100 dongle in the box; you get WiFi 802.11ac 2x2 and Bluetooth 4.0. Intel WiDi for wirelessly connecting a compatible display is supported, but there's no HDMI, Micro DisplayPort, or other such video output.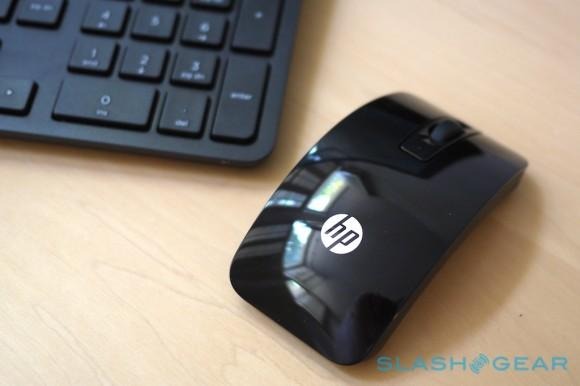 Physical controls are limited to a power button on the top edge, and a volume rocker on the right side. HP supplies a Bluetooth full-sized keyboard and mouse; the former has a surprising degree of key-travel, given the tendency for desktop 'boards to mimic their shallow-tray notebook cousins, though the keys themselves feel a little spongy rather than clicky as many typists prefer. The mouse, meanwhile, is glossy and plasticky, with a scroll-wheel between the buttons.
Of course, the expectation is that most users will opt to stab at the touchscreen. Here, HP has both done well and disappointed us: the 20-inch IPS panel is bright, with great colors and broad viewing angles, and the backlighting is consistent across the screen. The touch response is crisp, too, tracking up to ten points of contact simultaneously. Above the display is a 720p webcam, and there's an ambient light sensor for automatic brightness adjustment. An integrated gyroscope and digital compass means the screen orientation will flip automatically, but there's also a dedicated button to manually control when it happens.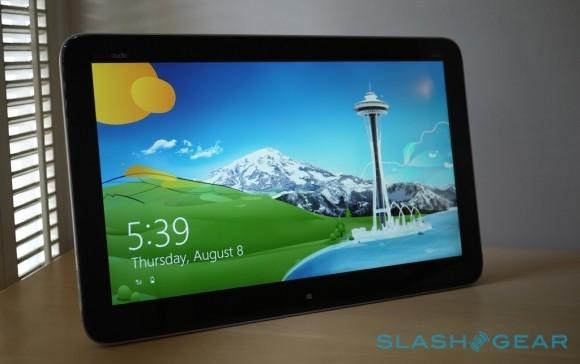 Spoiling the package somewhat is the resolution. HP has opted for 1600 x 900, rather than 1920 x 1080, which means the ENVY Rove 20 falls short of Full HD. True, there's no onboard Blu-ray for playing native 1080p content, but Full HD video is widely available to download and it's a shame the Rove 20 can't do it justice. Compounding our frustration is the fact that the tablet's Beats Audio branded speaker system – comprising front-facing stereo speakers and an integrated subwoofer – are excellent, capable of hitting high volume without suffering undue distortion.
Software and Performance
Windows 8 is finger-friendly out of the box, and HP has had to do little to fettle the Rove 20 to suit touchscreen use. There are a few pre-loaded apps, however, including the usual antivirus and malware trial that instantly began its pestering campaign, though most of the others are of HP's own creation.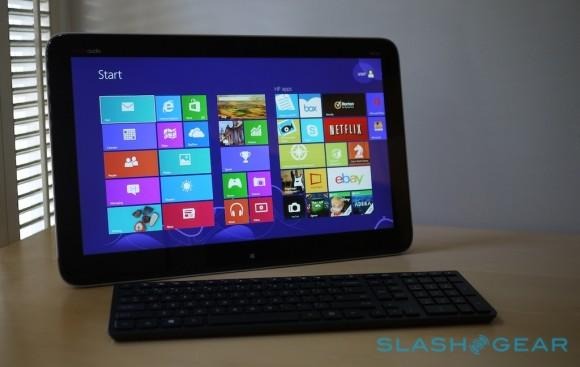 HP ProtectSmart works for backup and data protection, while HP Connected Photo and HP Connected Music are intended to be used to corral your multimedia collections. There's also the HP Apps Store for optionally downloading more titles, though we found a better selection in Microsoft's own App Store.
Text entry on a touchscreen All-in-One can be the most frustrating aspect of use, though the Rove 20 handled it well. The on-screen keyboard – which pops up automatically when you tap into a text box, and then instantly disappears if you start using the physical 'board – is nicely sized, though does leave significant amounts of empty space on either side. We had some issues selecting and managing text, however, which saw us finally reaching for the traditional peripherals.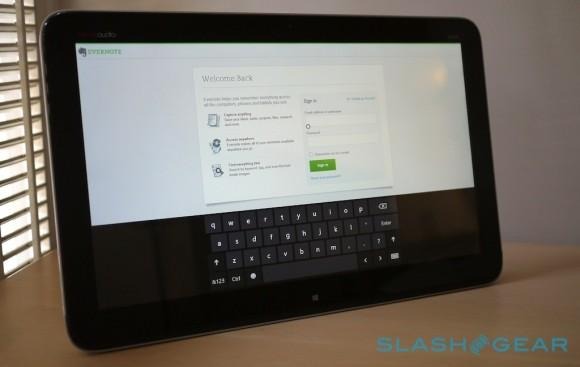 With one standard configuration, topping out at a Core i3 chip with no discrete GPU option, the HP was never going to be a gaming machine. Sure enough, performance is swift enough for daily use – we had no problems browsing with multiple tabs open, streaming music and video, and casual gaming – but anything more ambitious, like video editing or proper games, are beyond its abilities.
In the Geekbench benchmark of processor and memory performance, the ENVY Rove 20 scored just 2608, its low-powered Core i3 showing its limits. Similarly, in the SunSpider test of browser performance, the HP completed the test in 525.6ms (faster is better).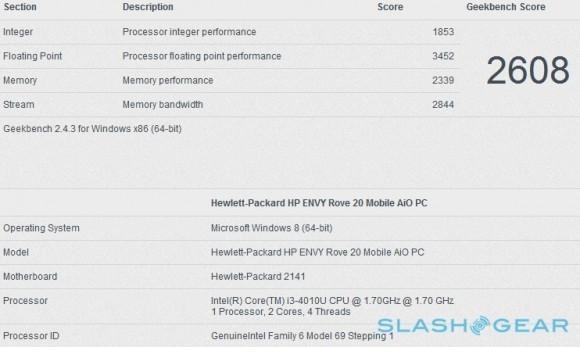 HP equips the Rove 20 with a 62 Whr, 6-cell non-user-accessible battery to give it its "roving" capabilities. There's more than enough power for a trip from the desk to a coffee table in the living room, though: we managed more than 3hrs of constant video playback with brightness at around 75-percent.
Wrap-Up
The portable touchscreen All-in-One segment is one of the more niche places Windows 8 has extended to, but it's arguably one that makes more sense. More often than not, we ditched the mouse and reached for the touchscreen instead; even the keyboard could stay in a drawer for most of the time, though tapping an on-screen 'board for anything longer than a terse email isn't our idea of fun.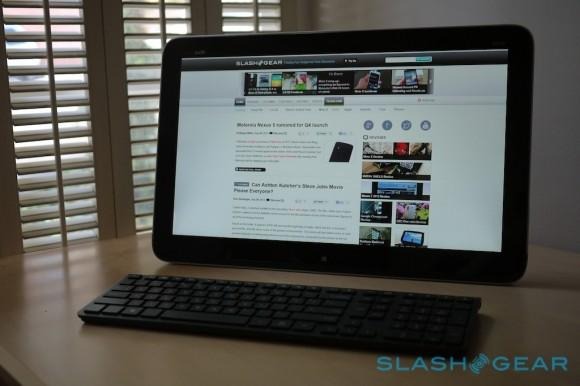 At $979.99, the Rove 20 makes a reasonable argument, though there are compromises to be made to slip in under the $1k barrier. The screen is great, but the resolution falls short of the 1080p offered by rival models from Sony and Dell. Build quality is fantastic, but that makes it heavy, and the specifications are relatively low for the All-in-One segment. If you're willing to sacrifice the ability to carry your PC without turning it off first, you can save around $200-300 by skipping the battery feature.
Still, the HP ENVY Rove 20 works great as a machine to carry between the kitchen, the den, and even out into the garden. It's not quite a tablet and not quite as powerful as many desk-bound PCs, but if you want touch and Windows and aren't willing to compromise on screen size, it's a solid option on a short list.