HP: Enterprise, Not iPad, Our TouchPad Target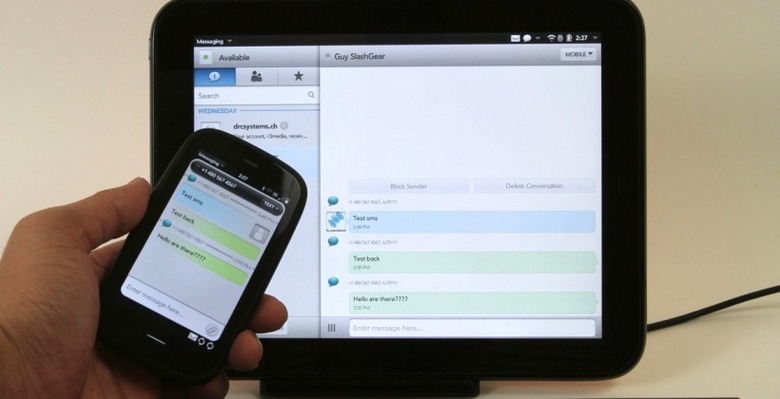 HP has dismissed criticisms of its TouchPad tablet – which SlashGear reviewed earlier this week – suggesting that incoming webOS updates will smooth out any rough edges and that, rather than taking on the iPad 2 in the consumer market, the company's main target is business users. "We think there's a better opportunity for us to go after the enterprise space and those consumers that use PCs" HP VP of worldwide developer relations Richard Kerris told The Loop, going on to point out that the tablet segment is still far from saturated.
"This market is in it's infancy and there is plenty of room for both of us to grow" Kerris insists. "It would be ignorant for us to say that we are going to take it [the market] away from Apple." Nonetheless, HP is looking to make the most of what advantages the TouchPad and webOS have over the iPad, even if they're relatively short-lived. "We're the tablet that when you take it out of the box it doesn't ask you to connect to something to get started" Kerris highlights, though as of iOS 5 later this year the iPad will no longer demand to be set up via a connection to iTunes.
Challenged with recent reviews of the TouchPad and webOS 3.0, the new version of the software platform HP acquired from Palm a year ago today, and which pointed out a number of shortcomings, Kerris expects OTA updates to answer most of the complaints. "As long as you have a plan, you'll be fine" he says, though it's unclear whether he's referring to a data plan – despite no 3G version of the TouchPad being available yet – or HP's own roadmap of updates.
"It's not just about the tablet. It's about the OS, the ecosystem and connecting devices like phones, printers, tablets and computers together" Richard Kerris, VP of worldwide developer relations, HP
In the end, though, it's HP's ambitions for webOS across multiple devices that the exec believes will carve out its niche. Cross-platform support for Synergy profiles – the account webOS uses to pull in email, messaging, calendar, multimedia and other data from multiple services like Gmail, Exchange and Facebook – will be implemented across not just phones and tablets but, as of 2012, HP's desktop computer range.
[vms 2a31f3569e10af655265]