HP EliteBook Folio 9470m Ultrabook Review
What we've got here is the HP EliteBook Folio 9470m Ultrabook, a business-oriented notebook made to work in the Windows 8 environment with an amalgamation of hardware that's precision-tuned to suit your in- and out-of-office needs. At first glance, this machine doesn't strike one as the most unique piece of machinery on the planet – it's a silver laptop, after all. But what it lacks in unique aesthetics, it more than makes up for in details that we'd consider suggesting this device to friends for on their own.
Hardware
This machine measures in at 13.3 x 9.09 x 0.75 in (33.8 x 23.1 x 1.89 cm) and works with a lovely 14-inch LED-backlit HD anti-glare 1366 x 768 pixel resolution display and is cased in mostly hard and soft plastic. While the bulk of this machine is metal, its ever-so-slightly soft along the top and the bottom while a ridge of almost rubbery soft plastic runs along the head – above the display, the area that you'll use to pull the notebook open – very well placed. This notebook is 3.6 pounds – not the lightest Ultrabook in the universe – and is 0.74-inches thick.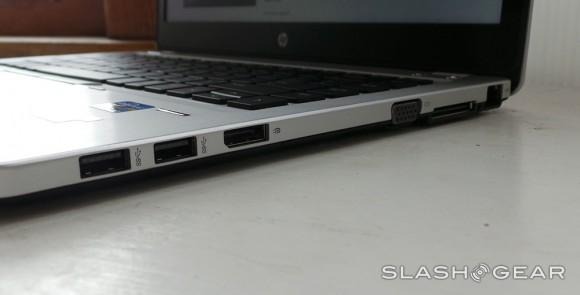 Along the sides you've got more ports than you're going to know what to do with, including 2x USB 3.0, 1x USB 3.0 (charging), DisplayPort 1.1a, VGA, AC power, headphone/mic jack, RJ-45, and a single SD/MMC card slot. You've also got an ethernet port so you can hard-wire to the web if you're not all about wi-fi connectivity. You've also got a Kensington lock slot so you can keep the machine secure if you're at a trade show or in a particularly nefarious office setting.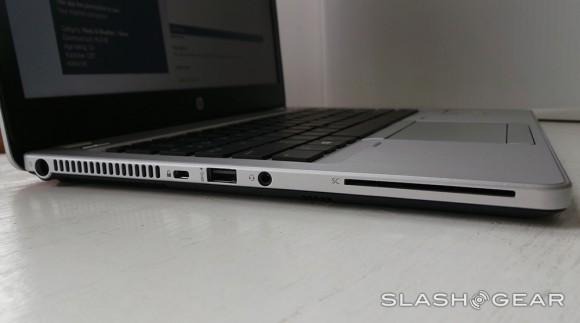 Note also that HP has made a point of assuring the public that their Elite line of products is hardcore – have a peek at our HP Making of Elite Tour Roundup to see our adventures all those months ago – smashing inside!
Also important if you want to keep your machine secure is the built-in HP Fingerprint Sensor which appears on the right side of your palm rest – make sure you're not eating too much cake before you try to get read. Up to the right above your keyboard you've got dedicated on/off switches for both wi-fi and sound (muting, basically), and up and to the left you've got your power button – heavy metal!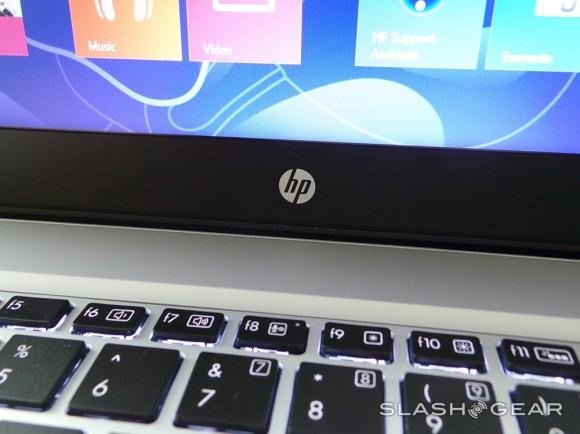 The model we've got here works with a 3rd Gen (Ivy Bridge) Intel Core i5-3427U (2.80/1.80 GHz, 3 MB L3 cache, 2 cores) and has a Mobile Intel QM77 Express chipset. You'll be able to see some standard performance results in the benchmark listing we've got below, but know this: this machine is performing at a 2013 level. It's swift and powerful, more than ready to take on your standard business needs.
Software
The security and business-friendly options you've got on this machine are just what your manager's been looking for, including HP's ProtecTools suite with so many tools to keep people out of your computer that you'll forget why they wanted to get in in the first place – pre-boot authentication and a password vault included! You've also got SpareKey for when you forget your own password. And of course, a Trusted Platform Module (TPM) built-in.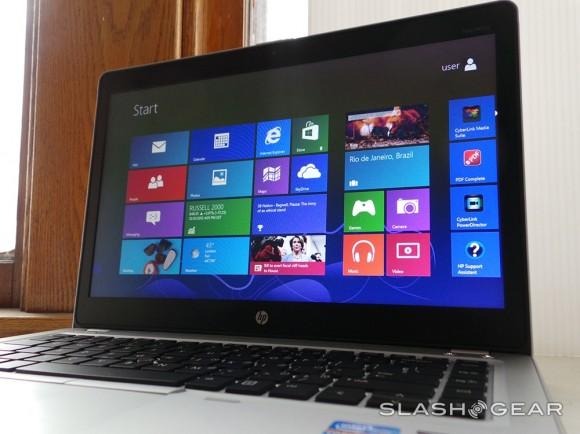 You also get a tossing of apps that HP's decided to add-in above what Microsoft's Windows 7 or 8 gives you, including such gems as PowerDVD and PDF Complete. You do get Evernote right out of the box though, a good incentive to keep taking notes on your smartphone as well as your laptop. You get the option of working with Windows 7 Pro, Windows 7 Home Premium, or the version of Microsoft's OS that we're working with here, Windows 8.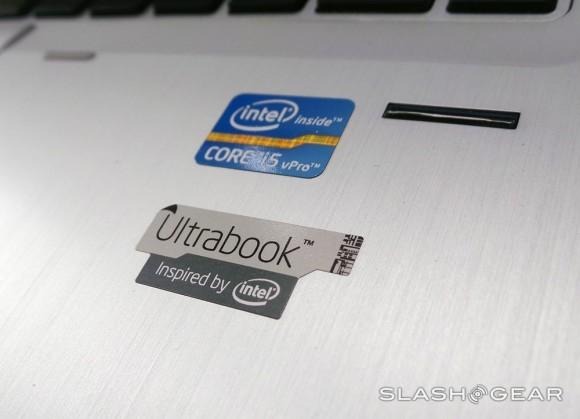 If you do choose Windows 8, you'll need some time to get used to the gestures you'll be needing to make your own in order to get friendly with your everyday average apps. If you've got no touchscreen (this device does not have one, mind you), you'll be dragging two fingers to the right or the left to navigate your Live Tiles. If you don't know what that means, we suggest you pick this machine up with Windows 7, without a doubt.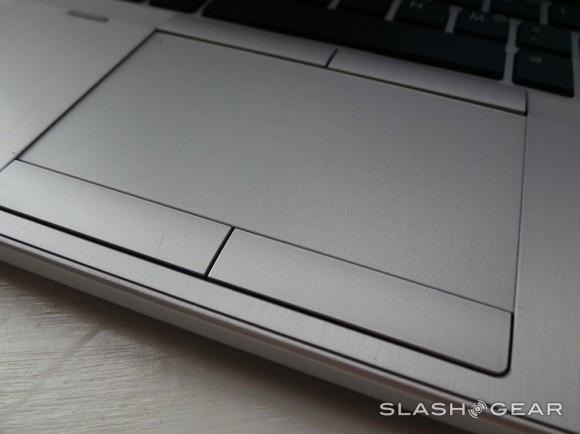 The display on this machine is decent, but not spectacular. The same can be said about the speaker system. HP didn't put as much effort into this machine's entertainment abilities as it has with some of its more eye and ear-pleasing machines like the HP ENVY Spectre XT Ultrabook. This Folio machine is, on the other hand, one of the more well-put-together business-minded machines we've seen through the past 12 months.
[sgbenchmark id=175 show=system]
Have a peek below at our standard benchmark test results for this machine and remember that it's not an entertainment machine, and certainly isn't made for gaming. Instead you've got a bit of a worker her made for a worker, inside and out.
[sgbenchmark id=192 show=score]
Battery Life / Options
On the bottom of this machine you've got both a docking connector and a secondary battery connector. HP doesn't mess around when it comes to a strong accessories ecosystem and will certainly have your back when you look to expand with extra long-life-loving batteries and/or if you want to dock this beast up at your house when you get home from the cube. That said, the battery life on this machine is rated by HP for "up to 9 hours and 30 minutes" with its HP Long Life 4-cell (52 WHr) Li-Ion unit, and we've seen it bringing on easily 5-6 hours of up-time while using it for medium-to-heavy lifting on an average day.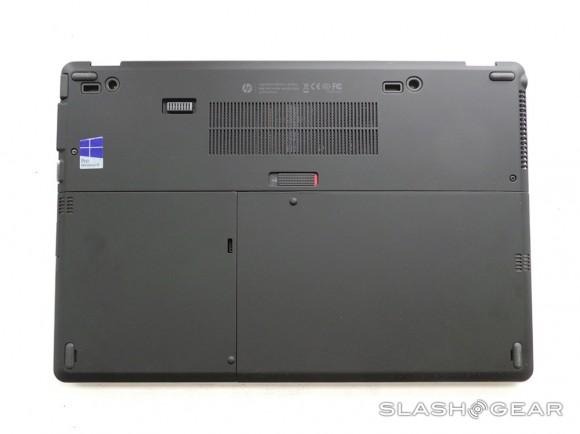 Lifting, in this case, consists of editing enough video and photos for a full day of work on SlashGear, browsing massive amounts of content on the web, and items as simple as editing text documents (plus lots, lots more, of course). If you're all about document editing and basic reading, you'll have no trouble reaching up further for the beastly time HP suggests.
Wrap-up
With the HP EliteBook Folio 9470m Ultrabook you're getting one of the nicest business-minded computers on the market today. Priced at $1,349.00 USD straight from HP, you're going to get what you paid for. This is a machine you're going to be able to use for years to come, and with the hardware this Ultrabook comes with right out of the box, it's unlikely you'll need to update your innards any time soon.