HP EliteBook Folio 1040 G1 Review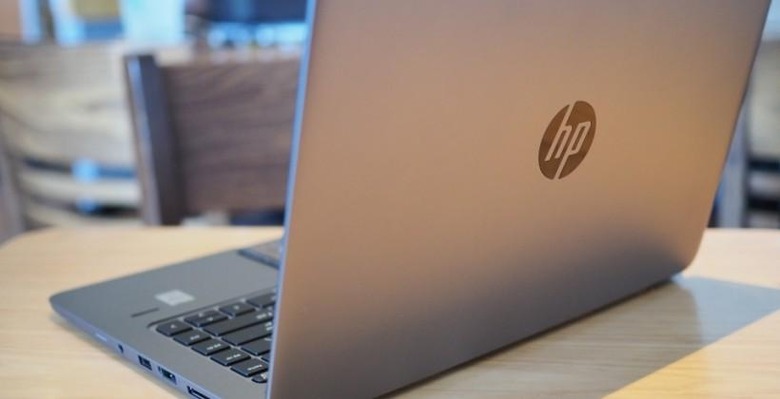 Does business-friendly have to mean boring?
is hoping the answer to that is no, with the EliteBook Folio 1040 G1 promising the dependability of an enterprise notebook with some of the style borrowed from the company's consumer ultrabook range. It's a tough balance to strike, though, so has HP got the mixture right?
Hardware and Design
"Business" used to be code for big, grey, and bulky in laptop-speak, but as consumer notebooks have raised their game, so their more serious-minded counterparts have had to improve too.
So, the EliteBook Folio 1040 G1 gets a chassis made of brushed metal and sturdy plastic, with a magnesium alloy lid and aluminum surfacing when you open it up. It comes in at 13.5 x 9.25 x 0.63 inches and tips the scales at 3.34 pounds, meaning it's not quite the lightest 14-inch notebook out there, but neither is it unduly heavy.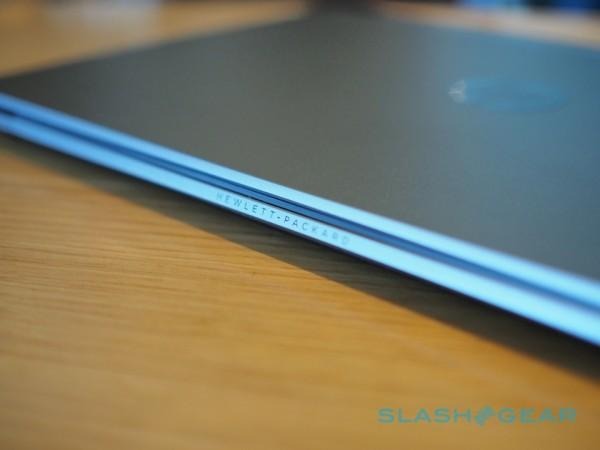 HP has been able to trim a little thickness by opting for a Synaptics ForcePad rather than the now-traditional clicking trackpad. There's no physical movement, with the pad instead recognizing pressure and translating that to different types of clicks. It's clever, certainly, but it does take getting used to: it was easy to get frustrated by how scroll speed was linked to how hard you're pressing.
A few other compromises have been made in order to keep bulk down. There's no touchscreen – that's a cost-option – but the 1920 x 1080 LCD is crisp and clear, and we're big fans of matte-finish for reducing reflections and glare.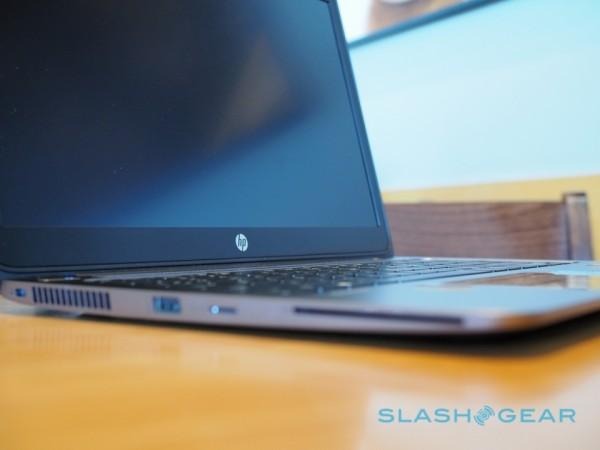 Potentially more annoying is the absence of native VGA and ethernet ports. Instead, HP throws in a combo dongle to deliver both. That hooks up to a special port on the EliteBook; you also get two USB 3.0 (one of which offers charging support even when the notebook is powered down), DisplayPort, a combo audio in/out jack, and a memory card reader, though it's a microSD rather than full-sized SD.
We've a feeling many users would've preferred to see a native ethernet jack and not bothered with the SmartCard reader on the left edge, though businesses may approve. Similarly, there's a fingerprint scanner built into the palmrest. HP offers models with integrated LTE, too, with a SIM slot on the side: it's great to have it accessible, since some WWAN-equipped notebooks hide the SIM behind the battery, but we'd not argue with a little extra protection to help avoid accidental removal.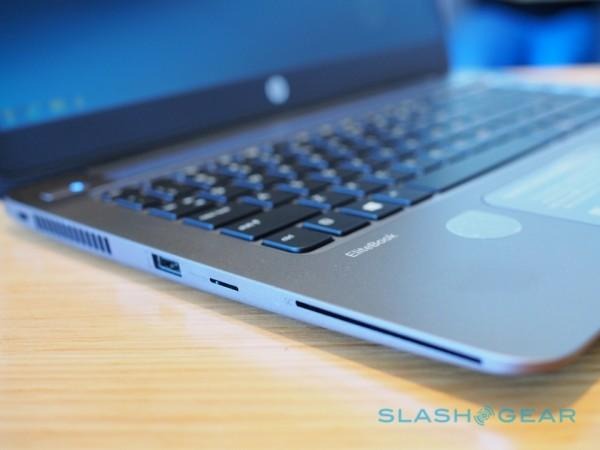 We can't argue with build quality or keyboard feel, though. HP has made sure the EliteBook Folio 1040 G1 meets MIL-STD 810G specs for drop, shock, dust, vibration, altitude, humidity, and temperature, but even if you're not in an extreme environment the backlit keyboard is excellent.
It's full-sized and doesn't offset the Page Up/Down and Home/End buttons to modifiers, while overall feel strikes a great balance between lightness of touch and reasonable travel. It's honestly one of the best notebook keyboards we've used in some time, and it's made the EliteBook a go-to machine when there's extended typing to be done.
Software and Performance
With Windows 8 already well established you might be a little surprised to see Windows 7 load when you first boot the EliteBook Folio 1040 G1 for the first time, but HP's decision is likely to please some overworked IT departments.
As well as the older – still well used – OS, you get a full license for Windows 8.1 Pro, along with a copy of it on DVD. You'll need to supply your own DVD drive, mind, since the EliteBook does' tactually have one of its own.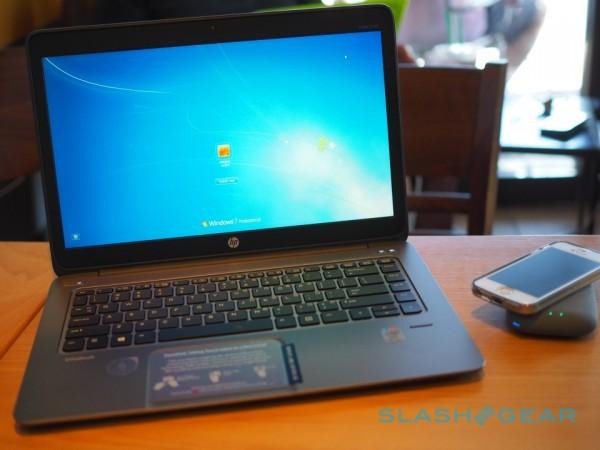 Fan noise is low, for the most part, though it's certainly audible when the dualcore Core i5-4300U 1.9GHz processor (paired with 4GB of memory and a 256GB SSD) gets pushed hard. HP offers Core i7 versions of the EliteBook, as well as varying amounts of RAM and SSD storage; there are also models with more powerful GPUs than the Intel 4400 graphics in our review model.
Still, altogether it was enough to score 6,080 in Geekbench, a synthetic test of processor and memory performance. Everyday performance was solid too, with the HP capable of multitasking between several Word documents, multiple browser tabs, and handle streaming media in the background.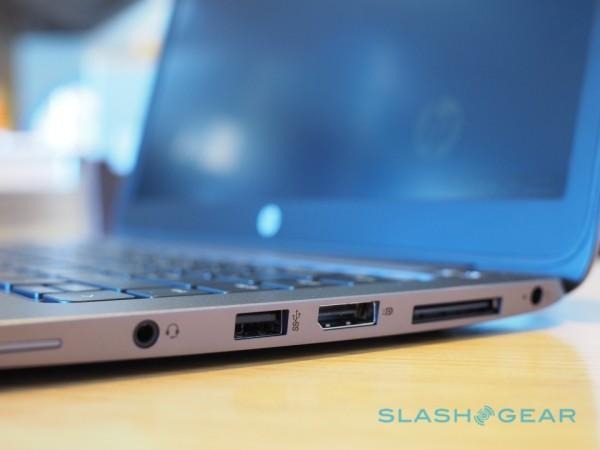 HP has opted for DTS Studio Sound branding for the EliteBook – perhaps it's deemed more business-acceptable than Beats Audio, as on many of its consumer notebooks – but this isn't going to be the star of your hotel room disco. Sound quality starts to distort when you get to the top of the volume range, though keep the levels more subdued and it's enough for VoIP calls and such.
Battery Life
HP quotes up to twelve hours of runtime from the 6-cell, 42 WHr battery supplied with the EliteBook Folio 1040 G1, which is more than ambitious given a notebook of this size. Of course, in practice things aren't quite so long-lasting.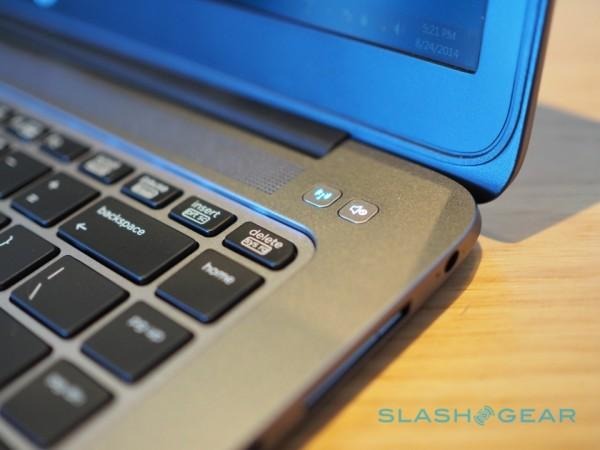 With real-world use, and the display at mid-level brightness, we found 7-8 hours was more realistic. Tax the graphics with a game or video editing, meanwhile, and that dropped further, though it's probably not typical use for a machine of the Folio 1040 G1's ilk.
HP has also opted for a non-user-replaceable battery, which helps keep things trim but does mean you can't switch it out for a full pack if the need arises. That may be a deal-creakier for serious road-warriors.
Wrap-Up
Building a work-centric notebook used to be straightforward; now, though, users expect the style of their consumer brethren, as well as something that won't weigh down the average briefcase or bag, yet without making concessions on performance and security.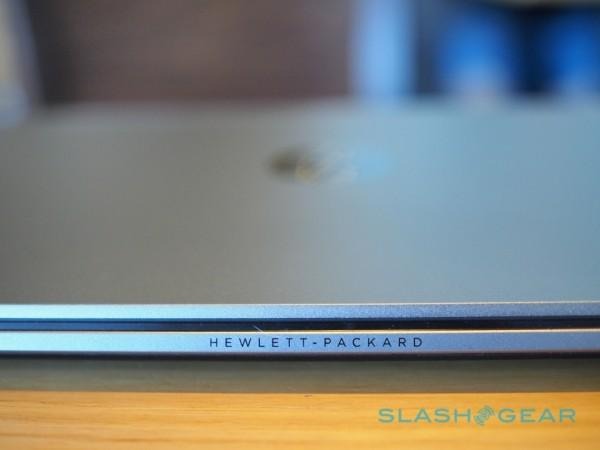 On that front, the EliteBook Folio 1040 G1 holds up well. The balance it strikes leans further toward portability than it does power, and you certainly get a slim and relatively lightweight machine for your roughly $1,600. Those looking for something to do heavy-duty video processing should probably look to a higher-spec machine, but for everyday tasks it's certainly sufficient.
We'd be tempted to add in the touchscreen option on top of the Full HD display, and maybe a Post-It note to remind us to always bring the VGA/ethernet dongle. Still, the combination of sleek styling, an above-excellent keyboard, and a good display makes for a solid option, particularly if you still aren't ready to take that Windows 8.1 step.