HP Data Vault X510 Review - Windows Home Server Powered NAS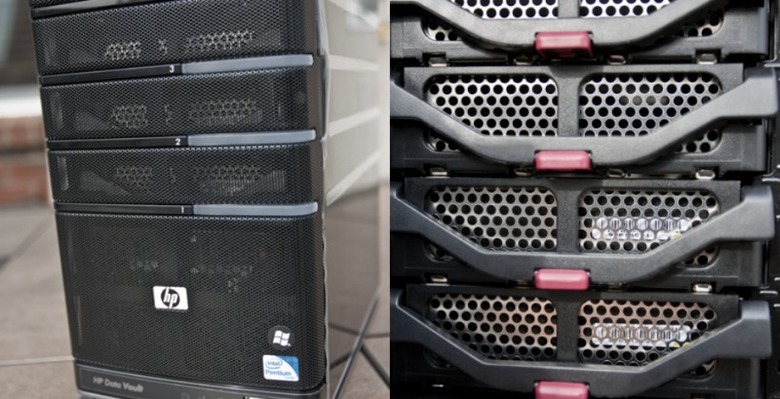 A casual glance at the photo and you might think we're re-reviewing the HP MediaSmart EX487 Home Server we looked at back in December. In actual fact, this is the business-centric cousin to that device, the HP StorageWorks X510 Data Vault. Intended for small businesses or serious home offices, the X520 Data Vault promises not only backup but various shared storage options too. Check out the full SlashGear review after the cut.
The X510's case is pretty much the same as that of the EX487, which means a compact tower unit with a full front door that reveals four 3.5-inch drive bays. There are three USB 2.0 ports on the rear panel (one on the front) together with an eSATA (which will now work as a port multiplier, rather than with just one external drive) and gigabit ethernet port, and as with the EX487 the OS is Windows Home Server. Perhaps the biggest difference is that HP offer three configurations of the X510 Data Vault: a 1TB model (with a single 1TB hard-drive), a 2TB model (with two 1TB drives; this is the unit HP have sent us for review) and a 3TB model (with two 1.5TB drives). The packaging is plain cardboard rather than the Home Server's retail-friendly color box, and inside you get the power cord, CAT6 ethernet cable and quick-start guide, together with media for software installation server recovery and PC restore.
Where the EX487 got a 2.0GHz Intel Celeron 440, the X510 steps up to a faster 2.5GHz Pentium dual-core along with 2GB of RAM. Setup is straightforward, though frustrating since it requires a Windows PC – that's despite Windows Home Server being compatible with Windows, OS X and Linux machines once everything is installed. The software is pretty much identical to that of the EX487, though HP have tweaked the UI to focus more on the sort of functionality small businesses might prioritize.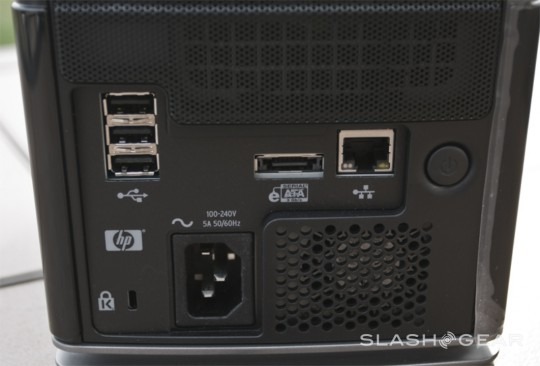 That means there's less emphasis on media streaming and sharing – though of course that functionality is still present – and more on remote access, securing data and backing up. HP refer to this as "Store it. Secure it. Share it." and the X510 does all three, though it's worth noting that some of the methodology is different from how a regular, less intelligent backup system might do things.
For instance, Windows Home Server will do RAID-style spanning of drives for increased data security, but it's not the same RAID as you'll find in regular backup systems. Instead you're pretty much buying into the Microsoft way of doing things: new drives (either replacements or, since there are at least two bays empty, additions) are automatically installed and managed by WHS. It's a more hands-off solution than many will be used to, and while that might strike fear into the hearts of more advanced system admins, the sort of target audience in the market for the X510 Data Vault will find it music to their ears. We'd recommend reading our original EX487 review for a run-down of exactly what WHS is capable of.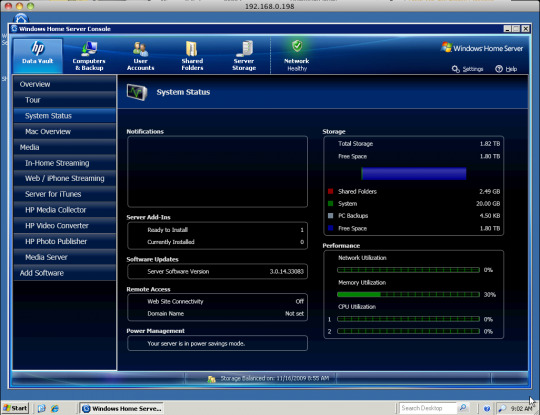 As we were with the MediaSmart EX487, we're impressed with the StorageWorks X510 Data Vault. It's quiet in operation, straightforward to install – assuming you have a Windows PC to hand – and, with MRSPs of $699, $859 and $999 for the 1TB, 2TB and 3TB models respectively, is priced pretty much in line with other four-bay backup servers. In fact, given the faster processor and more capable eSATA port, if you can find the X510 for a decent price we'd plump for it over the EX487, even as a home user. The packaging may be plain, but the X510 Data Vault's functionality is anything but.
Update: March 22nd 2010 – HP have extended the standard HP Data Vault warranty to 3 years.  The change affects the 1TB, 2TB and 3TB models, and includes a 3yr limited hardware warranty and a 3yr technical support warranty for software.