HP Compaq Airlife 100 smartbook video demo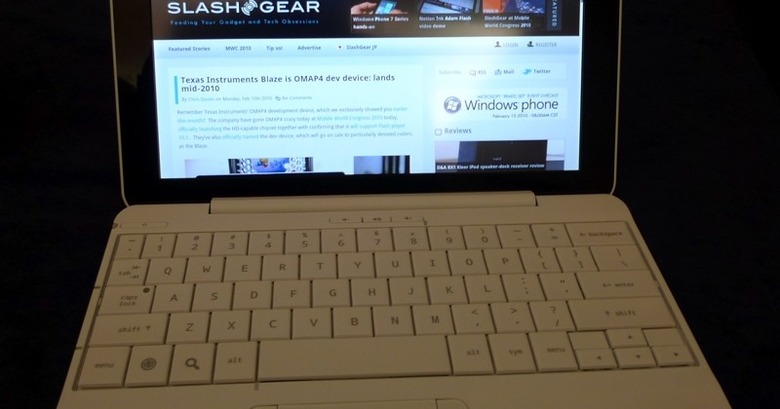 First thing we headed for at MobileFocus 2010 today was HP's first smartbook, the Compaq Airlife 100.  In the plastic it resembles little more than a particularly slim netbook, though of course there are some significant differences; the OS is Android 1.6 Cupcake, complete with a resistive touchscreen, and the keyboard has been reworked to suit Google's platform.  Keeping the whole thing moving is Qualcomm's 1GHz Snapdragon processor.
In use, while we prefer capacitive touchscreens in general the Airlife 100's display proved reasonably responsive to taps.  Icons are larger than you'd find on an Android smartphone, and HP have taken the standard webkit-based browser and thrown in tabbed browsing.  While we didn't have time to really load up the smartbook and see how it multitasks, things moved along reasonably quickly; more impressive, though, was the resume time, with the Airlife 100 basically ready to use as soon as the lid was open.
The cluster of buttons around the trackpad – Menu on the left, and Home/Back on the right – could prove a little frustrating, but in general the key-feel is good.  That's despite the Airlife 100 being impressively thin, while the standard battery is good for 12 hours (though HP themselves reckon it'll likely outlast that in typical use).  There's no access to the regular Android Market, however; HP have partnered with Telefonica, and the Airlife 100 will use the carrier's own app store.
Pricing and release dates are still being played close to HP's chest, though we do know it'll be subsidized.  That likely means, HP told us, that the Compaq Airlife 100's quadband GSM/UMTS modem will be locked to Telefonica; no word on whether a more expensive unsubsidized version will be available.  We still remember when smartbooks were tipped as sub-$200 propositions, though we'll have to wait and see whether HP recall that too.
[vms 8201c7c76cb71fa1da43]