HP Chromebox detailed ahead of spring arrival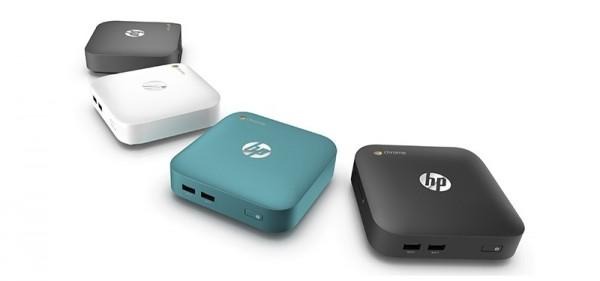 Following the Chromebox for Meetings offering announced by Google earlier in the day, HP has offered some further details on its Chromebox. There has yet to be any details released in terms of the pricing, however HP has said the Chromebox will be arriving in the spring. Essentially, you are looking at a small desktop computer running Chrome OS, however Google and HP have said this will be compatible with Chromebox for Meetings.
The meeting support means the HP Chromebox will have a fourth-generation Intel Core i7 processor. Other features of the Chromebox include WiFi, Bluetooth and four USB 3.0 ports as well as HDMI and DisplayPort which will allow for a dual-display setup. HP also mentioned the Chromebox will be able to attach to an integrated VESA mount.
Of course, at 5-inches in size, it shouldn't take up all that much space should you decide to leave it sitting on a desk or table. As mentioned earlier, HP has yet to release anything in terms of pricing. We did learn that ASUS plans to sell a Chromebox that will be priced from $179. We should clarify, that particular ASUS model was announced with an Intel Celeron 2355U processor.
Otherwise, the ASUS Chromebox is expected to arrive in March. Some of the other features mentioned with the ASUS announcement include support for 4K displays, 16GB of internal storage space and courtesy of Chrome OS — 100GB of Google Drive storage free for two-years.
The Chromebox for Meetings offering, announced by Google, is intended to simplify and also improve the virtual meeting experience. With the exception of a display, the Chromebox for Meetings kit will arrive priced at $999 and include all the necessary hardware such as a double-sided remote, 1080p camera with auto-focus and a noise canceling microphone.
SOURCE: HP