HP Chromebook x2 is a sleek 2-in-1 rival to the iPad Pro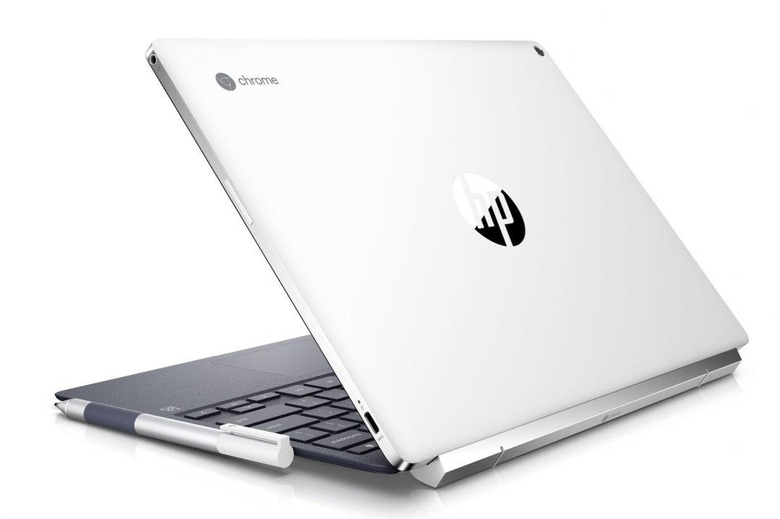 HP was one of the first to have a Windows on ARM convertible, and now it's getting in early on Chromebook tablets, with the launch of the HP Chromebook x2. Building on the new version of Google's OS that's designed to work on devices that don't necessarily have keyboards, the Chromebook x2 arguably offers the best of both worlds.
That's because it is, in HP's words, "the world's first Chromebook detachable." At first glance it looks like a regular laptop, albeit one with an oversized hinge. In that form, it's 15.3 mm thick and tips the scales at 3.14 pounds.
However, pull the screen section free of that magnetic hinge, and you have a tablet instead. Then, it weighs 1.62 pounds and is 8.2 mm thick. The 12.3-inch display is a Quad HD touchscreen, and HP has added support for a digital pen if you want to ink on it, too.
Inside the slate section there are a variety of Intel 7th Generation Core processors, along with up to 8 GB of LPDDR3 memory. Local storage tops out at 32 GB by default, though there's a microSD card slot which can be used to add up to 256 GB of onboard capacity. Buyers of the Chromebook x2 get two years of subscription to 100 GB of Google Cloud storage, too.
Ports, meanwhile, include two USB Type-C – which support data, charging, and external displays – along with a headphone jack. The Chromebook x2 looks the part as well, with HP outfitting the slate section in ceramic white anodized aluminum. The full-sized detachable keyboard, meanwhile, has a leather-like surface, finished in Oxford Blue. Courtesy of that magnetic hinge, the tablet can be set up in multiple orientations, depending on what you want to achieve.
B&O Play speakers, together with a 5-megapixel front camera and a 13-megapixel rear camera round out the key specs. Of course, because this is Chrome OS, you can not only run apps designed for that platform but Android software was well. HP says the battery should last up to ten hours.
Unfortunately, right now there's no sign of an onboard 4G LTE option. That's something HP's Windows 10 on ARM based Envy x2 offers, allowing users to get online even if they're out of reach of a WiFi network. The HP Chromebook x2 will go on sale from June 10. It'll be priced from $599.99.