HP announce new Pavilion, Elite, Slimline & Compaq Presario desktops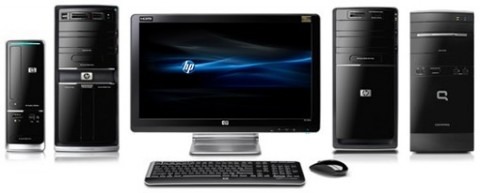 HP have announced a new range of consumer desktop PCs, together with an update to their MediaSmart Server software for TouchSmart PCs.  Slimline, Pavilion and Elite desktops have all been announced, together with a new Compaq Presario desktop.  In addition, HP have announced that select consumer PCs bought from today onwards will be eligible for their Windows 7 Upgrade Program.
Video demos after the cut
Both AMD and Intel processors are available across the ranges, and Blu-ray is also an option on some models.  The Pavilion Slimline kicks off with an AMD Athlon single-core LE1660 CPU, 2GB of RAM and 320GB hard-drive, climbing to a Pentium dual-core CPU, twice the RAM and a 500GB drive.  As for the Pavilion, that kicks off with an AMD Sempron LE1300, while the Pavilion Elite starts with a dual-core AMD Phenom II X2 and rises all the way to an Intel Core i7-920 with 6GB of DDR3 RAM, 750GB storage and a 1GB ATI Radeon HD 4650 graphics card.  Finally the Presario machine has an Athlon X2 dual-core CPU, 3GB or RAM and NVIDIA GeForce 6150 SE graphics.
The HP Pavilion Slimline s500 series begins at $289, while the Pavilion p6000 series starts at $269.  Meanwhile the Pavilion Elite e9000 starts at $599 and the Compaq Presario CQ5000 is $379. 
HP Pavilion p6000 Series desktop:
HP Slimline s5000 Series desktop:
HP Elite e9000 Series desktop:
Compaq Presario CQ5000 Series desktop:
MediaSmart Server:
Press Release:
New HP Consumer Desktop PCs Perform in Style

PALO ALTO, Calif., June 25, 2009 – HP today announced a new generation of consumer desktop PCs and an updated HP TouchSmart PC software suite.

The PCs feature stylish new looks that complement any room and give consumers a fast and powerful computing experience with plentiful storage for digital content. The redesigned consumer desktop lines include: HP Slimline, HP Pavilion, HP Elite and Compaq Presario.

The Slimline, Pavilion and Elite lines of desktop PCs include the HP MediaSmart software suite – a one-stop solution for multimedia and entertainment. HP MediaSmart software offers a fun and easy way to enjoy digital content, from watching TV or Blu-ray movies and sharing photos via Snapfish to burning music, slideshows and playlists to DVDs.

HP Pavilion Slimline s5000 series desktop PC – Stands at half the size of a conventional PC tower and is small enough to fit neatly on a desk or in a small office or dorm room

HP Pavilion p6000 series desktop PC – Provides a rich and rewarding experience when surfing the web, mixing soundtracks or creating home videos

HP Pavilion Elite e9000 series desktop PC – Delivers performance and style for the most demanding multimedia tasks, from video editing to gaming and multitasking

Compaq Presario CQ5000 series desktop PC – A reliable and efficient PC for everyday use at an affordable price

HP now offers an updated software suite for HP TouchSmart all-in-one PCs. New TouchSmart software features include Pandora Internet Radio service, improved photo and video editing and searching, and the ability to burn music CDs. In addition, consumers can now stream content to the TouchSmart from an HP MediaSmart Server or any home server.

"This new generation of desktop PCs features a fresh and modern design, unbeatable performance and tremendous value. And with matching monitors and accessories, it's easy to customize a desktop solution that combines performance with style."

- John Cook, Vice President, HP Worldwide Consumer PC Marketing

Pricing and availability

The products below are available for purchase through www.HPDirect.com. Additionally, now through June 27, HP Direct will offer hard disk drive upgrade promotions as well as monitor promotions on selected platforms for compelling solutions.

HP Pavilion Slimline s5000 series desktop PC starts at $289

HP Pavilion p6000 series desktop PC starts at $269

HP Pavilion Elite e9000 series desktop PC starts at $599

Compaq Presario CQ5000 series desktop PC available for $379

HP Windows 7 Upgrade Program

HP also announced today that select consumer desktop PCs purchased on or after June 26 at 12:01 a.m. ET will be eligible for HP's Windows 7 Upgrade Program. Today's details are available in a related news release and at www.hp.com/go/windows7upgrade.