HP All-In-One 200 desktop debuts, plus Core i3/i5 updates for TouchSmarts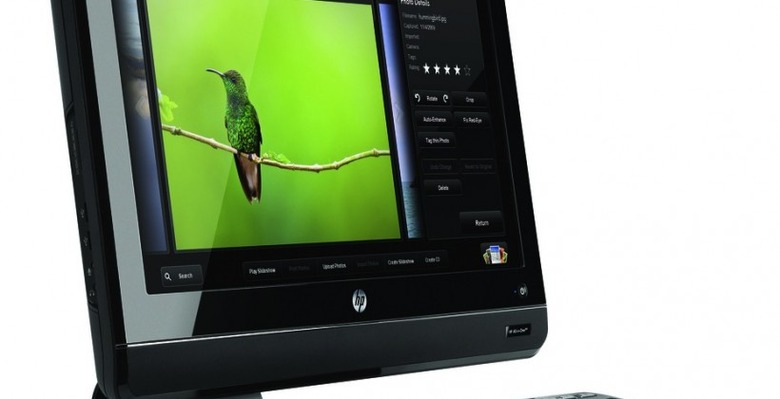 HP have announced new updates to their TouchSmart all-in-one touchscreen desktop range, together with a new ultra-slim desktop PC.  The HP All-In-One 200 is a new 21.5-inch Full HD desktop, complete with a Pentium E5400 2.7GHz processor, 4GB of RAM and Intel GMA X4500HD graphics, WiFi b/g/n and gigabit ethernet.Video demos after the cut
As for the compact desktop, that's the HP Compaq 6005 Pro Ultra Slim, with a choice of various AMD Sempron, Athlon or Phenom CPUs along with up to 8GB of RAM and ATI Radeon HD 4200 graphics.  SSD storage is optional, while ports include 10 USB 2.0 and DisplayPort.
Meanwhile the existing HP TouchSmart 600 now gets Beats Audio support, together with new Core i3 and i5 CPU options.  Demo videos of HP's new range below, but be warned; they've given the 6005 Pro a bizarre "sexy voice" which may just leave you having nightmares.
HP Compaq 6005 Pro Ultra Slim Desktop:
Corel Paint It! On the HP TouchSmart:
Press Release:
HP Offers Powerful Performance and Energy Efficiency in Desktop PCs for Consumers and Businesses

Beats Audio and new touch applications now available on HP TouchSmart PCs

PALO ALTO, Calif., April 21, 2010 – HP today introduced two energy-efficient, space-saving desktop PCs along with updates to its TouchSmart PC, including new Intel™ Core® processor options, an enhanced experience with Beats™ Audio and new touch applications from Corel® and Roxio.

The HP All-in-One200 features an ideal balance of form and function, offering consumers the performance of a traditional tower and monitor in one sleek, integrated design.

The HP Compaq 6005 Pro Ultra Slim desktop PC delivers business users energy efficiency, productivity and security in a small, sleek design.

"HP has expanded its portfolio with compelling desktop offerings for consumers and businesses who want great performance and design," said Anneliese Olson, director, Worldwide Product Marketing, Desktop PCs, HP. "These new offerings consume less energy and are proof of our commitment to reducing waste in the design, manufacturing, packaging and transportation of our products."

The HP All-in-One200 is simple to set up and features an integrated webcam, built-in wireless LAN and HP's MediaSmart software suite. Additional features include:

21.5-inch diagonal, high definition LED display; display is mercury free and uses less energy than previous-generation displays

ENERGY STAR® 5.0 qualified; EPEAT® Silver registration

First consumer desktop to include some BFR/PVC free components

The HP Compaq 6005 Pro Ultra Slim desktop (USDT) is an enterprise-grade performance PC designed with the environment in mind. Featuring VISION Pro technology from AMD, the HP Compaq 6005 Pro USDT delivers high-performance computing in a compact design. HP's second business PC and the first AMD PC in the industry to be BFR/PVC free from the wall to the mouse, the HP Compaq 6005 Pro USDT offers an 87-percent-efficient power supply, along with meeting ENERGY STAR® qualifications and EPEAT® registration.

Engineered to reproduce the sound quality found in music studios, Beats Audio is now available on the HP TouchSmart 600. The HP TouchSmart 300 and 600 PC series also now feature new built-for-touch applications, including Paint It! by Corel and Roxio CinemaNow.