HP TouchSmart 610 Review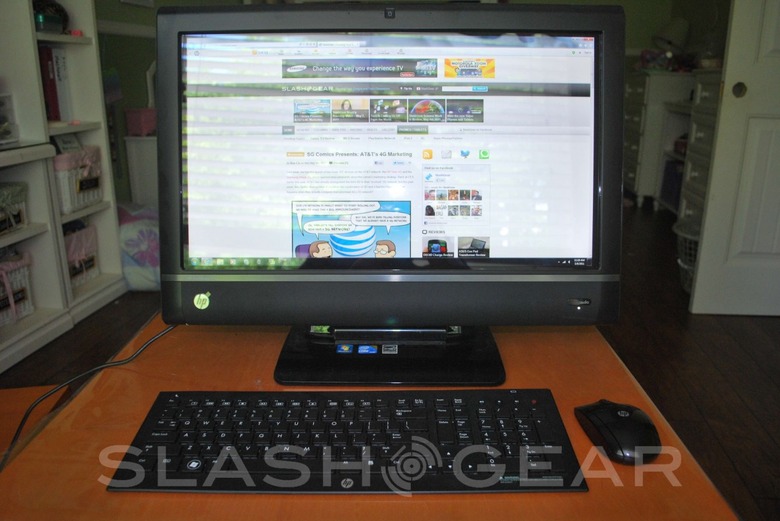 HP, in the TouchSmart 610, has created their most compelling all-in-one desktop PC to date. With the TouchSmart line HP has always demonstrated their commitment to touch and multi-touch in PCs, and they have brought a number of enhancements to the TouchSmart 610 that make touch even more convenient.
The Screen
The TouchSmart 610 has a 23in full 1080p 16:9 wide screen, and uses one of our favorite screen technologies called IPS (in-plane switching). IPS panel technology provides wide horizontal and vertical viewing angles as well as bright clear contrast. The only knock on IPS is that it is quite glossy and will reflect room and ambient light. HP also included a feature called optical touchscreen technology which conveniently allows you to use the screen even if wearing gloves, and allows the use of other objects like a stylus as well.
The stand that holds the 23in screen is where the true usefulness of using touch on a desktop comes in. The stand, which holds the monitor upright at 90 degrees, also allows you to slide the monitor down 60 degrees so that it almost lies flat on the desk. Writing, drawing and using touch are enhanced in this mode as it feels more natural than when upright.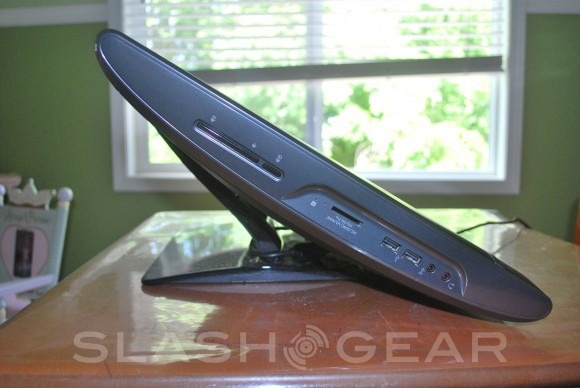 The touch experience is sound but still has a few issues with accuracy. I'm also looking forward to support for more than two finger multi-touch.
Hardware Specs
The design is one of the best of all the TouchSmart designs i've used. I covered the unique stand above, but the overall form factor is quite tight and fits nicely as an all-in-one on any desk or in any room. The bezel has a black matte finish and the built in speakers and microphone are designed nicely along the bottom.
There is a side slot-loaded DVD player which can be upgraded to Blu-Ray if desired. On the side is also a 6-in-1 digital memory card reader for easy transport of videos, photos and more.
For wireless connectivity the TouchSmart 610 includes 802.11 for WiFi and Bluetooth technology as well.
The CPU is a high-end Intel Core i7-870 and is also available with a Core i5-660 or Core i3-560. The other specs are good as far as desktop PCs go. On top of the Core i7 you get 8GB of SDRAM, two 1TB hard drives (set up in a RAID 0 array), and 1GB AMD Radeon HD 5570 graphics.
The TouchSmart 610 also comes with Beats Audio technology that overall delivers a rich and robust audio experience. Playing music from the TouchSmart using the built in speakers was as good, if not better than the multiple integrated iPod speaker systems I have.
Software
The TouchSmart 610 ships with Microsoft Windows 7 Home Premium. Not only does the TouchSmart come with the latest and greatest TouchSmart 4.0 software but it also comes pre-loaded with a variety of TouchSmart Apps. These TouchSmart Apps have been specifically designed for the TouchSmart and include games, photo and video editing software, a media player, a web browser that is touch-enhanced, even Facebook and Twitter, and a lot more. HP also has a download center where you can explore and download new TouchSmart Apps.
My kids enjoyed nearly all of the pre-loaded games, including ones from the Cartoon Network and Build-A-Lot which is similar to Sim City.
One of the pre-loaded games I enjoyed playing was R.U.S.E by Ubisoft, which is a real time military strategy game. The unique elements of this game were quite compelling when you add the ability to use your fingers to direct the strategy of your army. Below is a quick video demo HP made that I think shows it off quite well.
Overall Experience and Favorite Things
The element of touch and touch software on an all-in-one is one of the biggest features of the TouchSmart and, in my opinion, one if its more compelling offerings. By having a touch screen desktop I found myself relying on the mouse less but still using the keyboard for all forms of text entry. One of the more satisfying experiences with the TouchSmart has been seeing how my kids who are 8 and 6 used the PC.
Using a mouse is a bit of a learning curve for young kids, where touch is natural. Both my girls rarely left the TouchSmart user interface because it contained so many of the elements they use regularly, such as games, the web browser and media player. This made it easy for them to use the computer and not need me to constantly come up and help them get out of a screen they didn't mean to get to. They have finally found a computer they can use that allows them to interact naturally and to get more out of learning and creative games like drawing and coloring.
Conclusion
If you are in the market for all-in-one PC you should definitely consider the TouchSmart 610. It's so much more than just a desktop PC because of the TouchSmart software which brings new opportunities for in home computing. It's also the one desktop that I can say with confidence could have useful features for every room in the house, with the exception of the bathroom perhaps.
The TouchSmart starts at $899 and can be found online at HP's website or at other major retailers.