How to join the Internet's Day of Action to save Net Neutrality NOW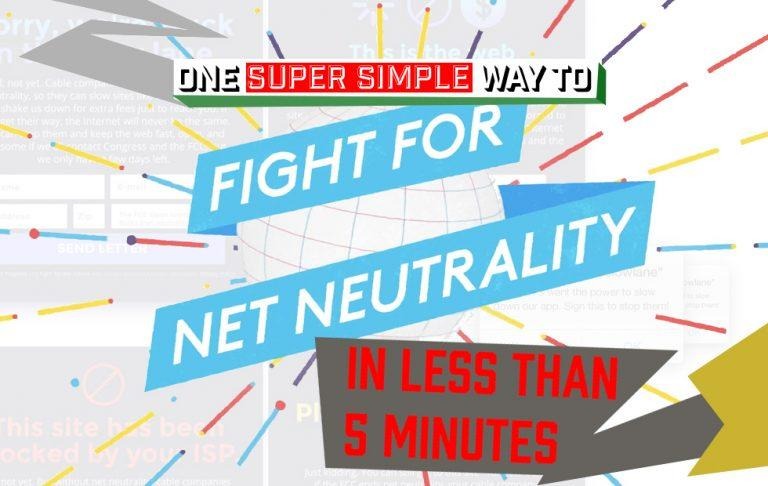 The most important news today – the most important topic for the Internet, on the Internet, is about Net Neutrality. Today the biggest and most influential websites on the internet are pushing the FCC together to stop the FCC from giving in to pressure to end Net Neutrality and destroy the open web. If Net Neutrality is killed, readers like YOU will experience web speed throttling, widespread website censorship, and the inevitable rise of micro-fees for access to individual services.
Today is the "Internet-Wide Day of Action to Save Net Neutrality" and there's a whole lot of action going on. Companies like Amazon, Netflix, Etsy, Twitter, Vimeo, GitHub, and Reddit are participating in this push to demand the FCC stay strong on Net Neutrality rules. This list also includes companies like the ACLU, OKCupid, Deviant Art, Discord, and the Creative Commons.
Also in the mix is Fark, GreenPeace, FourSquare, Dribble, Medium, Rock The Vote, and Pinterest. This list includes SoundCloud, Spotify, ThinkGeek, Weebly, Tumblr, and one whole heck of a lot more companies that you'll undoubtedly recognize. This is just as big – or bigger – than the 2012 2012 SOPA Blackout.
A website has been set up to allow anyone to take action directly at Battle For The Net right this minute. This site makes it EXTREMELY EASY to send an email to the FCC demanding they keep Net Neutrality rules in place. It takes LITERALLY less than 5 minutes to make it all happen.
Another way to make your voice heard on keeping the Internet open is to comment on this thread on Reddit. As to co-founders of Reddit suggest, "Comment on this post with why net neutrality is important to you! We're visiting D.C. next month, so if you're an American, add your representatives' names to your comment, we'll do our best to share your stories with them on Capitol Hill!"
To find your state representatives for congress and the senate, head over to Common Cause and match your address to your elected officials. This also allows you direct access to contact information for those officials.
Super simple, super important!