How to get your Android 6.0 Marshmallow update today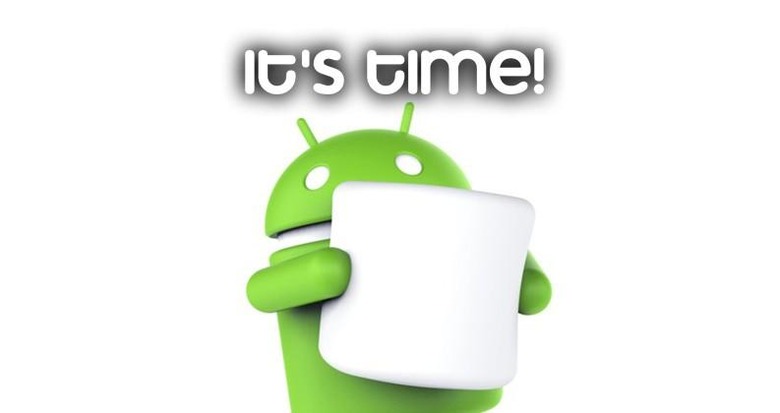 Starting on the afternoon of Monday, the 5th of October, 2015, Android 6.0 Marshmallow began its OTA rollout. This means that smartphones Google has tapped to attain the update will be receiving notifications that their software is ready, and that they may download and load this software as fast as they do so please. As with all Android operating system updates, this software is coming to Google's own Nexus smartphones first and foremost. This pattern was only broken one time – that we can recall.
The first devices shown with Android 6.0 were the Google Nexus 5X and Nexus 6P, both of which are not yet shipped to users from their factories at the time this article is being published. These devices are both currently on pre-order through Google in the United States and will be available through carriers around the world within the next few weeks.
See all sorts of Android 6.0 features in our Marshmallow portal.You can attain all Factory Image downloads from Google this afternoon as well, if you wish to flash them yourself.
The first Nexus smartphones to get the update to Android 6.0 Marshmallow were the Nexus 5 and Nexus 6. The Nexus 5 is the original LG Nexus smartphone, while the Nexus 6 is a Motorola-made device. The Nexus 7 (2013) tablet from ASUS will also be getting the update to Marshmallow today, as will the HTC-made Nexus 9.
The Nexus Player will be the first Android TV device to get Android 6.0 Marshmallow, and will be receiving said update this afternoon as well. Once again that's October 5th, 2015.
The growing Marshmallow device list:
• Nexus 5
• Nexus 5X
• Nexus 6
• Nexus 6X
• Nexus 7 (2013)
• Nexus 9
• Nexus Player
Below you'll see a timeline of "coming soon" Marshmallow updates.
Google reminded the public today that not all smartphones and tablets and Android TV devices will get the update at the same time: "The Nexus update to Android 6.0 Marshmallow occurs in stages and some carriers will receive the update later than others."