House Of Cards Season 2 Hitting Netflix On Valentine's Day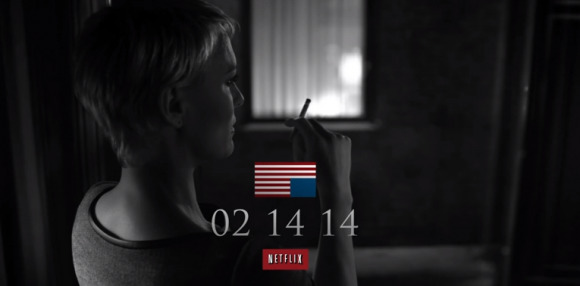 February 14th in the year 2014 the folks responsible for bringing the Netflix original series House of Cards will be doing it again with a second season. In a bit of a teaser announcement released to Twitter this morning, Netflix makes clear the idea that the first Emmy-nominated collection of episodes were well worth continuing. It's not yet known if this season will be full or a part-collection in the Netflix Originals setup.
UPDATE: It would appear that this season will indeed work with a full 13-episode run on the 14th of February, right alongside an additional set of originals for the binge season.
Netflix' release includes a short plot summary of the ongoing saga that is House of Cards as well as an exact time for release. Those of you wishing to catch the season's release the moment it arrives, you'll want to tune in at 3:01 AM eastern time / 12:01 AM pacific time on Valentine's Day.
"Francis and Claire Underwood continue their ruthless rise to power as threats mount on all fronts. Zoe Barnes (Kate Mara), an up-and-coming reporter and Francis' former paramour, is inching closer to the truth about his crimes.

President Walker's (Michel Gill) billionaire confidant Raymond Tusk (Gerald McRaney) demands that Francis reciprocate political favors or face retribution. And Claire must confront the increasing glare of the spotlight as it eats away at her and Francis' once private existence. The Underwoods must overcome these dangers — past and present — to avoid losing everything, regardless of collateral damage they leave in their wake."
You'll find this season to be delivered in its entirety from the get-go for those of you that aim to watch the full collection right off the bat. And please, no matter what you do, do not take to Twitter and spoil it for the people that don't have the ability to keep eyes open through the middle of the night!