Honeywell Lyric smart thermostat takes on Nest: Hands on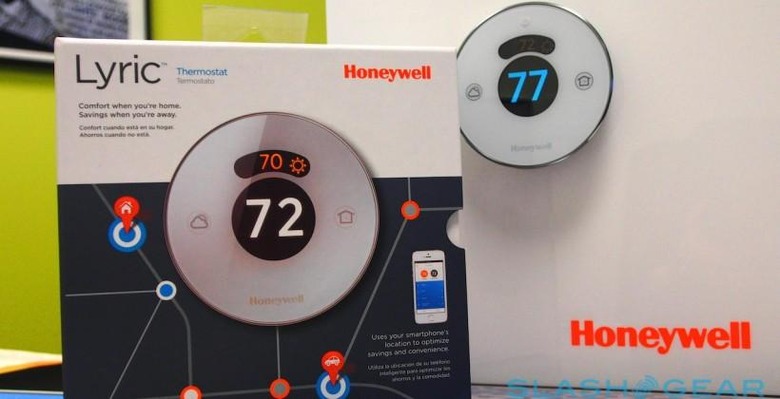 Honeywell is looking to shake off its "old school" reputation with a new smart thermostat, Lyric, promising greater convenience and energy savings by following the patterns of your home, not a preset schedule. Eschewing beige plastic for a slick gloss white and chrome finish and OLED touchscreen controls, Lyric is aimed conspicuously at the sort of audience courted by Google-owned Nest, but takes a different approach to figuring when you need heating or cooling.
Manual controls involve twirling the chromed ring around the thermostat to set the temperature, while tapping the upper display switches between heating and cooling modes. There's also a weather forecast button, which shows the current forecast as well as for the next 6 and 12 hours, and a home button, which switches the Lyric between occupied and away modes.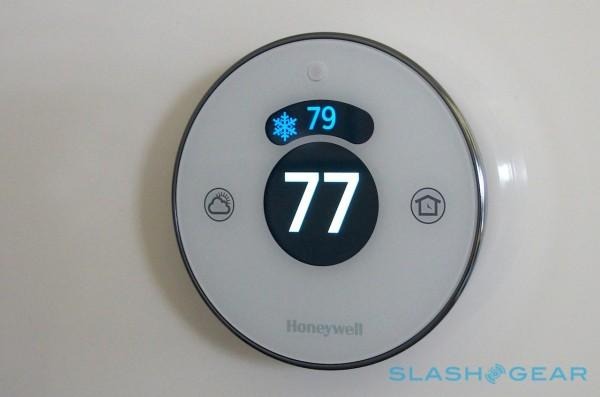 That's assuming you're not using geofencing, however. Using the iOS and Android apps for smartphones, Lyric can spot when you move in or out of a preset distance, adjusting the settings automatically. There are two possible trigger distances, 500 feet or seven miles, which Honeywell tells me suits either city dwellers or suburbanites, according to its own research.
Leave the house in the morning, and once you trip the geofence Lyric will automatically switch into a more economical mode. When you're on your way home at the end of the day, it does the reverse. You can also log in remotely using the app, and adjust the settings manually. Alternatively, if you're not taking your phone, you can manually set the thermostat to snooze for a certain number of hours.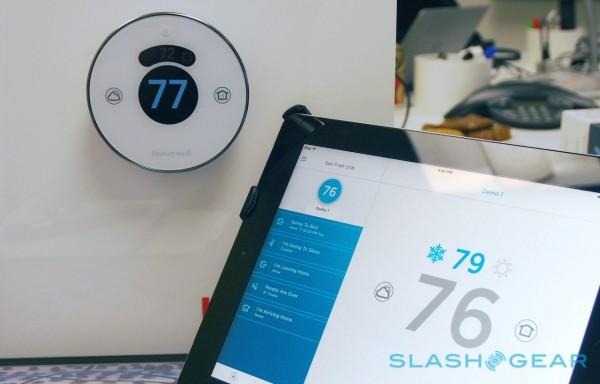 In practice, it's all very easy to use. Step up to the thermostat and a proximity sensor wakes it up, showing the current temperature and whether it's currently heating or cooling. Twist the dial – to a gently "bip-bip-bip" electronic clicking – and it glows gently in orange, blue, or green to show whether it's in heating, cooling, or energy saving modes.
What it doesn't have is voice control, with Honeywell opting to leave that feature as an exclusive for its WiFi Smart Thermostat with Voice for now. Future Lyric-family thermostats could well support it, however, Honeywell told me.
There's more than just basic temperature settings going on in the background, however. Honeywell's HVAC algorithm takes into account the temperature indoors and out, as well as humidity and weather conditions, to figure out whether it needs to factor in an offset in either direction. Higher humidity, for instance, makes it feel hotter, so the AC will be a little more aggressive.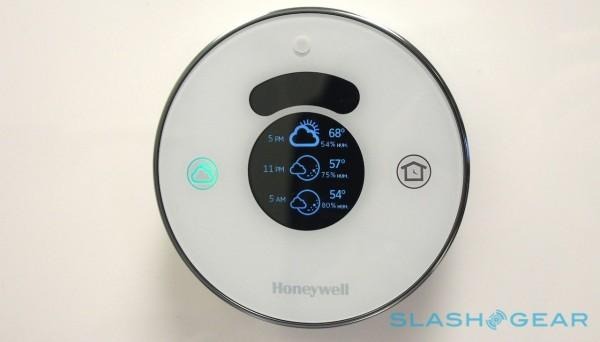 The app, too, has been carefully constructed. For a start it can walk DIYers through the installation process, even helping them take a photo of their existing wiring and then flagging up where each cable should go on the new Lyric backplate. It also flags up maintenance issues, like air filters needing replacing, and links in to Honeywell's 90,000-strong directory of certified contractors.
In time, there'll be API partnerships for integrating Lyric into broader smart home systems. Honeywell couldn't say exactly which companies it would be working with on that front, but its more advanced existing thermostats work with SmartThings, and the company was name-checked as one of Apple's launch partners for HomeKit. It's also the first of a family of products, with Honeywell telling me that there'll be more devices under the Lyric home automation umbrella later in 2014.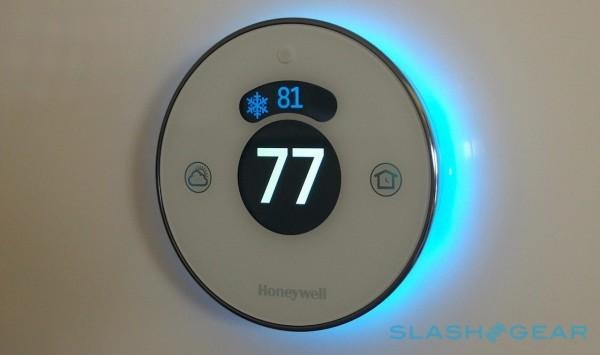 And that distinctive circular shape, which is bound to invite some comparisons to Nest's thermostat? Honeywell fully expects it to be mentioned, but already has an answer: it was making round analog thermostats all the way back in 1945.
The Honeywell Lyric goes on sale from August, priced at $279.