This Honda S660 Neo Classic Racer is making us green with envy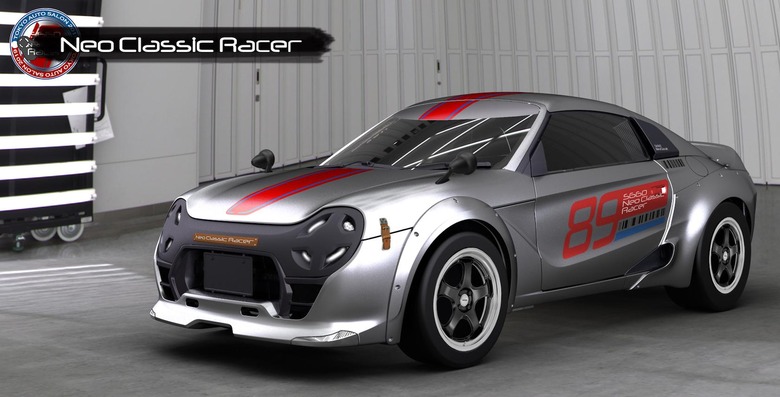 Honda has a frustrating tendency to tease us with feisty little sports coupes and then tell us we can't have them, and we can't help but fall for it. Latest to be dangled by the Japanese automaker in front of us is the Honda S660 Neo Classic Racer concept, a punchy little two-door that looks like it would be ridiculously good fun.
It's based, as the name suggests, on the Honda S660. That's already a source of some frustration to us, given that the automaker won't release it in the US. Designed to epitomize the fun-potential of a lightweight, modestly-powered car, the S660 is a mere eleven feet long and tips the scales at under 1,900 pounds.
That makes its 660cc engine – small, so as to satisfy Japan's Kei car requirements – and its 63 horsepower output more than enough to make it a giggle-fest. Throw in rear-wheel drive and a mid-engine setup, along with a removable roof panel, and you have a sub-Miata car capable of squeezing down the tightest Japanese streets (not to mention probably fitting in the bed of some American pickups).
For the Tokyo Auto Salon 2019, however, the S660 is getting a sportier makeover. The S660 Neo Classic Racer concept starts out with the S660 Neo Classic kit which Honda began offering earlier this year. That added doe-eyed round headlamps, a chunky grille, and other retro detailing to the little car.
The Racer version takes that body kit and gives it a sporting twist, encompassing multiple eras in the process. The headlamps get chunky covers as though to protect them in a rally stage, while leather latches for the hood are reminiscent of a much older generation of race cars. Then there are the turbine-esque side mirrors, which are mounted down on the fenders rather than on the doors like normal.
At the back, the curious detailing continues. The rear window has a huge Honda logo "H" integrated, while the spoiler flows into new, extended rear fenders that flare out from the wheel arches. It's certainly striking, and we're not sure everybody will necessarily like every particular element, but overall it makes for a very distinctive little S660.
Honda, unsurprisingly, isn't talking about production plans. Still, the original Neo Classic kit was first previewed as a concept at the Tokyo Auto Salon back in 2016, and then received the green light for production after widely positive feedback from S660 fans. That could give us some hope for a commercial version of this Neo Classic Racer version.
Meanwhile, with the S660 still unlikely to make it to US shores, we're still crossing our fingers that Honda's Sports EV Concept gets the nod instead. The charmingly retro electric two-door was shown off in October last year, as the automaker's vision of what an engaging little EV might look like.