Adorable Honda e Prototype EV heads to production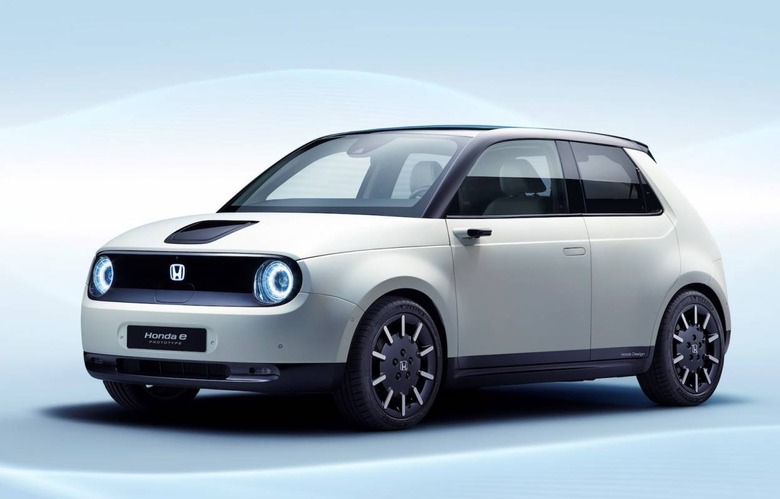 Honda clearly wants to derail the Geneva Motor Show 2019 with cuteness, but it's at least giving us fair warning with a preview of the Honda e Prototype. The latest iteration of the automaker's vision for an electric city vehicle, the 2019 descendent of 2017's much-loved Urban EV Concept is shaping up to be very special indeed.
Outside, Honda has toned down some of the Urban EV Concept's more aggressive attitude. The result is a far more cutesy car, though with engaging complexity the more you look at it.
The unusually smooth body looks as though its molded, like a piece of Muji kitchenware or perhaps as if from ceramic. Pop-out door handles and cameras that replace side mirrors are concept car must-haves, though it's worth noting that each technology has indeed appeared on production vehicles in recent years. Honda hides the charging port for its EV in the center of the hood, so that it can be easily reached from either side.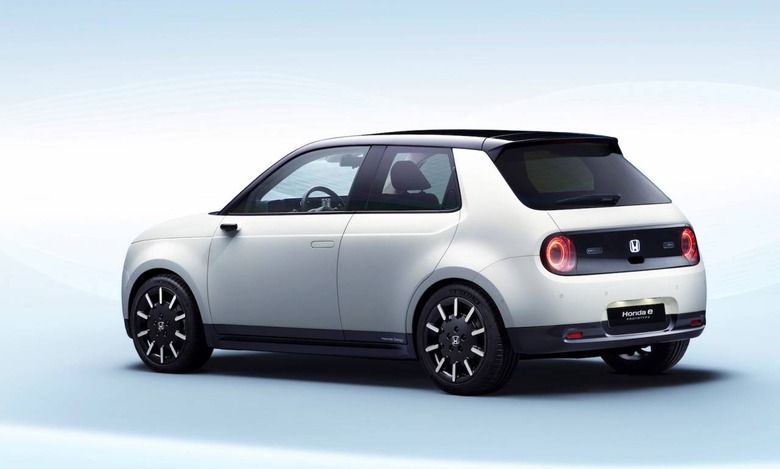 Then there's the detailing. That charging connector is a good example: Honda gave it a glass cover, so that the charge status LEDs can be seen at a distance. The A-pillars are almost flush with the glass, blending them in visually but also cutting down on wind noise while on the move.
Both the front and rear get black panels with concave profiles. That curve is then echoed by the headlamps, with round light clusters which Honda says are intended to give the e Prototype a more "human face" and thus make it more appealing.
Inside, meanwhile, minimalism and approachable comfort are the watchwords. Rather than traditional materials like leather, Honda has used a melange-style sofa fabric; the flat floorplan emphasizes the cabin space.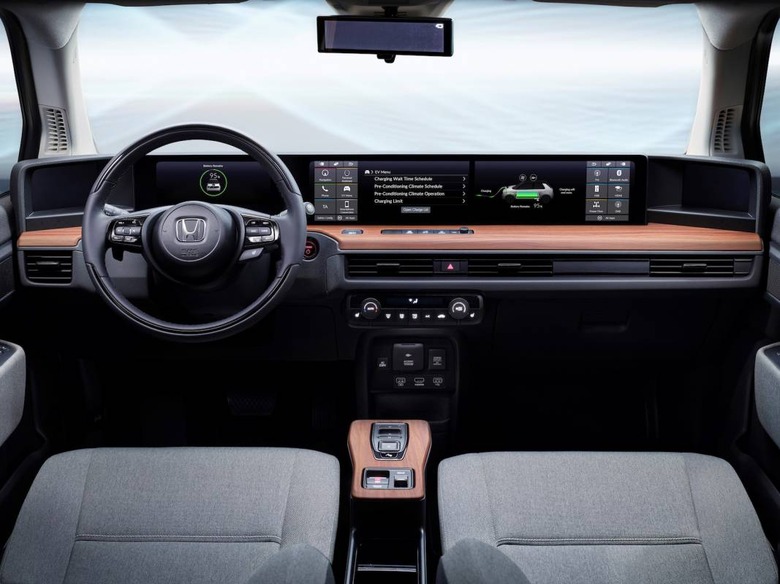 A dual screen display spans the dashboard, with a new interface we're hoping will show up on production Honda cars sometime soon. More displays beam in the view from the side cameras, and there's a digital rear view mirror which has a wider field of view than normal glass.
It's not just show car whimsy, mind. Honda has built the e Prototype on a new platform developed specifically for EVs. That's designed for a compact, city-friendly vehicle, with a wide track and long wheelbase yet short overhangs, thus maximizing interior space but keeping the overall dimensions small and the turning circle tight. Flaring the wheel arches help give it a more planted stance.
The Honda e Prototype should be able to do more than 124 miles on a full charge, the automaker says, with the new EV platform supporting an 80-percent battery recharge in just 30 minutes with a fast charger. Rear-wheel drive, it's designed to be perky and fun on the road.
We'll get a chance to see if that's true, too. While this may be a concept car for Geneva, Honda says it plans to start making a production version of the compact urban electric vehicle later this year. Consider us duly intrigued.