Honda Civic Tourer Active Life concept is crammed full of bikes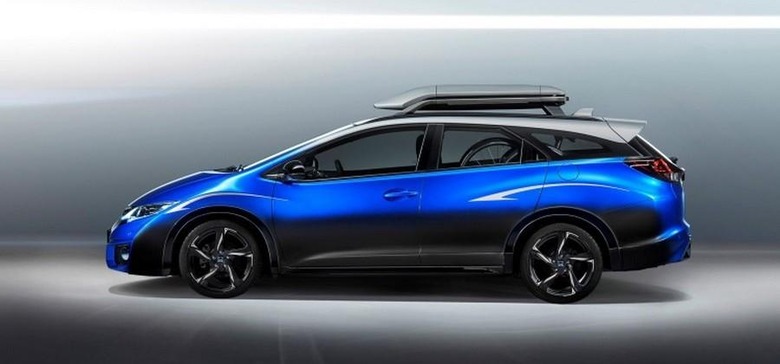 Bicycling is an incredibly popular sport and if you know anyone into serious cycling, you may have an inkling just how expensive the sport is. Some bikes cost more than a nice car and understandably owners want to keep them very safe. Honda has a new concept car that is called the Active Life concept and it is designed to allow cyclists to keep a pair of their expensive racing bikes inside the car.
The ability to get two full size bikes inside the car comes thanks to the placement of the fuel tank that allows for a deep cavern in the floor. That cubby is sized to hold the front forks of the bikes so they can stand upright inside the hatch of the car.
The car is also fitted with a retractable arm for bike maintenance, an integrated air pump, retractable bench, toolbox, water tank, and a front wheel holder in the side of the trunk. This may well be the perfect team car for group riders.
Up on the roof of the concept car is a snail-shell style luggage and equipment holder. The car and bikes are covered in the same sexy blue paint and the interior has blue accents. All in all the Honda Civic Tourer Active Life Concept is a very attractive car that will likely never see production.
SEE ALSO: Our Honda Civic Concept preview of some real Type-R excellence from back in April at the New York Auto Show 2015.