Honda Acura NSX Concept Teased For 2012 Detroit Auto Show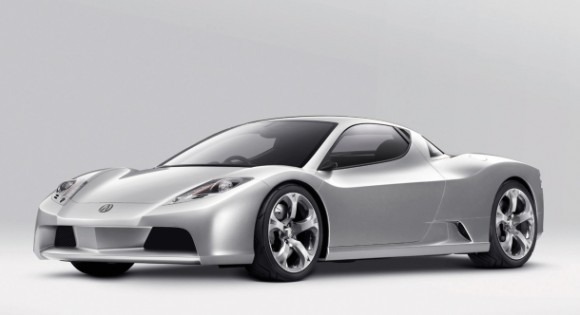 The team at Honda has announced that they will reveal a new Acura NSX concept at next year's Detroit Auto Show, this re-starting the line that was discontinued in 2005 with the original NSX. While details remain scant on the automobile, Honda did note that it would be showing the "styling direction for the next generation of Acura's super sports car." This showing is likely to be somewhat of a next step from 2004's Detroit Auto Show reveal of the Acura High-Performance Sports Concept, as shown below.
Again what you're seeing above is not the new model that will be revealed in Detroit inside 2012, but the original NSX shown in 2004 at the same event. What you'll quite likely be getting with this new model is an all-wheel-drive system, first of all, this of course if Honda decides to go beyond what CNET's Wayne Cunningham describes as a possible "mere styling exercise." Speculation is that this all-wheel-drive system will be the same as what has recently been revealed for Honda's Earth Dreams Technology announcement, complete with a direct injection 3.5-liter V-6 as a main power unit and two 20 kilowatt electric motors for torque vectoring.
Besides this there'll also a main drive motor with a seven speed dual clutch automated manual transmission as well. Honda has also stated that they'll be brining another concept vision to the show in the Acura ILX, an entry level premium car also living in the Acura environment. The ILX will be the first Acura hybrid, and will play nicely next to the NSX or we'll turn this car right around and go back home. Finally there will be a 2013 Honda Accord Coupe concept as well as a 2013 Acura RDX, both of them more than likely showing up in Detroit at the 2012 event as well.
[via CNET]