HoloLens teams with Lowes for holographic home mods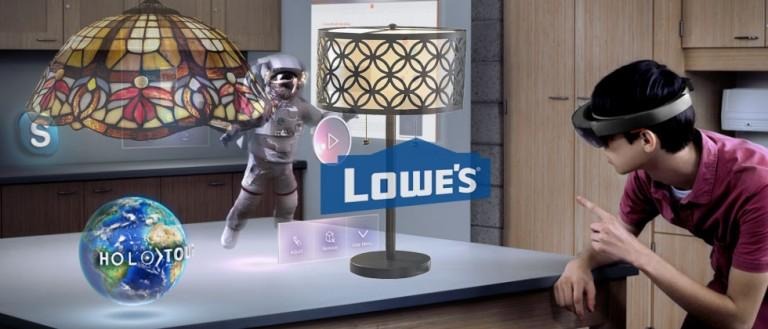 Microsoft's HoloLens holographic headset will soon be working with Lowes to visualize the future of their home repairs and modifications. While the Microsoft HoloLens Development Edition is the only version of the device available now – or soon, rather, as it's on pre-order – Lowes appears to be ready and willing to jump in on the experience without delay. Now we'll see what that fridge REALLY looks like when it's crammed into a space that you know good and well is too small for it, Janet.
According to Microsoft, "Microsoft HoloLens and home improvement company, Lowe's are partnering in an effort to redefine how people think about home renovation – starting with the kitchen." That's where the fridge is supposed to go, Janet! Not in the living room. There's carpeting in there!
Microsoft suggests that the Lowe's experience with HoloLens includes demonstrations of design options for homes. This includes kitchen cabinetry, countertops, appliances and features like backsplashes. All over the home.
Switch it in and switch it out.
"From within the nearly empty square frame of a showroom kitchen, customers can completely change the look and feel of that space," said Scott Erickson, General Manager, Microsoft HoloLens.
"[This includes] adjusting the size and shape of an island, and viewing virtual design options against physical counter stools."
Sound pretty neat!
Users will be able to check the demo out in-store in the greater Seattle area. No word yet on which stores will have the demo live. The next space this demo will go live is in Raleigh, North Carolina.