Hitachi gone Green with two-platter 500GB CinemaStar C5K500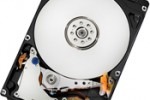 Green storages are in higher demand in consumer market, evidence can be seen from Western Digital coughed up its first 2TB single disk device in a much eco-friendly Green Caviar, instead of the Black Caviar performance series. So does Hitachi GST, their 4-gen CinemaStar now packed an EcoTrac classification, halogen-free design with 22-percent lower operation power requirement than previous model.
The newest CinemaStar C5K500 family is a 250GB per disk design consumer electronics hdd with capacities start from 160GB to a dual-platter 500GB 2.5-inch form factor mobile drive. The drive spins at 5400 RPM, and only requires a low power of 1.4 watts to get data out and written on its disks. It's targeting digital video applications such as DVR recording, digital video streaming or surveillance.
Hitachi has not made pricing available for the CinemaStar C5K500, but shipment is expected to deliver worldwide in the second quarter of 2009.