Hitachi DZ-WR90 standalone Blu-ray burner for hard-drive camcorders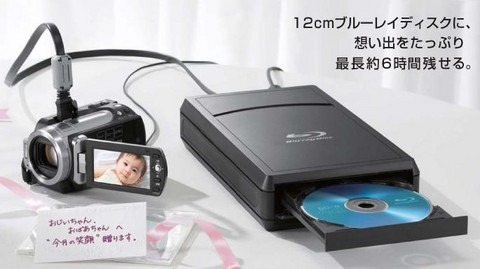 Hitachi have announced a new Blu-ray burner that can create discs directly from the latest camcorders sporting eSATA ports.  Bypassing the need for a computer, the DZ-WR90 plugs straight into the camcorder – and presumably you'd be using one of Hitachi's hard-drive based high-definition models, to make the most of Blu-ray's capacity – and automatically creates discs from the footage you select.  It even finalises the discs automatically, making it a complete one-stop solution for anyone wanting a straightforward way to share their video. 

The drive also works with DVD-R discs, and can support double-sided media although you'll have to flip them yourself.  Hitachi are claiming a Blu-ray disc will fit around three hours of full 1920 × 1080 footage and burn in 1.5hrs; alternatively, you can fit on up to six hours in 1440 × 1080 resolution.  A DVD, meanwhile, can store up to one hour of 720 × 480 footage.
Available in mid-July, Hitachi are yet to announce pricing for the drive.  My gut reaction is that most users would be better off with a PC and some basic video editing software, to generally tidy up the video before burning it, but if you're wanting to leave a disc behind with family or friends – or give someone the raw footage straight away – then I suppose this could come in useful.  Hitachi don't make clear whether the DZ-WR90 can be used as an accessory drive with a computer.
[via Akihabara]