Hillcrest Labs Kylo TV browser falls foul of Hulu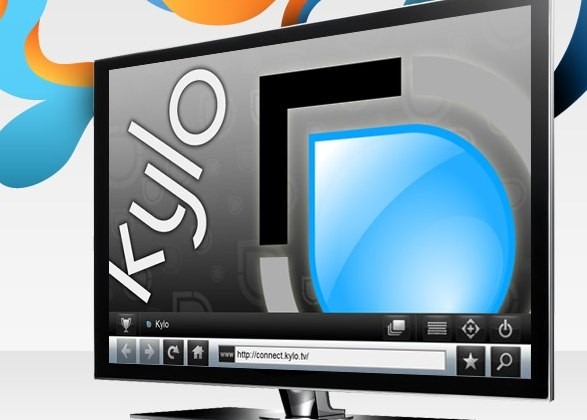 To Hillcrest Labs, it must have all seemed so straightforward: take the core Mozilla browser engine, develop a custom UI that can be clearly seen at a distance, and optimize websites so that those people surfing the net via a PC or Mac hooked up to their TV will have a better browsing experience.  The app in question, Kylo, in turn helps them push their Loop Pointer.  Problem is, just like Boxee have discovered, content providers can get a bit sniffy when you're making it easier to put their web-based media onto HDTVs.  All of a sudden, Hillcrest are finding that Kylo has lost access to Hulu.
It's particularly odd timing, Hillcrest Labs reckon, because they tested Hulu compatibility before launching Kylo and it was working just fine.  "Prior to our formal launch," company CEO Dan Simpkins says "Hulu videos would play within the Kylo browser. Like Internet Explorer, Firefox or Safari, the Kylo browser is simply a Web browser, it's our sincere hope that Hulu isn't restricting access."
That's the same argument Boxee made when they dealt with Hulu's decision to block access to their streaming content via the media center app, and we imagine it'll fall on similarly deaf ears.  As for Kylo itself, it has bigger graphics, intelligent font management, an on-screen keyboard and a minimal UI, and could be worth a shot if you're looking to get online from your couch.  You can download it, free, here.
Update: Hulu have apparently confirmed to Hillcrest Labs that they are indeed blocking access via Kylo.
Press Release:
PRESS RELEASE: HILLCREST LABS INTRODUCES KYLO(TM): THE WEB BROWSER FOR TELEVISION

- Available for the Millions of Households That Connect Their Computers to TVs -

- Provides Optimized Presentation of Web Sites for Viewing From the Living Room Couch -

- Free, Mozilla-based Browser Compatible With Windows or Mac OS(R) -

- Ideal for Use With the Loop(TM) Pointer, but Works With Any Mouse -

Rockville, MD and Palm Desert, CA — March 22, 2010 — Today, at the DEMO Spring 2010 event, Hillcrest Labs launched the Kylo(TM) browser — a new Web browser for TV. Developed for the millions of households that connect their PCs or Macs to the TV, Kylo lets users visit any site on the Web with a browser that was specifically designed to be viewed from a distance in the family room, living room, or dorm room.

The Kylo browser is not meant to replace traditional browsers such as Internet Explorer(R), Safari(R), or Firefox(R) for use with standard computer display screens, but instead is for use on a television connected to a computer. Unlike other applications or Web sites, Kylo is not a "walled garden" of aggregated video content, but rather a true Web browser that lets users go where they want across the Internet.

"No matter how hard they try, no single set-top-box manufacturer, specialized TV widget developer, or content aggregator can match the volume of online viewing choices available on a computer," said Dan Simpkins, founder and CEO of Hillcrest Labs. "For this reason, many consumers are simply using their new HDTVs as an alternative display for their PCs or Macs. So, we've developed Kylo as a free and simple TV browser that enables them to visit any site on the Web, and makes the entire experience more enjoyable."

THE TREND: COMPUTERS IN THE LIVING ROOM

A variety of recent findings demonstrate the growing popularity of pairing computers with televisions. For example:

* In Forrester Research's report, "How Consumers Get Online Video to The TV," June 9, 2009, the firm estimates that nearly 9 million homes in the US watch at least some online video on a TV set in a typical month.

* In Deloitte's, "State of the Media Democracy Survey Fourth Edition," December 2009, the firm found that 65% of US Internet users would like to connect their televisions to the Internet, a figure that jumped to 74% among Millennials (ages 14-26).

* According to Pew Research's, "The Audience for Online Video- Sharing Sites Shoots Up," July 2009, 23% of those who watch online video have connected their computer to a TV (29% of males who watch online video vs. 16% of females who watch online video).

* Research conducted by One Touch Intelligence as reported in VideoNuze on November 4, 2009, states that approximately 13.4% of Netflix "Watch Instantly" usage is by people who connect their computer to the TV, versus approximately 3.6% that is done by people using a Roku set-top box.

* In December of 2009, Hillcrest Labs also conducted its own mall intercept survey of 200 consumers within the high-tech corridor of the Washington DC area, and found that 34% of consumers connect their computers to their TVs "always" or "often," while 80% were interested in surfing the Internet on TV.

THE PROBLEMS

Despite this growing trend, the first hurdle that consumers face is the physical act of connecting their computers to their TVs. For this reason, Hillcrest Labs developed a simple online guide to help people get started: www.hillcrestlabs.com/loop/connecting.php.

"When users connect their computer to the TV, they typically run into a series of mundane and irritating complications," said Simpkins. "Many people rely on unsightly keyboards and mice on their coffee tables or couches — often to the dismay of their spouse or roommate."

Simpkins continued, "Some Web sites have optimized settings for TV viewing, but most do not. Fonts and items of interest are generally too small, and too hard to see from across the room. In addition, conventional Web browsers tend to clutter the screen with unnecessary status bars, menus, tabs, indicators and more, since they were designed to be used from two feet away. People deserve something better when it's time to connect to the TV."

THE SOLUTION: KYLO BROWSER + THE LOOP POINTER (or Any Other Mouse)

Last year, Hillcrest Labs launched its iconic Loop pointer as its first company-branded product for consumers. The stylish in-air mouse was named a CES 2010 Innovations Award Honoree, and is powered by Hillcrest's Freespace(C) in-air pointing and motion-control technology. Hillcrest's Freespace technology is also used in the award-winning Logitech MX(TM) Air Rechargeable Cordless Mouse. Like the Kylo browser, the Loop pointer was specifically designed for consumers who connect their computers to TVs. It is available for $99 via Hillcrest Labs or Amazon.com at www.hillcrestlabs.com/loop.

"We've been very pleased with consumers' responses to the Loop pointer," said Chad Lucien, vice president of Freespace products at Hillcrest Labs. "With just four buttons and a scroll wheel, it's an attractive, in-air mouse for the living room."

Simpkins added, "With the Loop pointer, we felt that we had the right hardware for consumers, but that was just part of the solution. The Kylo browser lets people view any Web site from a distance, use an onscreen keyboard, and benefit from a suite of optimized features for surfing the Web from the couch."

Matt Marshall, Executive Producer of DEMO, said, "Over the years, DEMO has selected companies and launched new products that have changed entire industries. Very often simple ideas that solve real problems are the most impressive, and that's how we feel about the Kylo Web browser for TV. Hillcrest Labs has a stellar reputation for innovation, and the Kylo browser is further evidence of their ability to envision and develop compelling products."

Key features of the Kylo Web browser for TV include:

* the ability to visit any site on the Web;

* an onscreen keyboard that appears when there is a need to enter text, eliminating the need for a physical keyboard; compatibility with any physical keyboard for users who prefer to use one;

* fonts, cursor, and onscreen targets are larger than those in traditional browsers;

* easy zooming and panning;

* the maximization of useful viewing space by hiding or removing toolbars, tabs, buttons and indicators;

* works with any mouse, but ideal for use with an in-air mouse such as the Loop pointer;

* easy bookmarking;

* a directory of links to dozens of popular Web sites;

* a Mozilla-based design, and

* free, easy download and setup.

The Kylo browser is available for free via download at www.kylo.tv or www.hillcrestlabs.com/kylo. Additional details about Hillcrest Labs are available at www.hillcrestlabs.com. The Kylo browser's hashtag is #Kylo.