High-Speed 2gb xD Cards Hit Shelves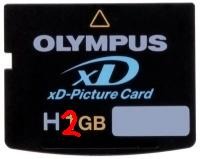 Of interest to anyone using the xD memory card format comes news from PNY Technologies that they've managed to up storage space to 2gb in their Picture Card series.  Hopefully they haven't just scribbled out "1gb" and written in "2gb" like I did on this SlashGear exclusive concept picture.
They're also announcing their partnership with Olympus, whose cameras can use these high-speed memory cards with the "exclusive Olympus Panorama option" that apparently auto-stitches photos together to make one long landscape shot.
The 2gb card is available now, for £61 ($116)
PNY Technologies [thanks to Zoe for the tip]