Hidden Side Paranormal Intercept Bus 3000 LEGO Review, with Graveyard Mystery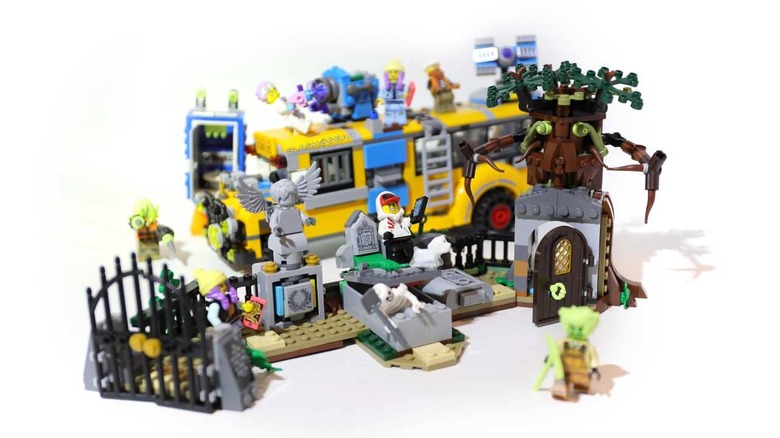 Today we're taking a peek at a couple of new LEGO sets in the company's newest line: Hidden Side. This new LEGO line Hidden Side stars with some spooky setups and enhances play with a smartphone app. The sets themselves are akin to past releases with monsters, haunted houses, and Halloween in mind. Given their release of this series here so far in advance of Autumn, we must assume that the ghoulish attraction of the month of October is spread beyond its Roman Calendar confines at last!
Graveyard Mystery
The LEGO Graveyard Mystery is relatively packed with new and/or uncommon minifigure pieces. This set has a spooky groundskeeper "Mr. Branson" with a standard head and possession/ghost transformation. There's a pair of young and hip minifigures Jack Davids and Parker L. Jackson.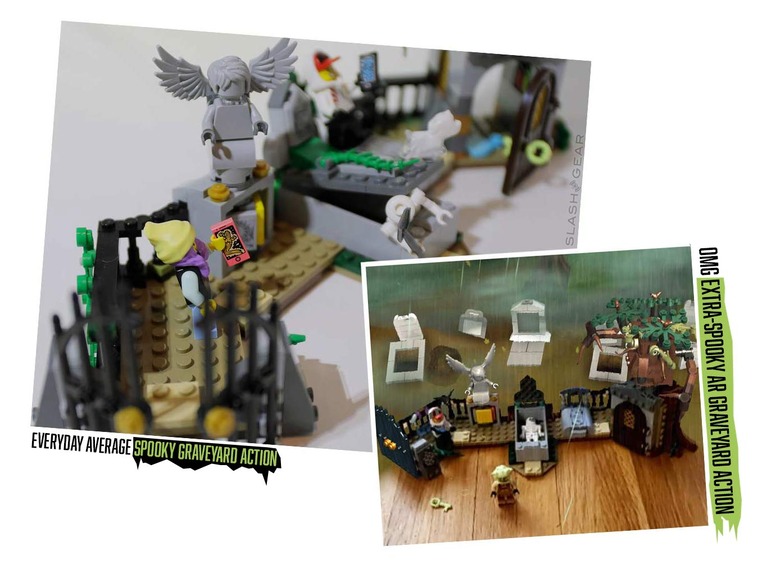 In the center grave is the most awesome minifigure ever made: the standard modern skeleton. This set also has a ghost puppy. This piece is called "David's ghost dog figure" and it's also included in the other set we're reviewing in this same article.
Semitransparent pieces are strewn through these sets – like ectoplasm or slime – making them feel like they've delivered a new, more premium LEGO brick experience the likes of which we've only seen rarely before.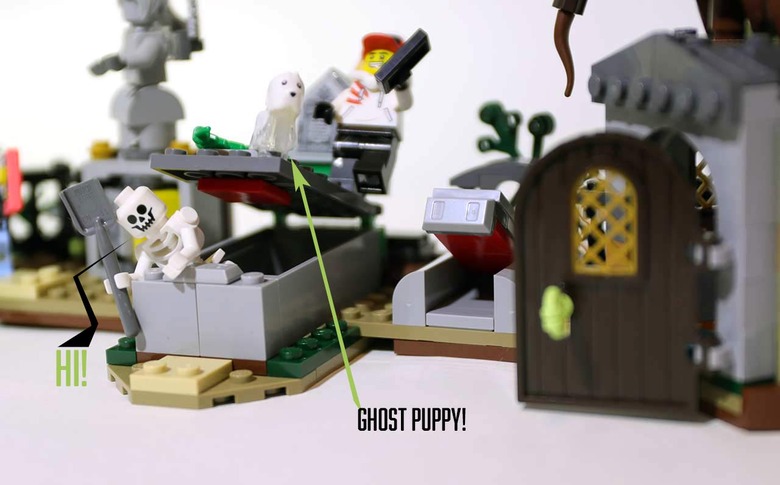 This set has a smart brick-built haunted tree whose arms move when tapped at their back. There's a pair of graves, both of which move. The smaller grave opens flat (no space inside) and the other is basically an above-ground tomb, opening to a space large enough to house the skeleton.
Even without the app, this set is above-average enjoyable for kids of all ages. The entire Graveyard measures approximately 5-inches tall, 12-inches wide, and 3-inches deep.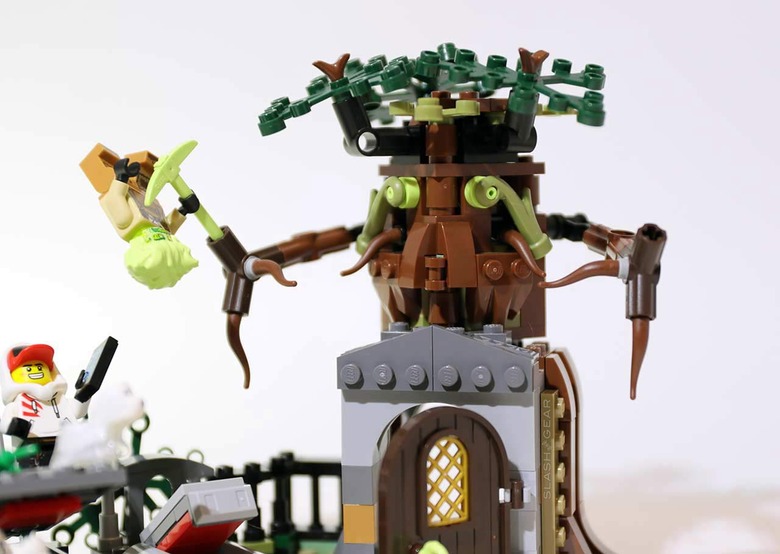 Paranormal Intercept Bus 3000
The bus is a surprisingly robust piece of work that's more than worth the time, effort, and cash it'll take to own and create. The bus itself is an interesting enough build to be worth the time, and for the cash you get a significant number of new or otherwise rare bricks.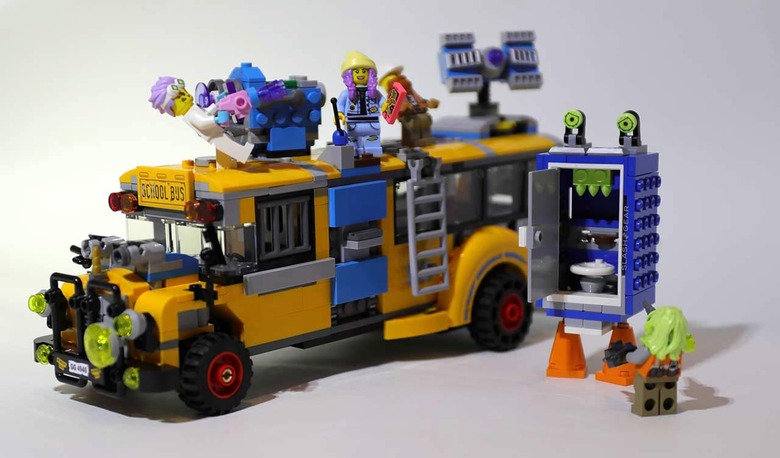 The bus is over 5-inches high and 11-inches long. It and includes a driver's seat (sort of a cockpit here) with room for a driver, a pair of fold-out doors with cannons, and a pair of moving rooftop scanners.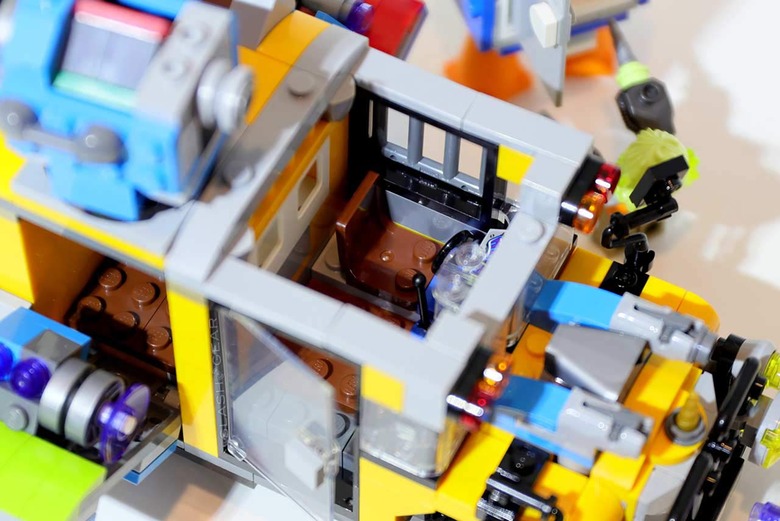 There's also a section in the back that can be pulled out and modified while the bus is not in motion. This section slides in and out easily on rails made by flat-topped bricks. It connects with a single snap element to allow removal, placement of minifigures, and replacement with relative ease.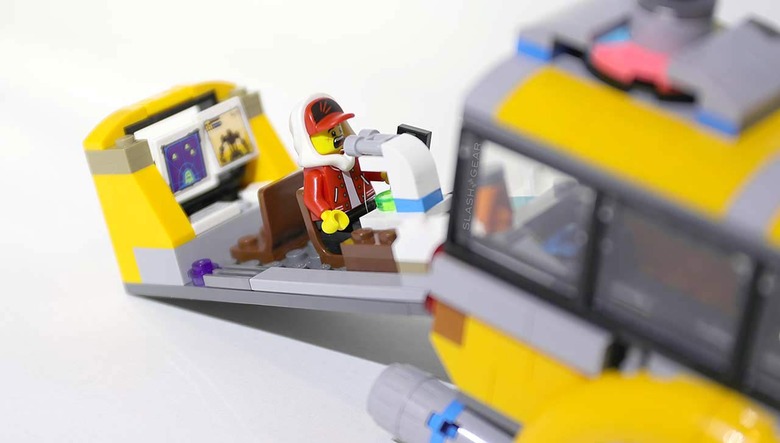 One of the very MINOR pain points of past multi-set releases like this was the inclusion of minifigures that were literally the same, set-to-set. I'm looking at you, Emmet. With the Hidden Side sets we've got here, a pair of characters appears in both sets – Jack Davids and Parker L. Jackson. Where in past seasons these may've come with the exact same pieces, these sets give these characters completely new sets of clothing – which is good!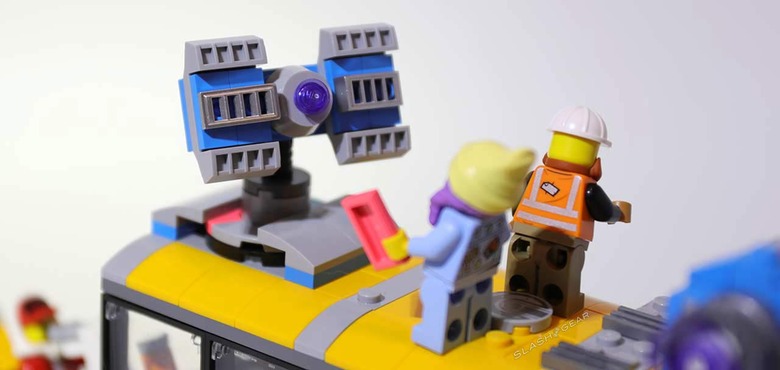 ABOVE: One of two scanners at the top of the bus, this set's all-jean-jacketed Parker L. Jackson, and one of a pair of construction workers (with alternate ghostly heads/hair, not pictured here). BELOW: Look at the detail on that phone/cannon/blaster! This isn't the first time LEGO's released a "smartphone" brick for minifigures, but it is the first time said phones have all had GHOSTS on their screens.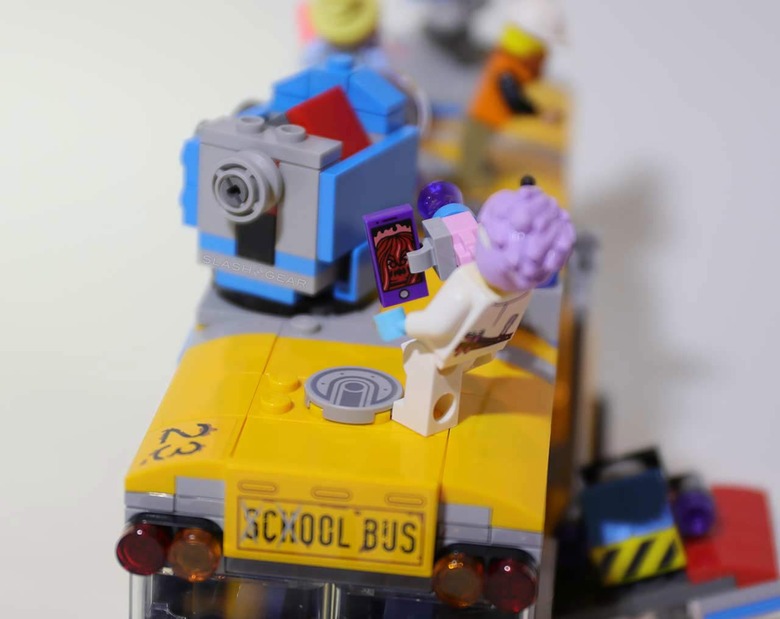 If for no other reason than this following element's existence in this set, the Paranormal Intercept Bus 3000 is easily one of the best LEGO sets of this season. The... thing you see here is a port-a-potty that transforms into a cheeky projectile-firing monster.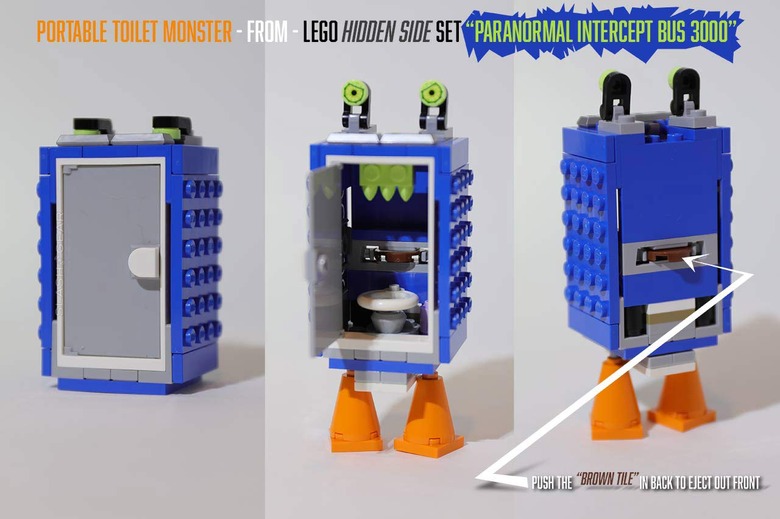 The official LEGO description of this element goes as follows: "The portable toilet can change into a brown-tile spitting haunted ghost monster for a lot of silly role-play fun." They've made a point of mentioning the "brown-tile" bricks, but aren't so crass as to suggest that these brown-tile bricks represent anything specific.
LEGO Hidden Side App Experience
The LEGO Hidden Side App allows augmented reality to "enhance" the play experience users get with these new sets. The app is somewhat of a game in which players choose to be either the ghosts or the living. The game plays out within the environments created by the first wave of Hidden Side LEGO sets.
The story suggests that the sets all exist within a single city. The city is called Newbury, and the quest each player sets out on centers on colorful bits of energy. And ghosts, of course.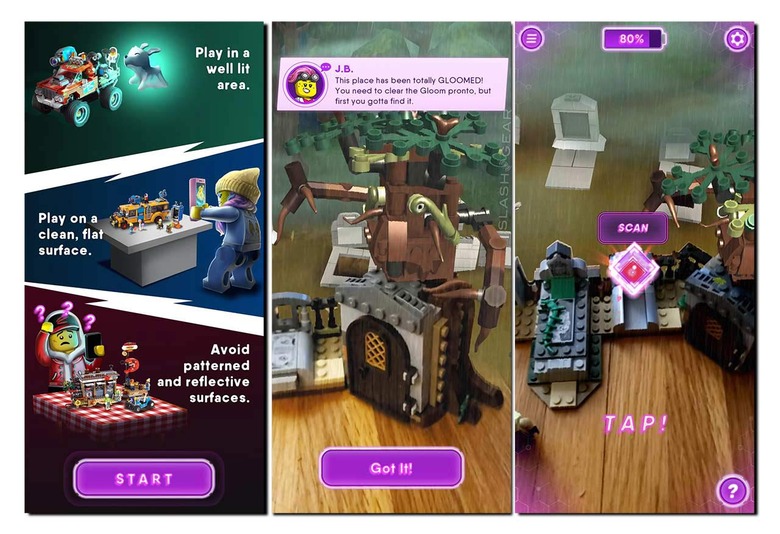 If you choose to be a ghost, you'll play all in-game, no sets required. If you play as a human, you'll need a Hidden Side set. With your smartphone, you detect your constructed LEGO Hidden Side set and the game begins. In the game, you use the various turning and flipping elements in the sets to reveal one of several colors.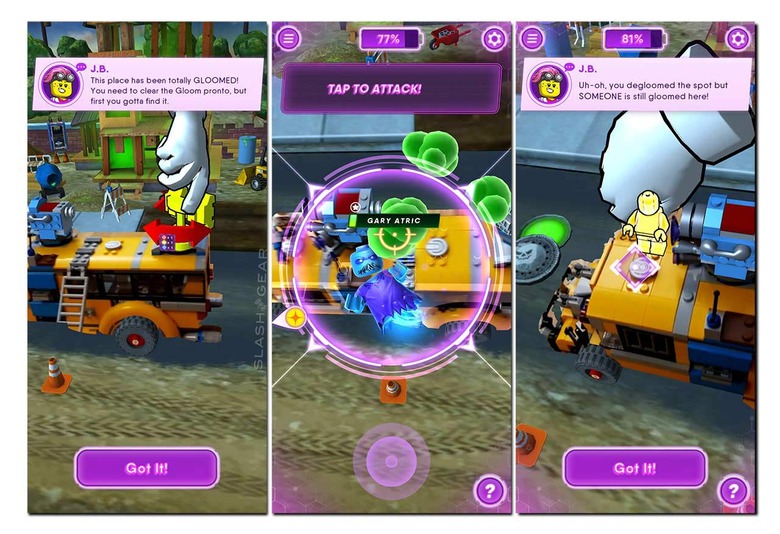 Each of the colors represents a different dimension in the game into which ghosts can escape, as well as energy which players of the game aim to collect. This is where the red, blue, and yellow brings (that might've otherwise seemed out-of-place in a standard set) come into play. You'll find these around the moving gravestone/stone angel element in the graveyard and in the scanner elements at the top of the bus.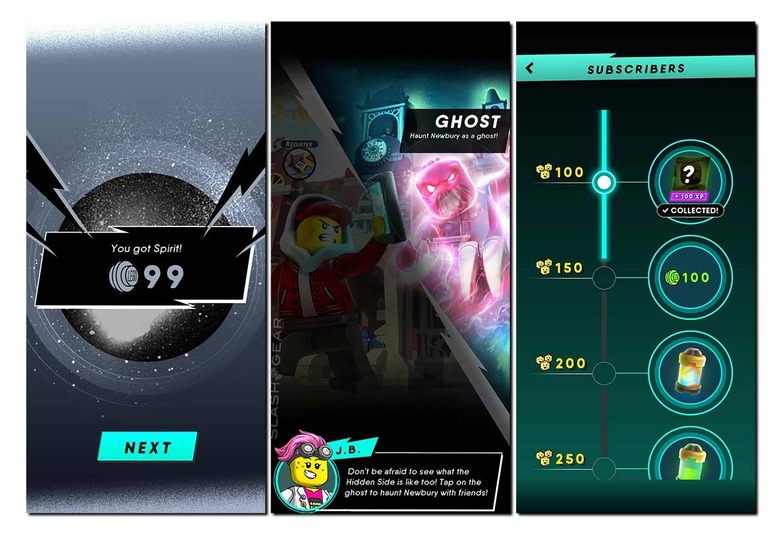 The basic AR elements in the game are simple and fun. At the moment, the "game" part isn't much more than the user moving their phone around the set, attempting to find hidden energy cells – it's more "ohh" and "ahh" than it is "oh I want to keep doing this forever."
I expect that the AR elements in each set will be expanded somehow – at present, they look neat, but don't have a whole lot of depth. There's not a whole lot of replay value. The good news is – again – the sets are good enough without the AR interactivity anyway.
NOTE: The AR app may not work on your device if your device is more than a few years old. You'll want to follow the instructions quite precisely, too – don't even begin to try to scan your constructed set on a patterned carpet! We did our first gameplay here with a Samsung Galaxy Note – there's an app for Android and an app for iOS, both on their respective app stores now.
Wrap-up and Availability
The LEGO Hidden Side set Graveyard Mystery (70420) will cost you around $30 USD right this minute. If you're more in the mood for a vehicle, the Paranormal Intercept Bus 3000 (70423) will cost closer to $60 USD. This Hidden Side collection includes a total of 8 sets at launch, with prices ranging from around $20 all the way up to $130! You'll find these sets in your local department stores, online, and at LEGO stores right this minute.