Hero Arm: Luke Skywalker's bionic limb made real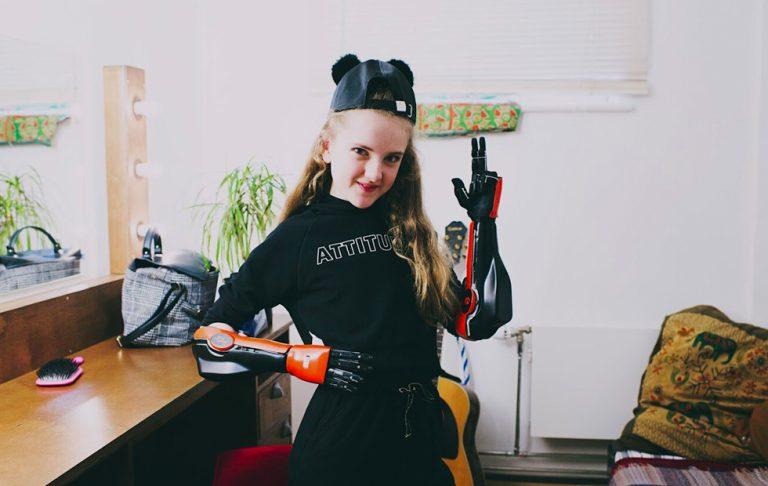 Powered prosthetics are becoming so well designed, they're surpassing their sci-fi film predecessors. Look to Open Bionics, a group that's working on a project called Hero Arm. They've created a 3D-printed bionic arm that works with muscle control, custom covers, and full customizability. This is one of those times where it's abundantly apparent that we're living in a technologic wonderland.
An early news blip for this project came from its creators' participation with Disney Accelerator. Open Bionics was part of the 2015 group of teams working with Disney for the following aim: "transforming children with limb differences into superheroes, creating low-cost, 3D-printed, bionic hands for amputees." As noted by Fortune earlier this year, Open Bionics designed these robotic hands with Industrial Light & Magic, the same group that designed the bionic hand of Luke Skywalker. Fast forward to 2018 and we're looking at the world's first clinically tested, medically certified, and FDA registered 3D-printed bionic arm.
Big up @noghoststudio, who created this awesome flythrough video of our Hero Arm, available to buy on April 25th > https://t.co/NYvtvoul0K #bionicarm # prosthetics #limbdifference pic.twitter.com/v35WF1kKoH

— Open Bionics (@openbionics) April 5, 2018
The arm works with a hand, socket, and frame, all made with sizes and shapes specific to the wearer. The arm is a powered bionic prosthesis that's controlled by the wearer's muscles. Each arm has the potential to include lights, sounds, and vibrations – "a full suite of tools that give you feedback on the status of your bionic hand."
This bionic arm project works with multiple "easy-to-select" grips as well as "freeze mode" for static positions. The grips and other movement are powered by an internal battery which the folks at Open Bionics suggest allows "all day usage without needing to plug in and charge."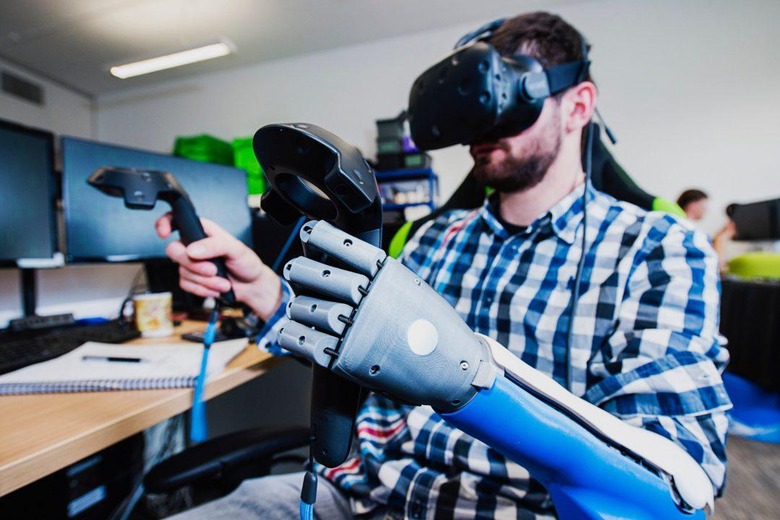 ABOVE: Software Engineer and Open Bionics Ambassador Luke Manson. This is the future. Manson's got a Hero Arm and an HTC Vive motion controller working with the HTC VIVE VR headset upon his noggin.
The socket with which the arm connects is dynamic, allowing compression and expansion in a number of different position. The socket is also removable and easily cleanable. The folks at Open Bionics suggest that the socket is "breathable" with ventilation that "enhances comfort in challenging environments."
This bionic limb has smart control – delicate control, too. Wearers can control the speed of the movement in their robotic fingers to the point where they're able to handle any object. That means they're able to grab a baseball as well as an egg without worrying about inadvertent cracks.
Perhaps the most important two parts of this project are these: Versatility and Affordability. While we do not know the final pricing range on the arm, the creators have stated a number of times that they want the Hero Arm to be "the most affordable bionic hand available."
Versatility comes in this bionic arm's intended wearer: Anyone ages 8 and up. Open Bionics want to make having a bionic limb as much an adventure more than it is a hassle. Based on the relatively small amount we've seen so far – they're well on their way to accomplishing that goal with flying colors. Open Bionics announced that April 25th, 2018 would be the first day Hero Arm would be available to buy for upper limb amputees ages 8 and up.
Popcorn pincher 😂 pic.twitter.com/tkh92cgF7g

— Tilly Lockey (@GiveTillyaHand) March 26, 2018
Have a peek at an early collaboration between Open Bionics, Eidos, and Razer to make Dues Ex bionic limbs a reality, too. At the head of this article is real-life superhero and user of the Dues EX bionic hand, Tilly Lockey, aka @GiveTillyaHand in full effect.