Here's what Honda's new R&D hub in the Valley is working on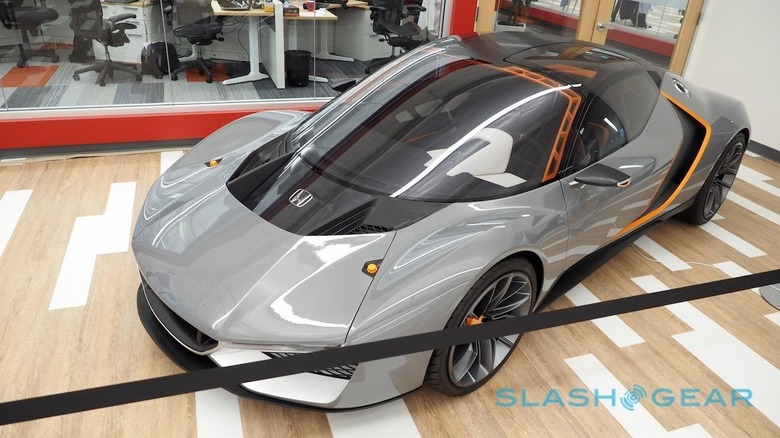 You're nobody in automotive these days without a flashy R&D center in Silicon Valley, and Honda is stepping up its game as it cooks up new semi-autonomous driving, green engine, and smart car technologies. While it's not Honda's first footprint in the Valley – that happened back in 2000 – it's certainly the biggest play from the firm, with the new facility the company's largest research & development site outside of Japan. The fruits of the new center will eventually trickle down to production cars, but Honda gave us a sneak peek of what it's been working on.
"As an industry, we're on the verge of some major transformational changes," Frank Paluch, president of Honda R&D North America said at the opening, "brought upon by the convergence of what have until now been disparate disciplines."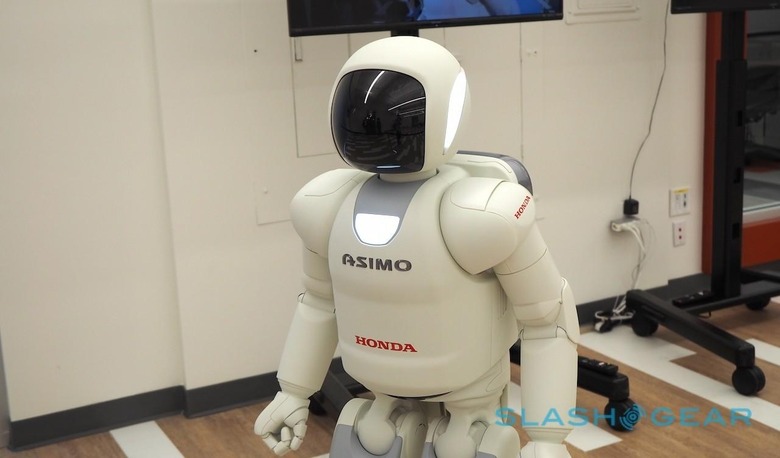 Those disciplines run the gamut from aerodynamics and advanced materials, through new sensors and GPUs, to augmented reality and neural networks. Honda is focusing particularly on connected vehicles and in-car apps, as well as new ways to more safely interact with increasingly complex functionality so as not to be distracted from the road.
That's because the Japanese company has some particularly ambitious targets for the years ahead. Honda hopes to cut collisions involving its vehicles in half by 2020, completely eliminating collisions by 2050. By 2040, Honda vehicles should be talking with each other wirelessly, as the company rolls out V2V technology, with full interconnectivity on the road expected by 2050.
Unsurprisingly, then, some of the ongoing research focuses on how existing safety systems like Honda Sensing and AcuraWatch might be upgraded in the future.
In a connected car demonstration using vehicle-to-pedestrian (V2P) technology co-developed with Qualcomm, an app running on a pedestrian's smartphone could wirelessly notify a nearby driver of the proximity. A warning message flashed up on both the dashboard display and the phone when the pedestrian was about to walk out into the road in the blind-spot caused by parked cars.
The system can even tell the driver whether the pedestrian is on the phone, texting, or wearing headphones, thus probably more distracted.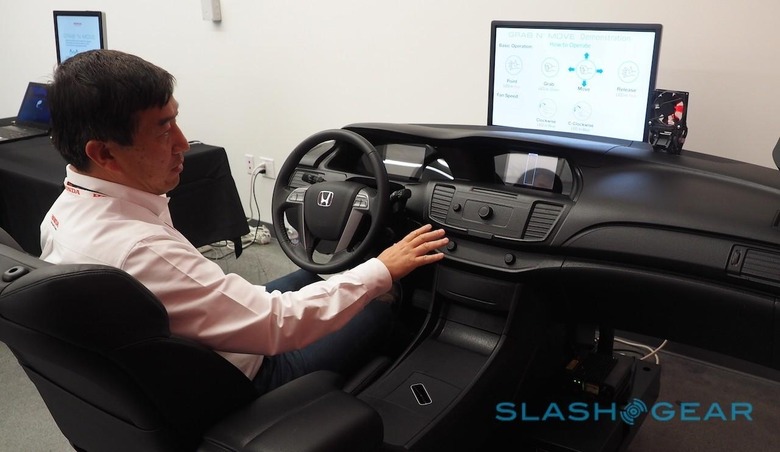 Other areas of focus are in how tomorrow's digital dashboards will work. In Honda's "Grab & Move" research, for instance, a Leap Motion movement-tracking sensor is embedded in the center console, and the driver can "reach out" to grab and virtually manipulate controls such as for the air conditioning system.
In a 3D head-up-display project, meanwhile, Honda is exploring how depth-of-field graphics overlayed onto the road ahead might prove more immersive. Unlike the 2D graphics of current HUDs, Honda's prototype can project speed warnings, navigation directions, and alerts for empty parking spaces into the areas they're actually referring to.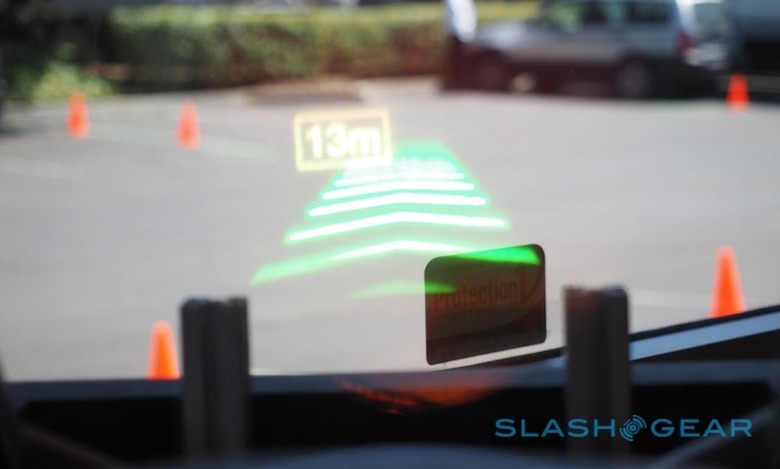 After a few worrying years where the car industry feared millennials had fallen out of love with driving, Honda is confident that's not actually the case. Nonetheless, smartphone-devoted users are another area of research for the company, which will launch its first Android Auto and Apple CarPlay compatible model this August in the shape of the 2016 Accord.
For even more affordable vehicles, however, dropping the onboard infotainment system altogether could help keep the cost down and avoid needlessly replicating hardware and functionality people already have in their phone.
To play with that idea, dubbed "Smartphone as Brain", Honda has cooked up a dashboard dock for the Nexus 6, which is running Drivemode's in-car UI beta. Slot the phone into place and a big, finger-friendly interface pops up, allowing you to still use your normal apps – Google Maps, Spotify, Hangouts, and more – as well as stream audio through the car's speakers and even control things from the steering wheel buttons.
In the hope of kickstarting more of those collaborations, alongside the official opening of the center is the launch of the Honda Xcelerator Program.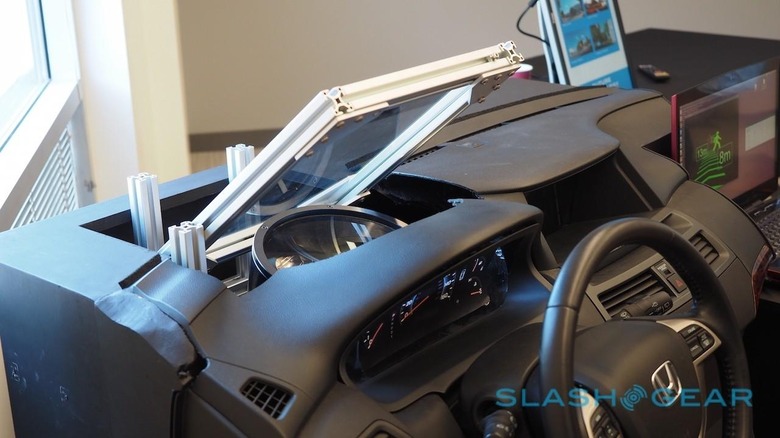 "When we first set up shop in Silicon Valley we knew we'd not be operating in the traditional manner of our R&D facilities," Paluch explained. "From the beginning Honda embraced open innovation, recognizing that collaboration is important to developing a better product."
Teams – whether university research spin-offs, startups, or simply companies not already working with Honda – will be able to apply to join the program and, if selected, work at the R&D center alongside Honda mentors and engineers. Over the course of 3-6 months, they'll get funding, tech support, and access to cars to help develop a product which can be demonstrated to Honda execs.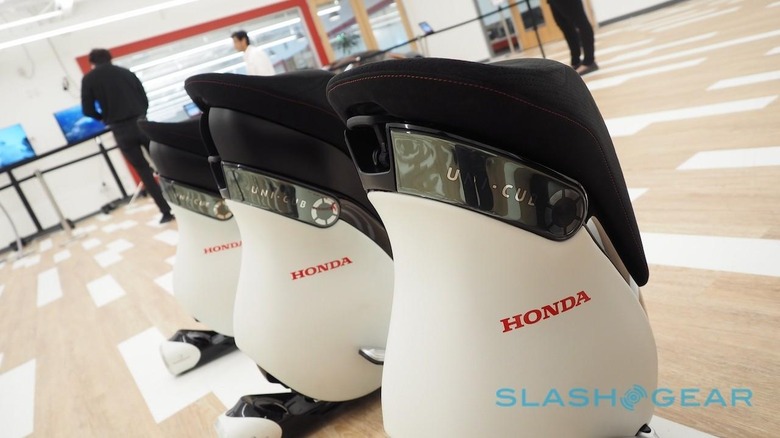 After that, there's the possibility of a commercial partnership, though Honda tells us that'll be decided on a case-by-case basis.
One thing conspicuous from Honda's roadmap is a fully autonomous vehicle, though Honda Sensing and AcuraWatch are already at least part of the way there. That, Paluch argues, is really just one possible offshoot of its overall safety focus.
"I'm not talking about a self-driving car," the R&D chief explained. "Although a self-driving vehicle is one possible outcome, the ultimate intention is to reduce collisions and injuries."