Here's the final design of the Finney blockchain phone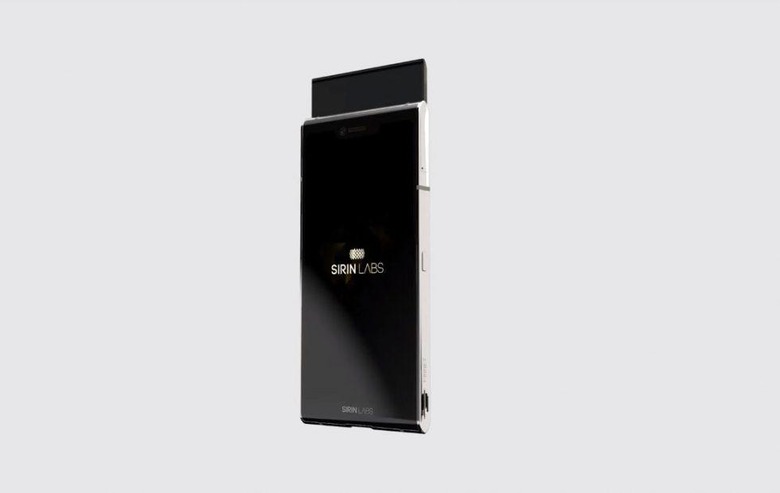 It was nearly 10 months ago that Sirin Labs unveiled the Finney, heralded as the world's first blockchain phone. We haven't heard much about the device in the time since then, but today, Sirin Labs is back with a pretty big update. The company today revealed the final design of the Finney, and it definitely has some interesting quirks.
Among those quirks is a dual-screen configuration that sees a 2-inch safe screen sliding up from behind the phone's main 6-inch display. According to Sirin Labs, this second display will operate on "dedicated firmware" and will be mainly used for wallet transactions. As we learned back in September, the Finney will offer an embedded cold storage cyptocurrency wallet, which we now know is activated when you slide the smaller screen up.
On top of that embedded wallet, Sirin Labs is also promising "a comprehensive and multi-layer cybersecurity suite" that's based on the company's proprietary Sirin OS, which itself is an offshoot of Android 8.1. Sirin has also outfitted the Finney with an automatic token conversion service, which can be used hand-in-hand with the phone's decentralized app store.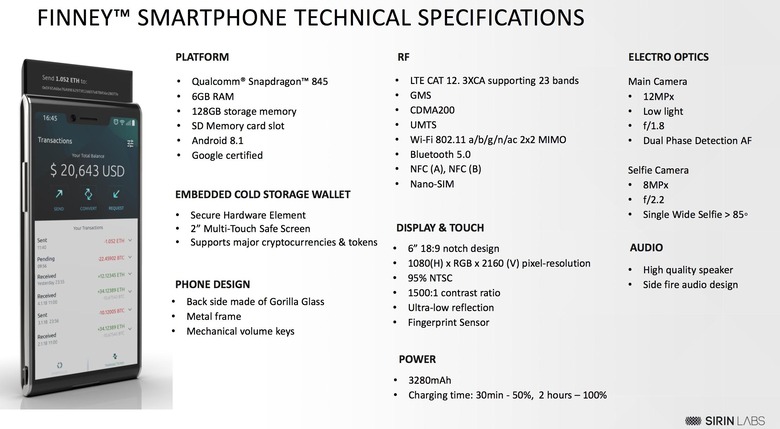 Today, Sirin Labs shared an image that breaks down all the specifications of the Finney, and it looks like a pretty solid device in terms of hardware. Standout specs include a Snapdragon 845, 6GB of RAM, support for microSD cards, and a 3280mAh battery. The rear-facing camera clocks in at 12MP and features dual phase detection autofocus, though we're obviously not expecting the camera to be one of the main draws of this device.
Finney's announcements comes on the heels of HTC's earlier reveal that it will bring its Exodus blockchain phone to market before the end of the year. So, it appears that the Finney will have some competition when it eventually releases, but for the moment, we don't know when that launch will be. Hopefully details about a release date follow soon, and we'll let you know when one is announced.