Here's the big Stranger Things Microsoft Windows twist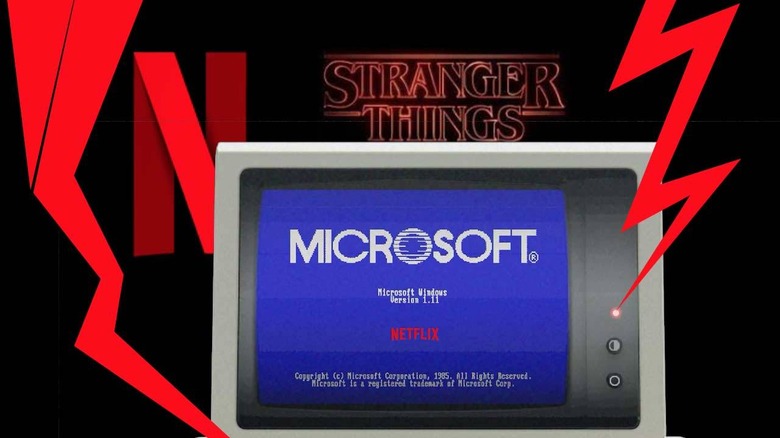 For some strange reason, Microsoft struck a deal with Netflix to cross-promote Windows and Stranger Things Season 3. We've covered earlier teasers of this collaboration over the last couple weeks – today we've got a bit more information on the ever-more name-dropping brand-promoting streaming sci-fi horror adventure show Stranger Things and their future dealings with the big M.
It's strange to see Microsoft promote themselves with Stranger Things with a tie to Windows 1.0. As Ernie Smith at Motherboard on Vice mentioned, the year and the software line up – but the people in this show would quite unlikely have ever used Windows 1.0 for anything.
This isn't to say the first version of Windows wasn't awesome – it was extremely nerd-tastic. Its release is a true moment-in-time which only Bill Gates could give us, and only in a tuxedo – it's a fancy piece of software! You need to look fancy in order to present Windows for the first time, obviously. Have a peek at the original Bill Gates presentation of Windows-MS, ready for release, and see what you think:
Now, for Stranger Things, Microsoft is sort of pushing the clock backward to meet the series at this moment in history. It's the year 1985 when this show's third season occurs – the same year Windows was first revealed to the world (mainly for business). Microsoft's plotted their cross-promotion with Netflix with Twitter promos like so:
But here's the twist. There's this BIG twist that you might not have expected from a television show that literally boosted Eggo Waffle sales by 14% (year-on-year). That's the truth, for real. So says Sam Ro, Managing Editor of Yahoo Finance.
Stranger Things has been huge for Eggos $K #cagny pic.twitter.com/Od0j3YbyJh

— Sam Ro 📈 (@SamRo) February 21, 2018


Here's the kicker: Windows, the operating system, does not actually appear in Season 3 of Stranger Things. Don't go in with a big bag of popcorn and a bottle of whiskey expecting to take a shot every time someone needs to reboot their brand new home computer. That's not actually a thing that happens in the show.
In other words, this promotion is about as sensible as putting Star Wars on your bag of celery. You've purchased bags of oranges, right? Do you select the oranges with BB-8 on the outside- ah. Actually that one makes sense. I take it all back! Stranger Things Season 3 release date seekers, rejoice: It's up right now!