Here's Curiosity's New Year message from Mars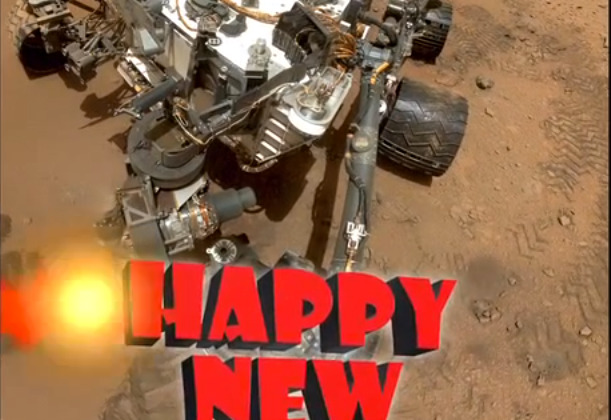 Considering how far away Mars rover Curiosity is – and how busy it is chewing through rock samples – we're guessing the exploring robot had a little help from NASA putting together its New Year greeting for Times Square last night. Teased in the final hours of 2012, the clip was beamed up to the huge Toshiba screens above the crowds as part of the tech company's official sponsorship of the New Year celebrations.
The video itself is pretty cheesy, and we'd have loved to have seen more of the red planet and less of the WordArt. Still, it probably fit the mood on the night; new year revelry is not really the best time or place for announcements of new Martian discoveries.
Those discoveries could well increase in number as Curiosity heads into its first full year on Mars. The rover's new year resolution is to climb Mount Sharp, a three mile high peak at the center of the crater Curiosity landed in, on a hunt for new evidence that the planet might have once supported microbial life.
That journey will take nine months, the Jet Propulsion Lab team responsible for the Curiosity project at NASA says, with frequent stops along the way to take samples and do other testing. There'll also be a pause for new software to be installed before Curiosity begins its slow trundle.