NASA's Curiosity Mars rover will deliver a "special message" in Times Square tonight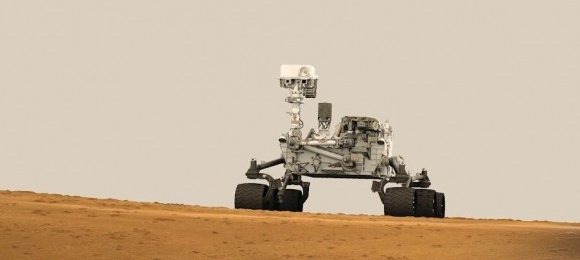 NASA's Curiosity rover has already reached a few milestones, including being the first ever to check in using Foursquare on another planet. Tonight, however, the Mars rover will make an appearance at tonight's New Year's celebrations in New York City's Time Square, where millions will watch the ball drop. The rover is planning to deliver a "special message" on the big screens.
Curiosity announced the news via her Twitter account, where she tells her followers to "look for a special message from Mars on the giant Toshiba screens" in Times Square in New York City. Sadly, that's all the information that we were given, other than it'll be a "video greeting" and if you can't make it to NYC for New Year's, the rover will tweet the greeting later today anyway.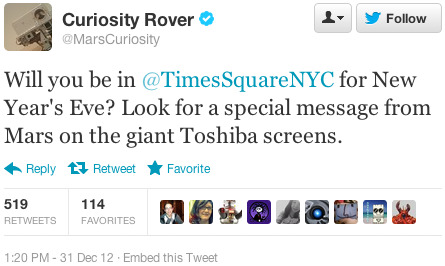 We're not sure exactly what Curiosity has up her sleeve for tonight. It could be a live stream of Mars or just a quick pre-recorded video of the rover prancing around on the Red Planet. It would be awesome if NASA used the opportunity to announce a new discovery of the planet, but we're guessing that the "special message" will merely just be a cheesy greeting from the rover.
The Toshiba big screens in Times Square will display the official New Year's Eve countdown, since they're the exclusive sponsor for the Official Countdown of the Times Square 2013 New Year's Eve Celebration, and the company estimates that more than one billion people around the world will be tuning into the broadcast this evening.