hereO is a trendy GPS watch for kids

Mobile technology and mobile devices are so prevalent today that it totally make sense to employ those not just to make our lives easier but keep our families safer as well. hereO offers just that, injecting GPS technology into a watch that, at the same time, looks cool enough that kids will want to keep them on.
hereO, pronounced as "hero", is definitely not the only game in town. Last year, FiLIP unveiled it's own device, which is practically a real smartwatch that has been reduced and customized to become a kid's accessory. In contrast, the hereO watch itself doesn't offer bells and whistles at all. But that simplicity might actually be part of its appeal. It is truly a watch that incorporates a GPS chip as well as a SIM card slot for connecting to a wireless carrier. Most of the magic happens in the cloud and on the parent's smartphones.
The hereO watch actually communicates with hereO's backend server. To be precise, it utilizes cellular connection from carrier Wyless, which is advertised to work in over 140 countries. Therein already lies one of if not the major drawback of hereO. You do need a cellular connection. Although you do not need to subscribe to a wireless service separately, you do need to cough up $5 a month for hereO's service, which covers that as well. Fortunately, no roaming charges are applied.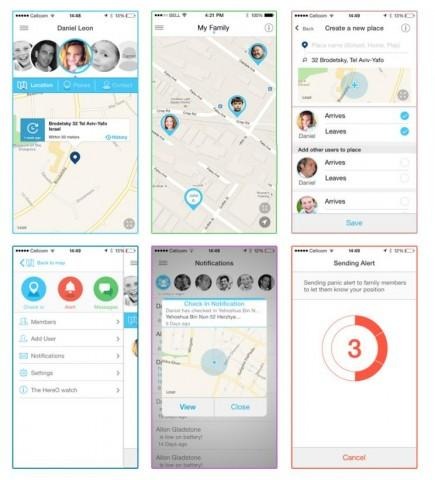 The third part of the system is the hereO Family App. You can expect the usual child safety features such as viewing the child's location, both present and past, alerts when the child has left or entered a particular zone, or even alerts when the watch has been removed. More than just a companion app for the watch, however, the Family App is actually a complete end-to-end family management tool, allowing users to know each other's location and send broadcast messages. The app is currently in testing and will be available for free on iOS starting April and on Android and the Web starting June.
The hereO GPS watch is, unfortunately, not yet a retail product and currently exists as an Indiegogo crowdfunding campaign. One can get a single hereO watch for a $99 early bird pledge or, when that runs out, $129. Both include free 6-month subscription, which afterwards becomes $5 a month as mentioned. One important note: this Indiegogo campaign is set to Flexible Funding. This practically means that it will receive all pledges whether or not the campaign reaches its funding goal.
SOURCE: Indiegogo