Here are Audi's Open webOS and Android Wear watches in action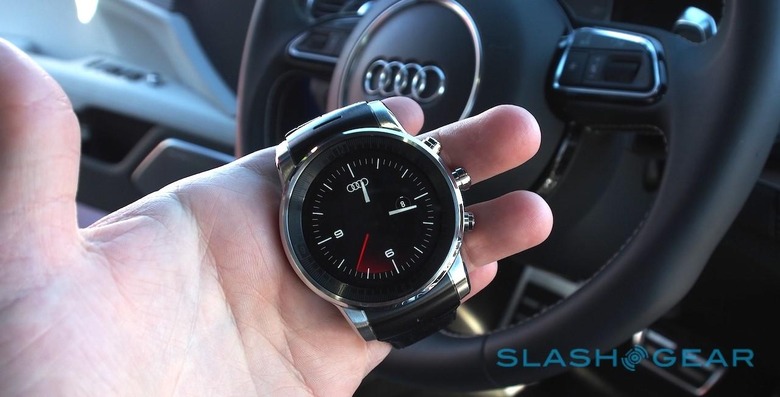 Audi's foray into smartwatches has kicked off some confusion here at CES, over whether the car company is working on Open webOS or Android Wear. Turns out, the answer is "both". SlashGear sat down with Audi's engineers responsible for both projects, to take a walk through the "Secure Key" project that will allow phones and smartwatches from multiple manufacturers to wirelessly start the car, locate it in distant parking lots, and even loan virtual keys to colleagues and friends. Read on for a full demo of both Audi's LG Open webOS watch and its Android Wear counterpart.
Both systems rely on the integrated 4G LTE connection Audi has begun baking into its cars, connected to the company's cloud services. Until now, that's allowed for things like infotainment firmware updates, streaming music, and mobile hotspot services, but with the arrival of Audi Secure Key it'll also be the backbone to car access.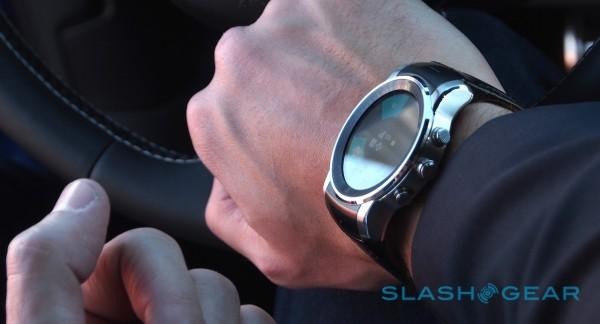 The circular Open webOS watch has certainly grabbed the lion's share of attention for Audi's wearable efforts, and having spent some time with it, it's hard not to see why. Although at first glance comparable with LG's own G Watch R, on the wrist it's a distinctly different animal.
Build quality is a level above anything else we've seen on the market in the smartwatch space, with a stainless steel casing and sapphire glass. There's a deployment clasp like you'd find on a proper luxury timepiece, along with a sturdy leather strap. The three buttons on the side are beautifully finished, with milled end-caps and a tactile feel.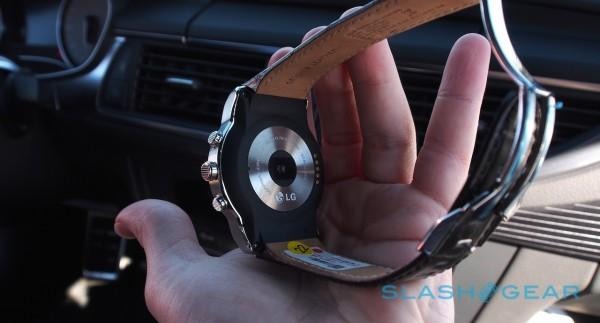 Of course, most of the time you're negotiating the watch via the circular touchscreen. Audi's custom watch face switches to a list of apps, the car company's own launcher sitting at the top. However, there are also options for the phone – complete with a dialer so you can directly access the webOS watch's integrated cellular connection, and shortcuts, with synchronization from user account so you don't have to set them all up on the compact touchscreen – a music app, "Find My Phone" service, LG fitness (using the heart-rate monitor embedded into the back), and more.
Scrolling a finger around the edge of the display navigates up and down the list, while hitting one of the side buttons brings up a status and shortcut display. From there, you can see battery level, wireless status, NFC, and toggle things like Bluetooth on and off.
While LG is clearly developing Open webOS for smartwatches itself, Audi has been working alongside a team in the company to turn it to Secure Key purposes. Secure Key works across phones and the smartwatch, in the case of the Audi S7 the company brought along to CES, relying on a custom NFC/wireless charging plate under the central armrest that simultaneously recognizes the user and recharges their device.
NFC is used – rather than, say, going through the LTE connection – for legal reasons: Audi has to prove that there's a valid driver in the car, rather than just a child playing around at the wheel, or a thief trying to make off with your luxury sedan. Holding the webOS watch near the plate and then hitting the Start button does the same thing, though Audi told us that the ergonomics of that are still being considered.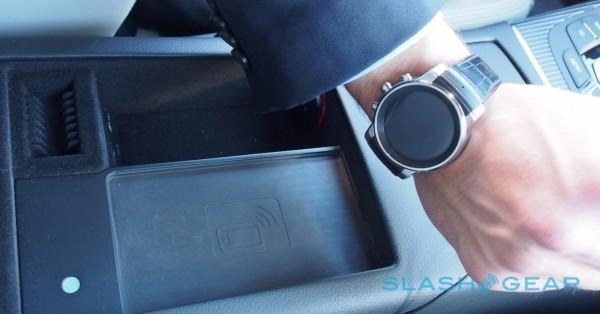 Production cars may well have several NFC receivers integrated into the steering wheel, so that no matter which wrist you have the watch on, it'll be recognized without having to stretch. Another NFC reader in the door handles gives access to the car itself when you hold your phone or wrist near.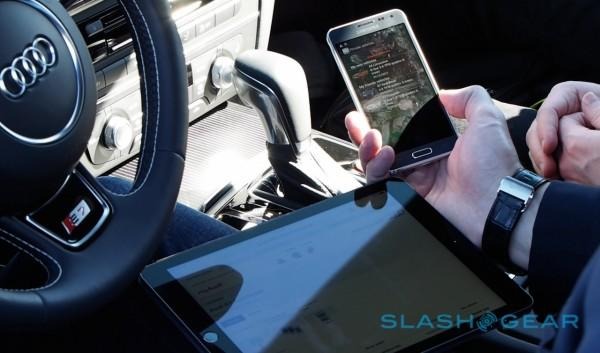 Audi owners will get access to a web-based Secure Key dashboard, from which they can remotely provision one or more devices – phones or watches – with a digital key. Multiple devices can have access at any one time, so that for instance you can leave your car at the airport parking lot and allow a friend to pick it up, without having to hang around to hand over the physical keys.
The same screen used for that key provisioning can also be used to deactivate them, so that if you lose your watch you can stop someone from using it to gain access. By using NFC, it also means that even if your phone is powered off, or lacks a working data connection, you can still use it to unlock and switch on the car.
It's all in working pre-production stage, both Open webOS watch and Secure Key, but both seem to work very well. Audi is working on supporting Bluetooth LE for authentication – just as with the existing NFC support, a secure element either on the SIM card or baked into the phone like Apple's chip for Apple Pay will be used to lock up the credentials themselves – so that compatibility will be broader.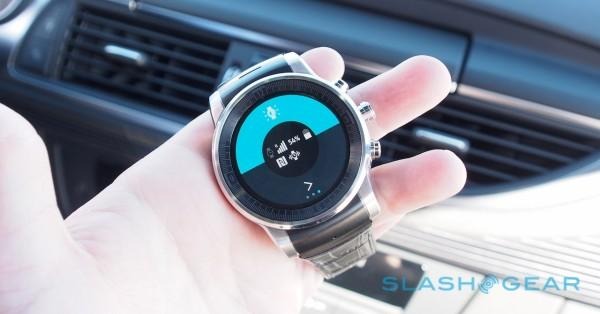 In contrast to the attention-grabbing Open webOS project, Audi's work on Android Wear has been somewhat under the radar. The app – which pairs with the existing Audi mobile app for Android phones – will officially be discussed at the Detroit Auto Show next week, alongside the new Q7 luxury SUV, and unlike the collaboration with LG on the circular watch, is all Audi's own handiwork.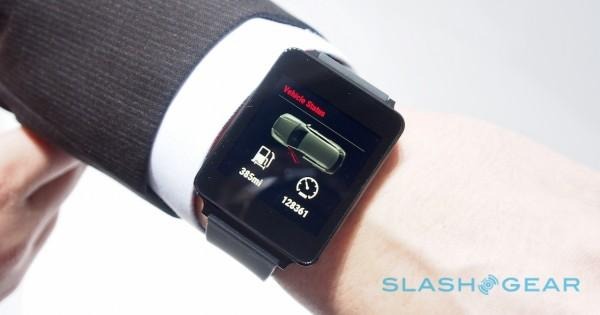 Demonstrated to us on an LG G Watch – though compatible with any Android Wear watch – it's effectively a second-screen for the Android app. That means that, while the Open webOS wearable can be used independently of a phone it might sometimes be paired with, the Android Wear app will still need your phone to be nearby.
Still, many of the features are shared. The custom watch face is the same on both, only the shape to differentiate, and there's an Audi app loaded from the usual Android Wear launcher. From that, swiping side to side moves through a series of panes for different remote car features: lock/unlock, turning on the HVAC system to heat or cool the cabin in advance, locating where you parked it complete with directions back, and seeing fuel status and remaining range.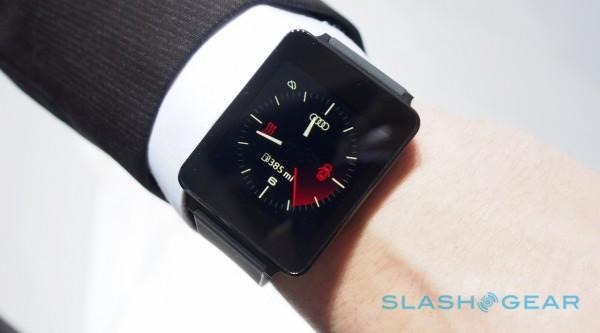 The main watch face shows icons depending on which features – like heating, or having the doors unlocked – are active, and if you walk away without locking up properly, you'll get a push notification on your wrist from which you can secure the car. Everything is routed through the phone, to Audi's cloud, to the car, rather than the NFC-based system the circular watch relies upon.
Audi is clearly ticking the boxes for the main smartwatch platforms, with Android Wear support and the incoming Open webOS watch. As for Apple Watch, Audi's Thomas Ganslmeir – who developed the Android Wear version – pointed out that the Cupertino wearable isn't available yet but, smiling, told me to "watch this space" when I asked if the company was also planning a version for it. Given there's likely to be plenty of crossover between Apple fans and Audi fans, it's hard to imagine the company skipping the new platform.
Just like Apple Watch, both the Android Wear app and the Open webOS app will be ready sometime in 2015, Audi's Automotive Security Function Architecture lead Roman Kochanek told me. Availability for the webOS watch itself will depend on LG, Kochanek said, and it's unclear if Audi will offer its own, premium version as shown here at CES, while LG follows on itself with other models.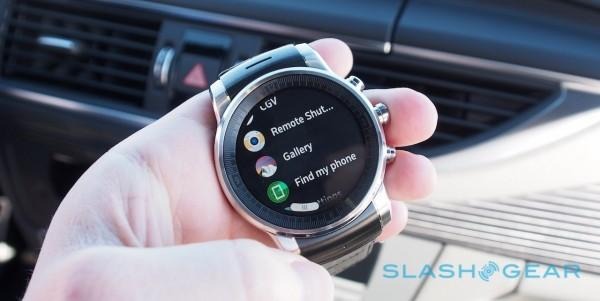 Pricing, too, is unknown, though given the nature of the hardware will certainly be at the premium end; Kochanek also demurred there when I pushed for details. As for the Android Wear app, that will be a free download, though you'll obviously need a smartwatch running Google's OS first.
Meanwhile, there's Audi's new Android tablets, also for the Q7, which we went hands-on with yesterday.
We'll likely find out more at the Detroit Auto Show 2015, which kicks off next week. SlashGear will be there to bring back all the news.