Hercules DJ Control MP3e2: bring Ibiza to your bedroom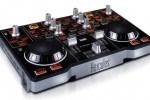 The "sensation" of Pro DJ'ing is surely staying up to 4am, packed into a mixing booth before a sea of heaving, ketamine-fuelled bodies swinging their arms rapturously, while your ear-drums are slowly pounded out of existence by far more bass than is medically advisable.  Unfortunately, Hercules seem to have decided that their version of that sensation is actually all about tweaking your MP3s into digital mixes, and with that in mind they've launched their latest DJ control surface, the MP3e2.
The DJ Control MP3e2 hooks up to your PC or Mac via USB, and packs twin virtual mixing-decks, twin jog-wheels, a cross-fader and dual volume faders.  There are also various peripheral controls, for important matters such as adding loops, playing with bass, treble and mids, and dropping in effects.
Compared to the previous model, the surface has become better spaced and the jog wheels broader and more precise.  More of the controls are backlit – all the better to see them in your bedsit – and the file navigation joystick has been replaced by buttons.  Still included is software for your computer, in this case VirtualDJDJC MP3 e2, which lets you play all sorts of havoc with MP3, WAV, WMA or AAC audio files.
The Hercules DJ Control MP3e2 will land in October, priced at $129.99.
Press Release:
Hercules Brings the Sensation of Pro DJing to the New Mixing Generation

NEW YORK, NY – (September 10, 2009) – Hercules, the leader in portable DJing solutions for computers and manufacturer of entertainment hardware unveils their latest DJ creation, the Hercules DJ Control MP3e2. This new DJ controller is designed for teens and adults, who want to experience the feeling of being a Pro DJ, or anyone enthralled with the world of DJing, digital music and the latest remixes. Users can create their own mixes with the DJ Control MP3e2 which features two decks to mix music tracks on and offers the ultimate mobility. The advanced, lightweight digital mixer retails for the SRP $129.99 and will be available starting early October 2009 at Musician's Friend, ZZounds, B&H Photo, Six Star DJ and PSSL.com

The DJ Control MP3e2 is a new controller specifically designed to make mixing MP3's easy. If you have a computer (PC or Mac®) equipped with a sound card, amplified speakers, your favorite music tracks and a USB port you are ready to rock the house with your personalized mixes. Feel like a DJ with a multitude of mixing functions at your fingertips including two mixing decks, two jog wheels for easy music track navigation, one cross fader and two volume faders for mixing two music tracks together and track speed controls for changing the pitch or tempo. Aspiring DJ's can set the floor on fire by altering the music with the equalizer controls (bass, medium and treble ranges), adding (automatic) loops, multiple effects and even signature sounds.

"The success of our products has helped spread the Hercules brand throughout the international DJ community." states Winn Keaten U.S. Marketing Manager for Hercules. "We are proud to offer this fun and intuitive DJ solution that gives novice users the sensation of being a Pro DJ" adds Keaten.

Simple DJ Operations

Swift Mixing, Solid Controls

User-friendly automation for beginners

Cue point suggested by DJ software during audio file analysis (Included software: VirtualDJ® DJC MP3 e2)

Track synchronizations with 1 push of a button

Automatic loops on 1, 2 or 4 beats

Lighter & smaller than a laptop

Compact DJ control surface

USB powered – no extra power supply needed

2 Mixing decks

3-Level equalization per deck for producing big sound

2 jog wheels to navigate tracks

1 Cross fader and 2 volume faders

4 Buttons to browse music lists

2 Buttons to load tracks

Alter your music files with your own effects

Save your mixes as your own music files

Non-slip pads ensure perfect stability

Compatibility

Runs on PC (Windows® XP and Vista 32 and 64-bit versions) and on Mac® (Mac G4/G5 and Mac OS 10.4)

For use with all digital music formats: Audio CD, MP3, WAV or WMA files for Windows®, AAC for Mac® OS

This new DJing controller succeeds the DJ Control MP3 by Hercules (Edition 1, the best-seller in its category on a global scale) and provides a number of additions including a new, wider, more slender design for comfortable mixing, broader and more precise jog wheels, 4 navigation buttons which replace the previous version's joystick, increased space between the cross-fader and jog wheels, and more backlit buttons for mixing in low-light conditions.