Hennessey Goliath 6x6 Is A Silverado On Steroids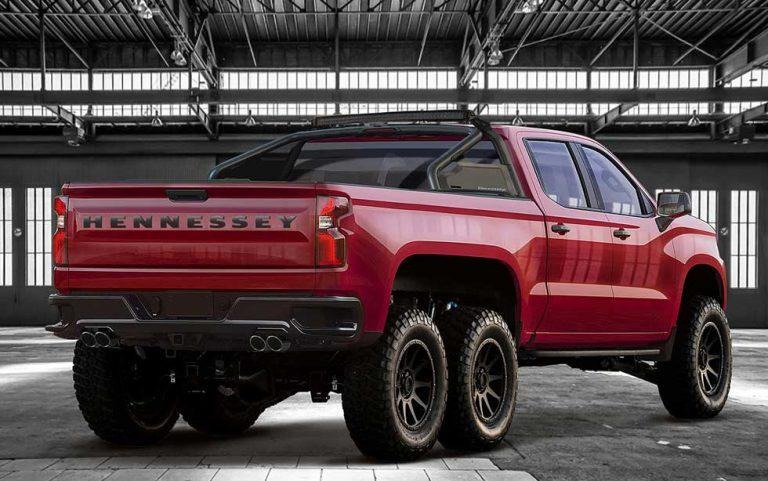 Hennessey has taken a 2019 Chevy Silverado Trail Boss truck and turned it into a very different beast. The truck comes on the heels of the similar Velociraptor 6x6 truck that started life as a normal Ford Raptor. The new Chevy is called the Goliath 6x6 and it has both more wheels and more power.
The factory 6.2L V8 engine is fitted with a 2.9L supercharger at 7 psi of boost. A stainless-steel exhaust upgrade is added resulting in 705hp and 675 lb-ft of torque. Hennessey says that the monster can hit 60mph in the mid-4 second range despite the extra weight from an additional axle.
The rear suspension of the truck is all new and it's fitted with an 8-inch lift. The 6x6 truck bed is a custom design and the ride rolls on 20-inch Hennessey wheels. To get Goliath looking good, Hennessey fits both Goliath and Hennessey graphics to the ride.
A new roll bar is added and LED lighting. The front and rear bumpers are Hennessey units. The front grille has large Hennessey letter on the front. Despite the heavy modifications, the truck still carries a 3 year/36,000-mile warranty.
Goliath starts at $375,000 and includes the base truck. Other options include an 808bhp stoker motor upgrade, Brembo brakes, and a custom interior. Only 24 Goliath 6x6 trucks will be made.
SOURCE: Hennessey