Hello Kitty Zub Zirc Nooka Watch revealed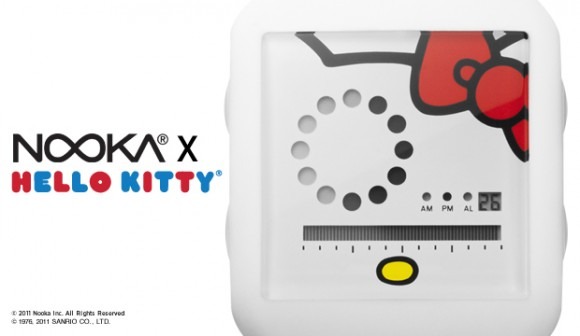 If you're in to strange timepieces and are unaware of the brand Nooka, you'll be extra surprised by the Hello Kitty Zub Zirc watch you're about to see. What we've got here is Nooka's first collaboration with international lifestyle brand, fashion brand, and cutest creator of every kind of product under the sun Sanrio and the super wild watchmakers Nooka. This timepiece is both limited edition and contains several of Nooka's signature above-average clock mechanisms.
It's the unmistakable set of Hello Kitty's ear bow, ears, and nose, set amongst Nooka's classic Zub Zirc face. In the upper left-hand corner you'll find what you'll easily recognize as an abstraction of a conventional analog clock. Below this you'll find the minutes of the hour ticking away along a line of digitally-placed marks, along with AM and PM marks to the right of the circle. Control buttons sit around the outer bits of the face, and the whole casing is white outside the printing of the kitty face.
This device is going to cost you $130 USD if you pick it up today, and take note, because the innards as well as the outer bits are high quality. This watch has 3ATM water resistance, alarm, chronograph, date, time, and the display is TDF LCD Display that's Electroluminescent(EL). The lens is Mineral Crystal, the case back is Stainless Steel, and you get a 1 year warranty right out of the box.
The box, by the way, is what Nooka calls an exclusive siliconezone food-grade silicone package that you'll be able to use for cooking and general storage if you wish. What a wacky green situation! Pick this device up over at Nooka.