Hello Kitty Car Charger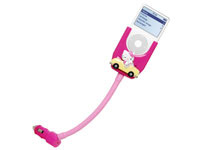 Haven't had enough of Hello Kitty yet? Well that's good because it would seem it is the trend that just won't die. Now you can even charge up your iPod with this oh-so popular kitty.
This charger not only brings your iPod back to life it also is an FM transmitter in your car. I'm just curious what kind of tunes you play with Hello Kitty.
Personally I would have to play some kind of really hard rock just to balance out all of the pink that comes with all Hello Kitty products.
Hello Kitty iPod Car Charger [via Gadget Candy]