Hearthfire DLC for Skyrim available on Xbox 360 now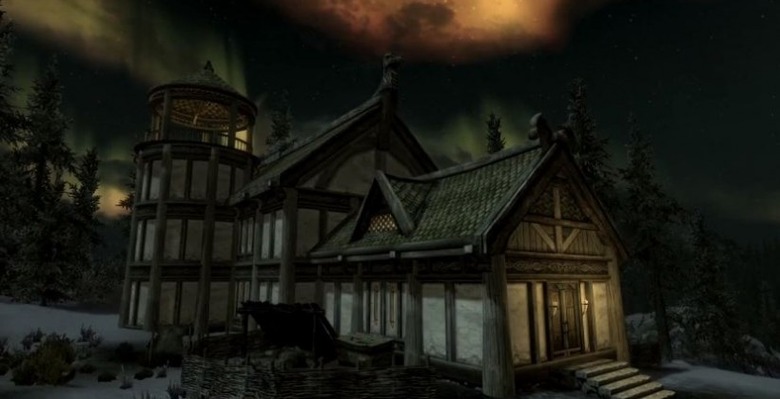 Skyrim's latest DLC, Hearthfire, launches on Xbox 360 today, and it seems to pack a lot into a tiny download. The DLC, which lets you collect raw materials to build your dream home and adopt children (among other things), weighs in at only 75MB, meaning that it should be a pretty quick download for most folks. The pack is budget-priced too as it costs a mere 400 MSP, leading us to believe that this is a tiny DLC bonus meant to tide us over while we wait for the next expansion-like Skyrim DLC pack.
After buying up a plot of land and gathering the raw materials needed to build a house, players get to choose from a variety of rooms for their home. These range from enchanter's towers and stables to greenhouses and an armory, and once the house is finished, players will be tasked with defending it from the beasts of Skyrim. These features first made an appearance in the Skyrim Game Jam video Todd Howard showed off at DICE 2012, and at the time Howard said that some of the Game Jam content could make it into the actual game as DLC. Hearthfire was announced only last week, making the lead up to this DLC pleasantly short.
While PC players can probably expect this DLC to land in about a month – give or take a week or two – PS3 players may never see it. Bethesda is currently struggling with the PS3 release of Dawnguard, Skyrim's first DLC, telling us last week that it may not be able to fix the problems its facing. If that happens, then Dawnguard may not see a release on PS3, and since Bethesda seems to be expecting the same problems with the PS3 version of Hearthfire, it stands to reason that the home-building DLC might not either.
This, obviously, has some PS3 players up in arms while Bethesda works with Sony to try to come up with a solution. It would be a shame if the PS3 missed out on these two Skyrim DLC packs, but some argue that cancelling them outright would be preferable to releasing them full of bugs. Are you buying Hearthfire today? If you're playing Skyrim on PS3, what's your take on this whole DLC situation?