Head-Up Display unboxed - F-16 or Falls-Flat?

In-car gadgets are always crowd pleasers, and GlobalTech's budget heads-up display was very successful in tickling the Top Gun desperation of a certain type of driver.  Thing is, actual performance was something of an unknown quantity, having only ever seen it at trade shows which are decidedly unlike being in your car.  Digital Reviews have come to our rescue, with the first part of their unboxing/review of the HG-100.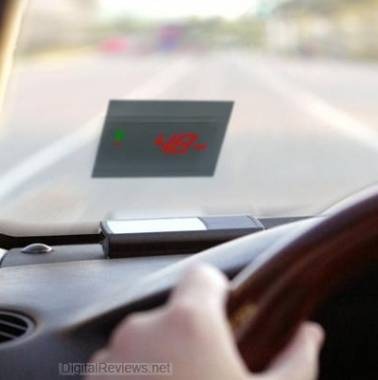 It's still not pretty, and having to stick a square of reflective plastic on your windscreen isn't ideal, but the concept behind the HUD is nonetheless good.  Basically, the HG-100 uses GPS positioning to project your current speed, and can hook up via Bluetooth to your phone or PDA to also indicate which direction you should be going in.
So far so good, but Digital Reviews have already found a few usability flaws – not least the constantly flashing, terribly confusing LEDs which seem to rely not only on non-standard colouring compared to the rest of the industry but on only slightly different blink rates to differentiate between, say, the battery being charged versus the battery being low.
Other than that, they still seem impressed; we'll have to wait for part two of their review to see just whether this is a $100 gadget you should be splashing out on.
GlobalTop HUD GPS Speed Meter Unboxed![Digital Reviews]