HCL Aegis low-cost home automation gateway supports WiFi, ZigBee, DLNA, HomePlug & more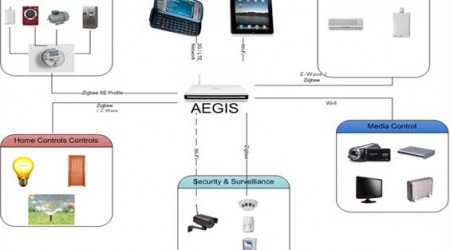 HCL has announced Aegis, a multi-platform home automation gateway which promises to control your multimedia, energy monitoring, HVAC, security and more, all through Android, iOS and Symbian devices, and using multiple wireless standards. Debuting at CES 2011 this week, the platform-agnostic Aegis supports WiFi, ZigBee, DLNA and HomePlug networking.
While home automation gateways aren't uncommon, HCL reckons it can push pricing down significantly by its combination of low-cost chips and flexible support for different standards, allowing OEMs to pick and choose the connectivity of their preference. Unfortunately, we'll have to wait for those OEMs to show some interest; HCL is looking for partners to bring Aegis to market.
Press Release:
HCL Launches Home Automation Gateway, AEGIS, at CES 2011 Makes the Smart Home a Reality

Las Vegas, Nevada, January 6, 2011—HCL Technologies Ltd. (HCL), a leading IT and Engineering services provider, unveiled Aegis – a platform agnostic Home Automation Gateway solution which can empower end users to control all home appliances and devices from their mobile technologies.

HCL will demonstrate their AEGIS solution, its functionality and discuss its scalability to handle more complex use cases at booth number MP 25363 in South Hall 2 LVCC at CES 2011.

The Aegis solution enables interconnectivity between multiple devices linked via Wifi, ZigBee, DLNA and HomePlug networks. The user interface of the Home Automation Gateway can be developed for any mobile operating system – Android, iOS (Apple products) and Symbian (Nokia products). HCL has also developed a mobile application which can be used to control the gateway through all Android phones. Leading Consumer Electronics OEMs are adapting this technology, for their unique specifications, to launch cutting edge products in the market.

Sandeep Kishore, Executive Vice President & Global Head Sales and Practice, Engineering and R&D Services, HCL said, "the AEGIS solution is part of our ongoing efforts to take a productized solution approach to provide a critical time to market advantage to our customers. We can adapt and deploy AEGIS to a broad range of use cases, which Consumer Electronic OEM's can take to market as cutting edge products."

The architecture of the Aegis solution provides the flexibility to create systems in many form factors and support numerous applications like Home Security, Alarm Notification, Home Electrical controls, Appliance Control, Energy Management and Digital Content access and storage.

"Current Home Automation gateway solutions are expensive, require high configuration and cannot interconnect all home appliances due to the existence of various protocols. There is a definite demand for a low configuration, low cost home automation gateway, which enables connectivity to diverse protocols. Since the Aegis solution is adaptable to many user cases, our customers have a immense flexibility to define the functionality they desire," added Sandeep.

Aegis has been developed with the flexibility to be designed around any low configuration processors like the Texas Instruments-OMAP. Currently, Home Automation Gateway systems are marketed at a price point of 500 USD or more. Deploying AEGIS creates an opportunity to significantly reduce the price of such systems.

There are two ways to learn more:

1. Meet with HCL executives including Sandeep Kishore, Executive Vice President, Engineering and R&D Services, HCL America, at HCL's booth during CES 2011

2. Listen to Shashidhar K– Head, Convergence Practice at HCL on the panel 'Anytime, Anywhere Entertainment' at Parks Associates' Connections summit at 2:45pm on January 6th

About HCL Enterprise

HCL is a $5.5 billion leading global technology and IT enterprise comprising two companies listed in India – HCL Technologies and HCL Infosystems. Founded in 1976, HCL is one of India's original IT garage start-ups. A pioneer of modern computing, HCL is a global transformational enterprise today. Its range of offerings includes product engineering, custom & package applications, BPO, IT infrastructure services, IT hardware, systems integration, and distribution of information and communications technology (ICT) products across a wide range of focused industry verticals. The HCL team consists of over 77,000 professionals of diverse nationalities, who operate from 29 countries including over 500 points of presence in India. HCL has partnerships with several leading Global 1000 firms, including leading IT and technology firms. For more information, please visit http://www.hcl.com.