Hawking Easy-Link data share cable throws in USB hub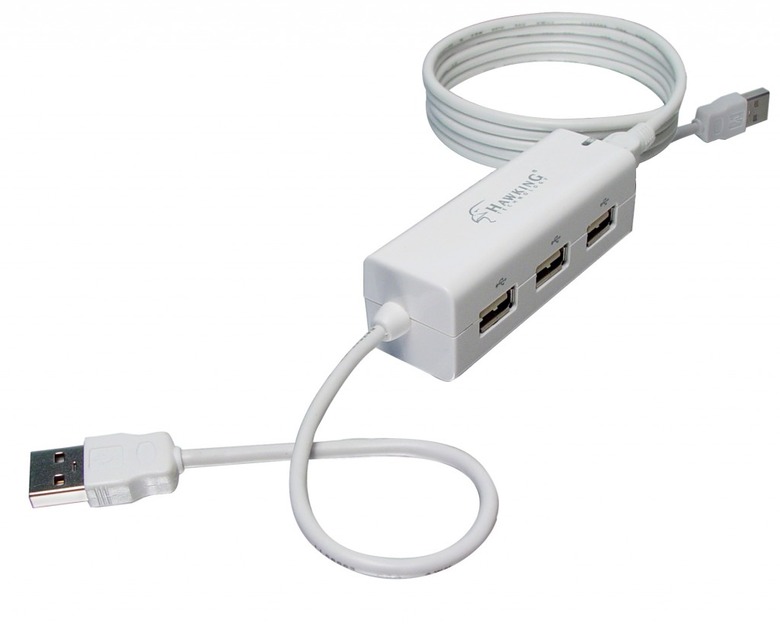 With most people having regular access to more than one computer, especially with the growing popularity of netbooks, we're all for anything that lets you easily share files.  USB file transfer cables are nothing new (if still under-rated) so Hawking Technologies have gone one step further with their Easy-Link Data Sharing Hub by adding a three-port USB hub to the middle.
The hub works as you'd expect when you plug printers, USB drives or peripherals into any of its three ports; however, plug the other end of the cable into a second computer and the integrated software will show up a two-pane explorer window giving access to the drive contents of both machines.  Files can then be dragged between the two.
Unfortunately, devices plugged into the hub are only available to one of the two machines, and the Easy-Share app won't work on Macs, only on Windows 200/XP/Vista.  Still, if you're an all-Windows kinda person and want to easily transfer files without the setup hassle of a network, then the $29.99 Hawking Easy-Link Data Sharing hub may be a cheap way of doing it.
Press Release:
HAWKING TECHNOLOGIES INTRODUCES THE EASY-LINK DATA SHARING HUB FOR DIRECT FILE TRANSFER BETWEEN TWO COMPUTERS USING USB CONNECTION.

Easily exchange photos, music, movies, applications and other files between two computers! Plug-and-Play, no software installation required.

IRVINE, CA – July 30, 2009 — Hawking Technologies, Inc., a leading developer of innovative wired and wireless networking solutions for home, workgroup, and corporate users, introduces the Easy-Link Data Sharing Hub. The Data Sharing Hub lets users copy files from one PC to another PC at speeds of up to 480Mbps without the installation of any software or drivers. In addition, the Easy-Link Data Sharing Hub features 3 USB ports for extra USB devices such as cameras, keyboards or mice.

This HU2P4 is preinstalled with file exchange software and connects to the USB ports of any two PC computers. When plugged in, the HU2P4 instantly reads files from the two computers and displays them side by side. Simply drag and drop files from one computer to another to begin transferring. In addition, the built-in USB ports allow you to connect and access your camera, USB flash drive, and other USB devices. "This compactly designed Easy-Link Data Sharing Hub is a great accessory to have for a quick file transfer or to back up files from your laptop or netbook to your desktop or vice versa. Leave it at home or pack it in your bag, sharing files with your friends, classmates and colleagues has never been easier. The Hawking USB Easy-Link Data Sharing hub makes transferring files as easy as plugging in a cable. Never has file transfer between two computers been so simple. The HU2P4 makes it so that there are no software, drivers or networking issues to deal with," says Amy Tang, Marketing Manager at Hawking.

Pricing and Availability

The HU2P4 Easy-Link Data Sharing Hub is available through retailers, direct marketers, e-commerce sites, and distribution channels at an (ESP) Estimated Street Price of $29.