Hasbro HASLAB is crowdfunding for rare toys: Star Wars first!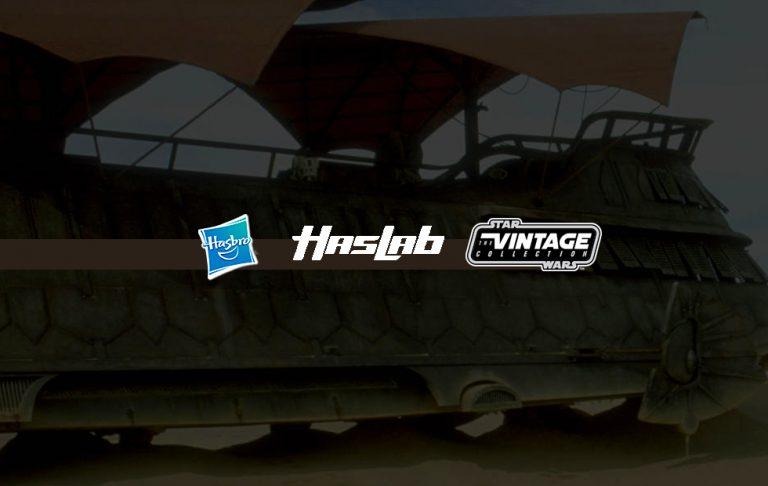 The first toy in the Hasbro HASLAB project was announced in Jabba's Sail Barge from Star Wars. Like other crowdfunding projects, this HASLAB toy will not be created unless the project gets a set number of pledges. Unlike other crowdfunding projects, this toy's promise is set and executed by Hasbro itself. The crowdfunding, the production, and the shipping is all done by Hasbro itself, not a 3rd-party startup.
Users that pledge cash to a Kickstarter project do so on Kickstarter, but it's not Kickstarter that creates the project. Third-party groups go to and use Kickstarter to kick-start their projects. With HASLAB, it's all Hasbro, from start to finish.
The first project on HASLAB was Jabba's Palace, a monstrous toy that was described as "the largest Hasbro Star Wars product ever created. Or at least it would be, if the project were successfully funded. To fund this project, Hasbro suggests they need at least 5,000 backers pledging $499.99 each for the single massive toy.
This ship was described by Hasbro as follows: "Measuring approximately 4ft long, this vast vehicle is a dream item for any Star Wars collection. Designed to captivate and inspire, The Vintage Collection Jabba's Sail Barge (The Khetanna) features exquisitely detailed, fan accessible decks that complement 3.75-inch figures (not included) allowing fans and collectors to recreate intense battles in the Star Wars saga."
Included with the ship is a single 3.57-inch Jabba The Hutt figure. This ship was expected to be shipped with vintage packaging, soft cloth sails, and "premium deco." At the point at which this article was set to be released, HASLAB listed the following images alone – no color quite yet!
Once this toy is funded, shipping was expected in two parts. The first part was expected to come on the 4th of April, 2018 – that was the Jabba's Sail Barge (The Khetanna): Behind the Workbench booklet. The second part was the toy itself. The Vintage Collection Jabba's Sail Barge (The Khetanna) was expected to be created and shipped by 2/28/2019.
The initial project on HASLAB was not intended at first to be an in-store product. Hasbro does, however, reserve the right to make this beast into an in-store retail-sold product at any time. Because of course they do.