Harman Kardon SB 30 soundbar and BDS x70 Series home theater speakers revealed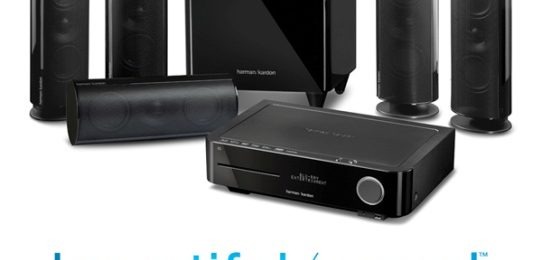 This week the speaker announcements just keep piling up as the pre-CES 2012 wave rolls in, not least of all with Harman as they reveal both a new soundbar for your home media setup and a set of speakers make specifically for your multi-device lifestyle. To be shown off at the show next week are these two magnificent looking setups, the first being the Harman Kardon SB 30 soundbar, complete with rich 5.1-surround sound for your movies, television, and video game experiences. The BDS x70 Series is a "space-saving home theater system" which allows you to deliver beautiful sound from multiple devices.
The SB 30 soundbar is one that allows you two sound modes: virtual and Wave. What you've got here is a virtual mode that allows you to enhance your two-channel stereo sources by creating rear-ambiance, while the Wave mode has transducers creating left and right surround fields, maximizing the listening area you've got in a larger room. The 5.1-surround sound on this system is delivered with a triple-core digital signal processing array, this including 13 transducers, six 2-inch subwoofers, 11 amplifier channels, and seven 1-inch tweeters. So many birds of fury! You'll be able to pick this monster up for a minimum advertised price of $799 SOON.
The BDS x70 Series consists of several components, the first two being receivers – the BDS 570 and the BDS 270 are Blu-ray disk players, both of them able to play standard, Blu-ray, and 3D dvd disks, the 570 just a bit more classy than the 370. The 570 is able to bring you 5.1-channel sound, while the 270 brings you 2.1-channel sound. Both the 770 system and the 370 system you see below have a slew of connection capabilities with their receivers allowing you a full range of device-specific playing of media. Sound from your iPad Netflix to your HDTV for example – go for it!
The BDS 770 is one of two integrated home theater systems, this one including the 570 receiver as well as four satellite speakers, a powered subwoofer, and a center-channel speaker. The B570 was engineered to work specifically with the speakers set up in this system, this whole system selling for a cool $1,099. The BDS 370 works with the 270 receiver and works with two speakers and a powered subwoofer, this system ringing in at $899. This system along with the SB 30 soundbar will be showing up at CES 2012 and, again, will be available sooner than later!