Harman JBL OnBeat Air hands-on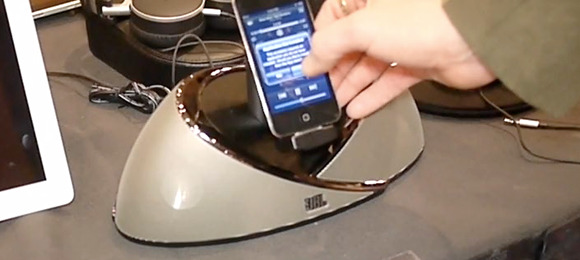 This year at Pepcom's showing for CES 2012, Harman brought some lovely sounds to the show, not least of all with the JBL OnBeat Air dock for iOS devices. This dock is more than just your everyday iPad dock, but not quite as imposing as the slightly larger OnBeat Xtreme. At half the price you get essentially half the device, here the OnBeat Air providing amplifier power of 7.5 watts per JBL Phoenix transducer and a total weight of 1.9 pounds.
This device is able to play your music in two ways: either with AirPlay or the 30-pin dock connector – no Bluetooth this time! You'll enjoy audio to the maximum through your Apple devices either with your iPhone or iPad's own touch interface or with the IR remote that comes with the device. This dock is made for iPads, iPhones, and iPod Touch devices, and unlike its larger cousin, the JBL OnBeat Xtreme, you cannot work with Android devices here.
This dock is available right this moment for the cool price of just $249.95 USD. Sound like a value proposition to you? Dock it up!