Harman hits Vegas with KISS: a photo journal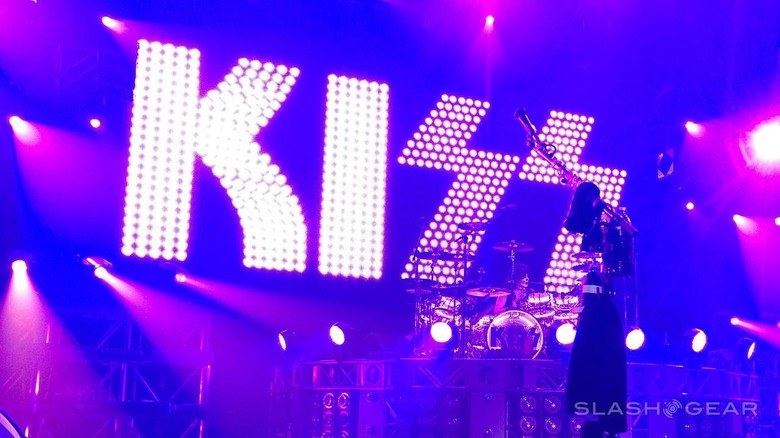 To give an extra punch to the release of their several new pairs of headphones and speakers this week, Harman employed The Hottest Band in the World: KISS. A miniature concert took place at The Joint inside the Hard Rock Hotel and Casino, and with the HTC Desire EYE, we went about capturing it. What follows is a brief account of the power of the audio brand Harman and a microcosm indicator of the year they expect to have with the products they've revealed this week – massive, that is to say.
KISS stepped on stage at The Joint at approximately 9:20 PM on the 8th of January, 2015. After being introduced by the heads of Harman, KISS started their set with a classic "ALRIGHT LAS VEGAS. YOU WANTED THE BEST – YOU GOT THE BEST. THE HOTTEST BAND IN THE WORLD: KISS!"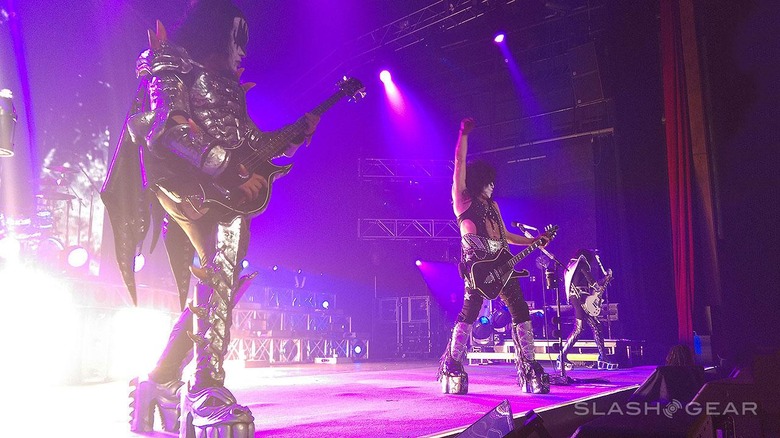 Below you'll see a highlights video for the event captured in 1080 x 1920 at 60p – that's the so-called "FHD" or "Fast High Definition" on the HTC Desire EYE.
KISS began with Detroit Rock City and ended with a resounding call to Rock and Roll All Nite and Party Every Day. In between they played Psycho Circus, Doctor Love, Deuce, War Machine, Lick It Up, Love it Loud, Do You Love Me, Love Gun, Black Diamond, and Shout it out Loud.
On stage was a relatively barren set – for KISS, anyway – with a large screen for graphics, fire, lights, and more smoke than any other rock show in the history of the universe.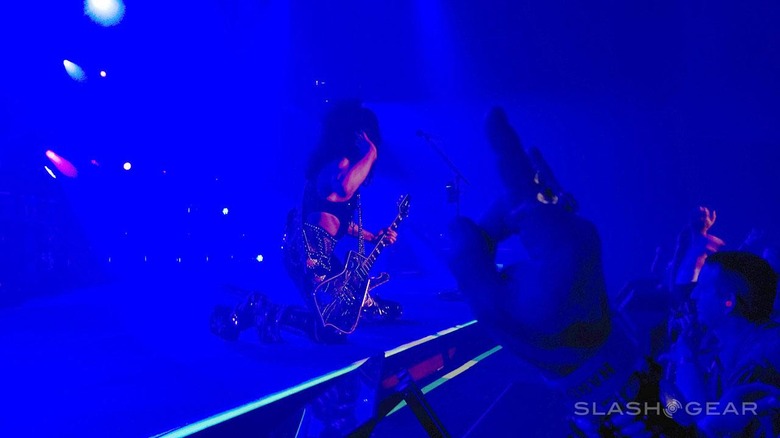 Seriously there was a lot of smoke – this isn't even half the smoke that was released at several points during the show.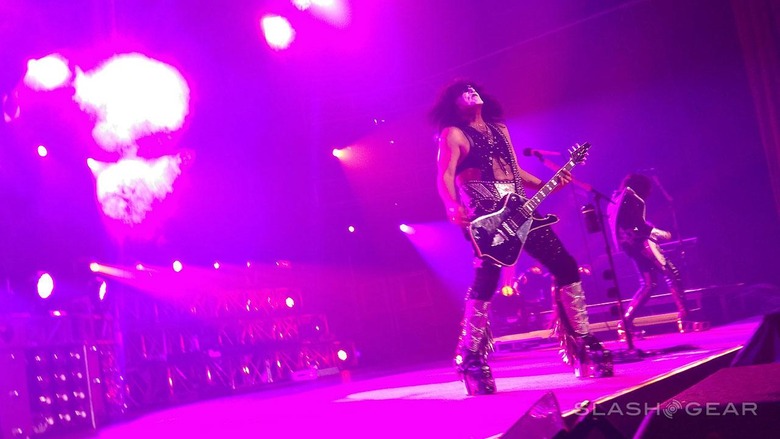 Above you'll see Paul summoning the Starchild. Below you'll see Gene breathing fire.
And again, this time in gif form: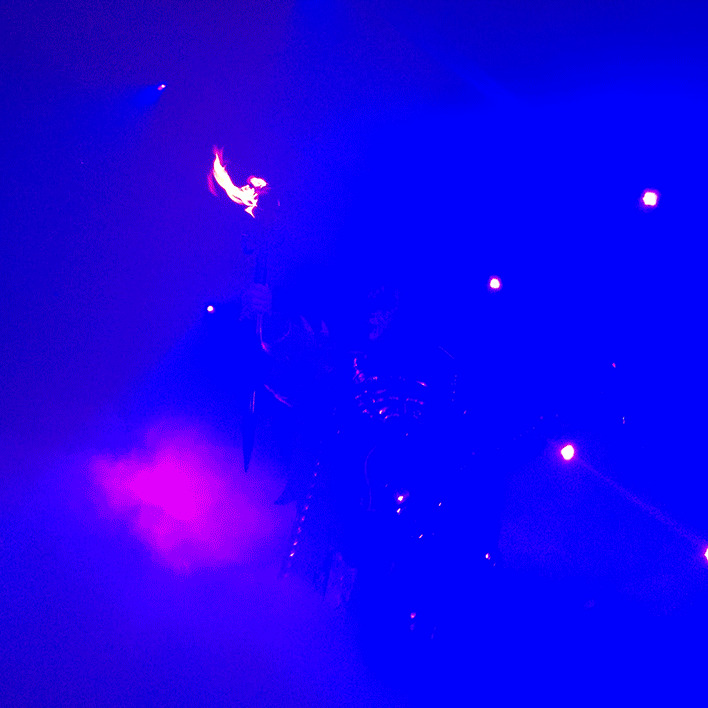 Gene also made certain to woo the crowd by gyrating his hips, stomping his boots, and pointing at people he either wanted to love or devour.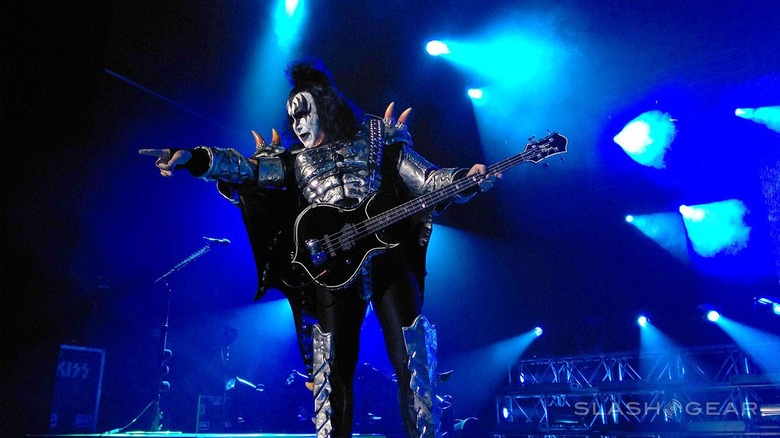 While in the past it might've been groupies he was singling out, at this point he made more than one gesture toward his wedding ring followed by a finger wag – it's a whole new age.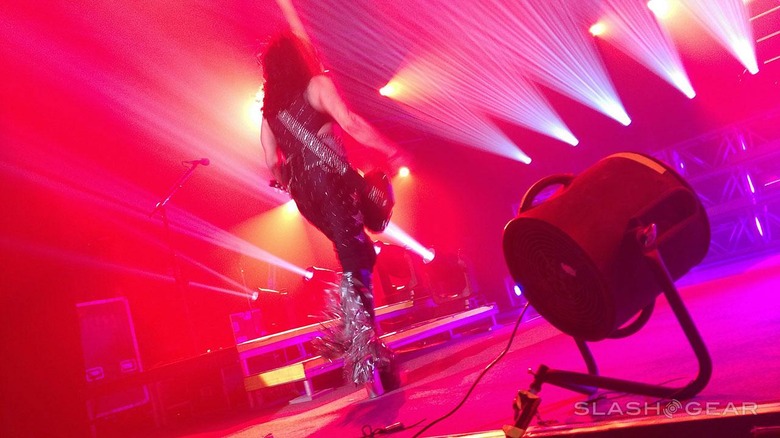 Above you'll see Paul flitting about the stage. The man may be 62 years of age, but the Starchild is timeless and ageless.
KISS continues to perform in full garb. This includes 6-inch heels that resemble beast heads and metal armor.
There was plenty of tongue to be had, too.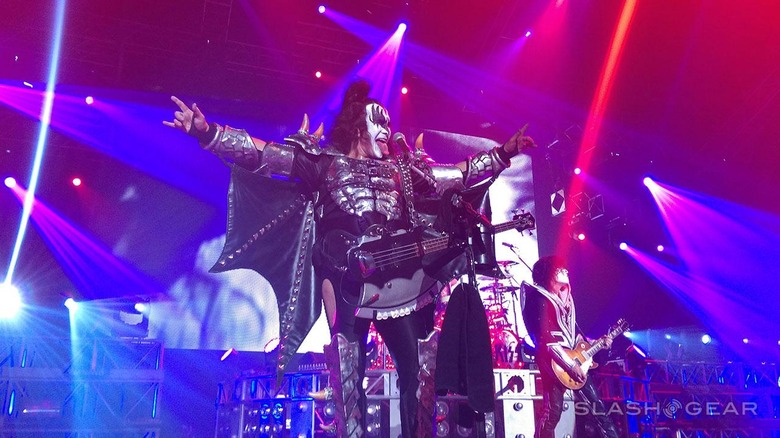 Paul made an effort to tell tales of his history with Harman, speaking about his very first set of speakers and how KISS has used Harman equipment over their 40-year career.
It's baffling how well this band was able to adapt to unique performances like this. Even though the band only played a limited setlist, this concert felt like a massive production. KISS doesn't do anything in a small manner, that's for certain.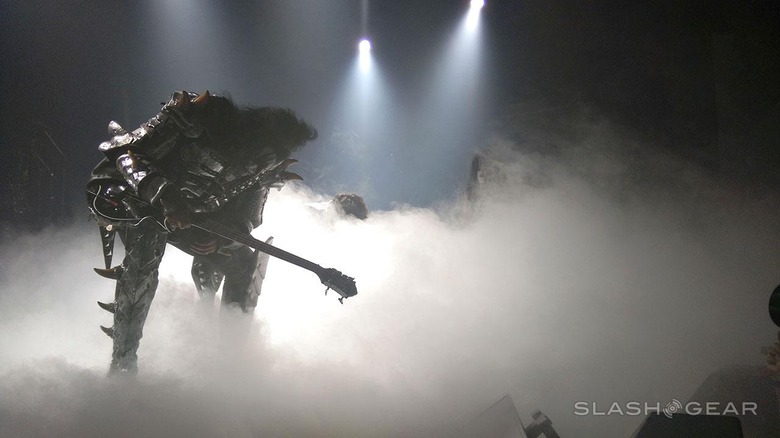 The show (nearly) ended with a truly creepy perfectly synchronized bow by the group. Once they took a bow, they stepped offstage for a moment – then launched into the quintessential "Rock and Roll All Nite."
The night was crowned by Paul's smashing of his guitar. Behold, the destruction.
NOTE: Every photo and video in this photo journal was captured with the HTC Desire EYE.
For more information on the Harman products revealed this week at CES 2015, hit up our Harman tag portal. You'll also see several bits and pieces in the timeline of links below. Stay tuned for a monumental year from this top tier audio brand without a doubt.
Below you'll find a number of additional photos snapped during the event.
This was one of several similar events that took place during the week and always takes place during the week at CES – entertainment for the friends, family, and press surrounding brands in celebration of said brand. Also performing this week: Snoop Dogg with CNET, Tenacious D with Marshall Headphones, and Steve Miller with Monster Headphones.