Hardcore Computer's oil-submerged Reactor Extreme gaming PC shipping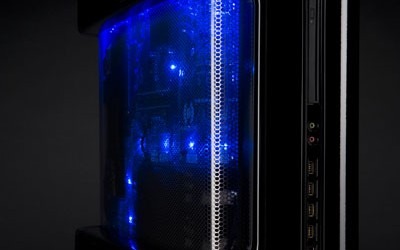 Hardcore Computer's fully-submerged mineral oil cooled gaming PCs are now shipping, according to Intel, offering blistering performance and the kudos of having a very unusual computer.  First see back in October 2008, the Hardcore Computer Reactor Extreme's Intel Core 2 Extreme QX9650 processor, 4GB of DDR3 memory, three NVIDIA GeForce GTX 280 video cards (in SLI setup) and motherboard are all submerged in a non-conductive oil that keeps everything cool without requiring enough fans to blow-dry a yak.
It all works, too.  Maximum PC took a look at a pre-production unit back in December and came away amazed.  Not only are the components listed above all submerged, but the SSD storage – the Reactor Extreme comes as standard with a non-submerged Samsung Spinpoint F1 1TB drive, but the optional Samsung 64GB SSD (up to three of them) gets dunked - and the power supply units (two 650W PSUs, no less).  It all drops into a custom, aluminum-cast case and an aerospace-quality transparent tank. 
Of course, all that doesn't come cheap, and the Reactor Extreme starts at a whopping $5,837.  There are "cheaper" versions, with slower processors (down to the Core 2 Duo E8600, from $2,998) but nothing is "cheap".  Still, bragging rights were never easy to come by.