Hanvon WISEreader E920 claims better readability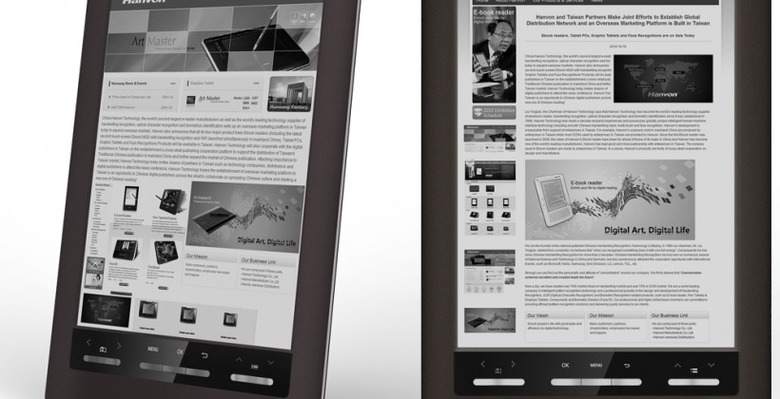 It seems the higher-resolution path is one that ereader manufacturers are increasingly taking, with iriver setting its stall at the 6-inch point of the market, and Hanvon's new WISEreader E920 claiming boosted performance at the 9.7-inch point. The E920 uses the same casing design as the color ereader launched last year, but with a monochrome 200dpi panel instead.
Battery life is said to be up to 15 days of standby or over 10,000 pages of reading, while storage is via microSD card (up to 32GB). There's also text-to-speech, PDF annotation and Chinese to English translations. No word on pricing or availability.
Press Release:
HANVON UNVEILS INDUSTRY'S FIRST LARGE-SCREEN, HIGH-RESOLUTION EREADER AT CES
Hanvon WISEreader E920 Brings Crispness and Clarity to eReaders
Las Vegas—January 6, 2011—Hanvon, a leading global e-book manufacturer, today unveiled the Hanvon WISEreader E920, the industry's first large-screen, high-resolution e-book reader at CES 2011 (LVCC South Hall Booth #36062). The Hanvon WISEreader has a 9.7 inch screen and 200 dpi resolution, which provides some of the crispest and sharpest images ever seen on an E Ink-powered device. The eReader will be available by June 2011. "Hanvon introduced the world's first color E Ink reader, and we are continuing to innovate with our large-screen, high-res eReader," said Mr. Liu Yingjian, president of Hanvon. "Consumers should expect clear, detailed text and images from their e-books, readable in bright light conditions, and the WISEreader E920 delivers this experience." The Hanvon WISEreader is the perfect eReader for the traveler on the go, or those that do not want to remember to recharge their e-book reader. The WISEreader has a standby battery life of 15 days, and can read more than 10,000 pages before requiring a recharge. The WISEReader will support extended MicroSD cards up to 32GB, allowing consumers to store more than 10,000 e-books on the reader. It provides all the traditional benefits of an E Ink reader and also supports a variety of formats, will speak in TTS voice, allows users to comment in PDF at any time and make instant Chinese-English translations. About Hanvon Hanvon Technology Co., Ltd. (Hanvon) was established in 1998 and is a high-tech enterprise that is dedicated to the development and production of intelligent products, technologies and services in the field of man-computer interaction. Hanvon is a leader in the global handwriting recognition market and entered the e-book market in 2008. With a full range of technological integration capabilities, it has developed a variety of e-book products and occupied 95% of China's e-book market and become a leading global e-book manufacturer. Additional information is available at www.hanvon.com.