Hanvon N510 ebook reader: first space, now the world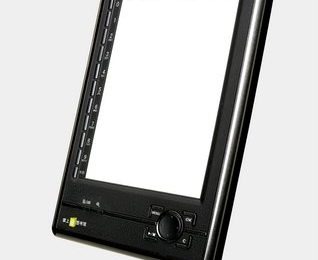 Chinese firm Hanvon have announced a 5-inch ebook reader, the N510, using the E Ink Vizplex display and Hanvon's own pen-input technology.  The N510 is 11mm thick, in part because it has no backlighting, and has a 167ppi, SVGA 800 x 600 display.  It's a well-travelled design, too; astronauts used the N510 in space during the Shenzhou-7 space mission in September.
Supported file formats include TXT, HTML, PNG, JPG, PDF, XEB, CEB and MTXT, with a standard 1GB SD card used for storage and enabling easy memory upgrades.  A mini USB port is used for data transfers; unfortunately there's no integrated wireless connectivity.
The active digitizer means readers can add handwritten notes and diagrams to documents, and there's apparently a painting app in there too.  MP3 playback is also possible.
The Hanvon N510 is priced at around 2000RMB ($295); it does not yet appear to be available outside of China.
Press Release:
Hanvon Introduces World's First Five-Inch Electronic Book using Electrophoretic Technology

Hanvon N510 eBook using E Ink Vizplex(TM) Display successfully debuted on the Shenzhou-7 Spacecraft

BEIJING –(Business Wire)– Nov 03, 2008 Hanvon the leader in handwriting recognition products is pleased to announce the introduction of the world's first 5" Electronic Book series, based on the revolutionary E Ink Vizplex Display. This pioneering effort combines the best of electromagnetic pen input and electronic paper display into an ultra portable electronic book aimed as mass markets.

Hanvon's electronic book development team reports that the N510 consumes very little power, has a paper like appearance, offers 180 degrees viewing and is only 11mm thick. The Hanvon N510 Supports TXT, HTML, PNG, JPG, PDF, XEB, CEB, MP3, MTXT formats on its 167 PPI, SVGA (800 x 600 pixels) electronic paper display. The eBook also features a 1GB SD card and a mini USB port.

"The Hanvon N510 allows you to carry an entire library in your pocket," said Mr. Wang Bangjiang, General Manager for Hanvon. "We are honored and proud that our eBook was used in space during the historic Shenzhou-7 space mission this month. This speaks volumes about the quality of our N510 eBook."

Designed for outdoor use, the N510 features a sunlight readable electronic paper display in a rugged yet slim package. The high definition display not only has a paper like appearance, it has no EMI generating backlight/inverter making it ideally suited for hours of reading.

The Hanvon E-book series is designed to allow the user to not only read books but also input notes, edit and even paint electronically using Hanvon's advanced digital input technologies. The device also features audio listening capability with MP3 support.

Priced at about 2000RMB ($295 approx), the Hanvon N510 is aimed at users that want the flexibility and convenience of having hundreds of books and documents at their finger tips, at a reasonable price. Finally, the Hanvon N510 eBook is an environmentally responsible alternative to ordinary paper.