Hannspree tweaks SN10T3 tablet specs over Honeycomb demands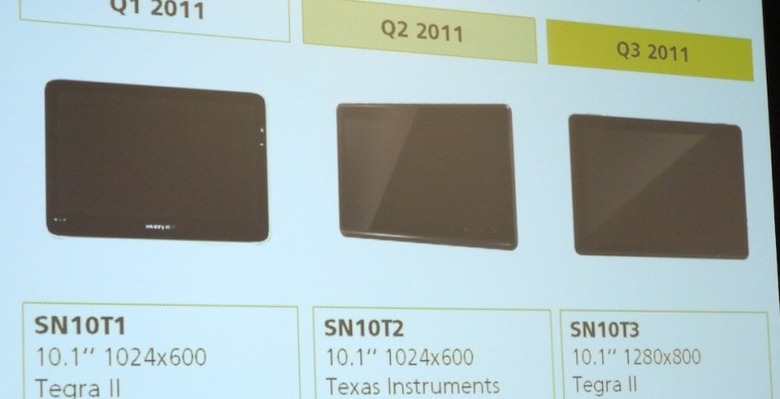 Hannspree may be best known for its animal-themed TVs, but the company has brought along more details on its new SN10T3 tablet along to the IFA 2011 Global Press Conference. A 10.1-inch slate, the SN10T3 runs – like most of the Android models we've seen so far – on NVIDIA's Tegra 2 dual-core chipset. It'll also be the first model from Hannspree to run Android 3.0 Honeycomb, a milestone the company says is down to Google's demands around panel resolution.
The SN10T3 uses homegrown HannStar IPS LCD panels and Sintek touch modules (both companies are owned by Hanspree's parent HSD). Unlike the specs shown on previous slides, Hannspree says the SN10T3's display now runs at 1280 x 800; it also has 16GB of storage, WiFi and Bluetooth. That change in resolution is a response to Google's limitations to the Honeycomb platform and its distribution; Hannspree says Google insists on a 1280 x 800 screen, which is why its initial SN10T1 tablet (which went on sale recently) and the imminent SN10T2, both of which have 1024 x 600 panels, run a reskinned Android 2.2. According to Hannspree, increasing the resolution basically doubles the panel cost, which would mean they couldn't bring the SN10T1 and SN10T2 in at €349 ($505) and €299 ($433) respectively; the SN10T3, in contrast, will be €449 ($650).
Instead of 3.0, those two initial models use a TapTap-created interface which brings Froyo somewhat up to speed with Honeycomb. Flash Player 10.1 support, a more capable browser and reworked settings and homescreen interfaces have all had attention. Interestingly, the SN10T1 and SN10T2 are also the first Android slates to support multiple users, allowing various people to access the slate with different settings, homescreen layouts and access to apps. Next month, they'll both get an Office suite added, with document, spreadsheet and presentation support.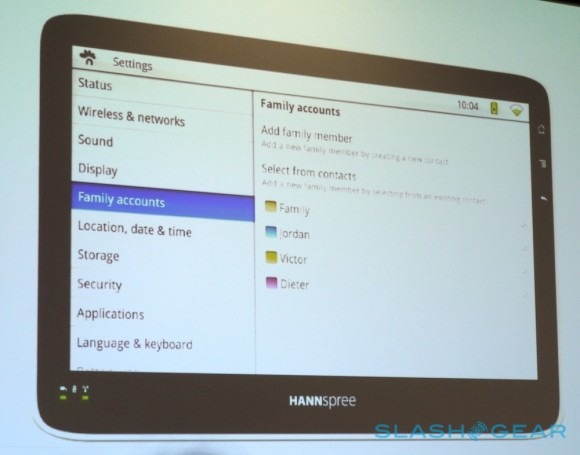 What we're unlikely to see any time soon is a 7-inch Hannspree tablet. The company says its plans have been "put on hold for the moment, we have some doubts with that segment." Still, they're more likely than anything bigger than the SN10Tx-range: "You might see in the future 7-inch devices; bigger than 10-inch, I don't think so."
Hannspree expects tablets to be the company's main focus over the next few years, rather than novelty TVs.