Hannspree HANNSnote SN10E1 netbook: same old MSI Wind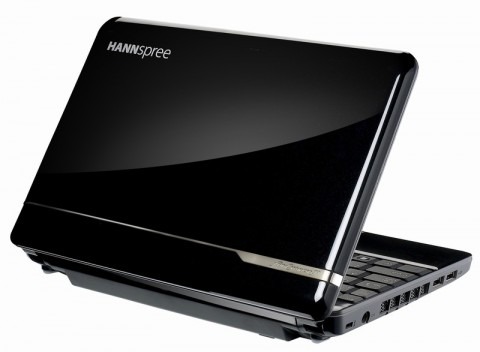 Hannspree are hoping to catch up with the netbook crowd with their own model, the HANNSnote SN10E1.  A rebadged MSI Wind, the HANNSnote has the same old specs that have now etched themselves into our weary brains: Intel's Atom N270 1.6GHz processor, 1GB of RAM and a 10-inch 1024 x 600 display.
There's also a 1.3-megapixel webcam, integrated WiFi b/g/n and Bluetooth.  Hannspree have bypassed the wimpy 3-cell Wind battery and instead plumped for the 6-cell pack, though they're not making any runtime estimates, and there's a 160GB hard-drive and Intel GMA 950 graphics.
Available colors will be gloss white or gloss black, and Hannspree tell us that the HANNSnote will be priced at around £289 ($438) when it arrives in the UK come June.  That price seems a little high, given the age of the Wind netbook and the competition on the market, but perhaps buyers will be drawn in, like magpies, by the glossy shell.
Press Release:
HANNspree reveals its plans to launch a designer mini notebook range

The HANNSnote range is expected to launch in June

Hemel Hempstead, 7th May 2009. HANNspree has today exclusively revealed that it plans to enter the highly competitive mini notebook market. Best known for its extraordinary themed TV designs and its extremely quick rise to the top 5 rankings for monitor sales, HANNspree is planning to penetrate the mini notebook market with a range of designer mini notebooks.

"Our new HANNSnote range is a winning combination of 'wow factor' design that will stand out from the crowd and practical portable computing," says Martin Kent, Territory Manager, UK and Northern Europe. "We have drawn upon our expertise in unique design and quality display manufacturing to create, what we believe, will be the new fashion accessory for the modern gadget lover that demands style."

Martin Kent continues "Our parent company, HANNstar, is one of the largest global display manufacturers which to date has aided HANNspree to become a leader in the TV, monitor and digital photo frame markets. Our move into the mini notebook market was the next logical step to expand our consumer electronics portfolio."

The new HANNSnote which will initially be available in glossy piano black and glossy ice white will boast; a stunning 10" LCD display, a full size keyboard, a 1.3MP Webcam, built in WiFi (802.11b/g/n) and BlueTooth connectivity. Most importantly the HANNSnote will include a large 6cell battery for long battery life and will weigh only 1.2kg.

Proposed retail price at launch – £289.00 inc. VAT (TBC) Further details to be announced.